EagleQuest 2015 Press Release
EAGLEQUEST 2015 REPORT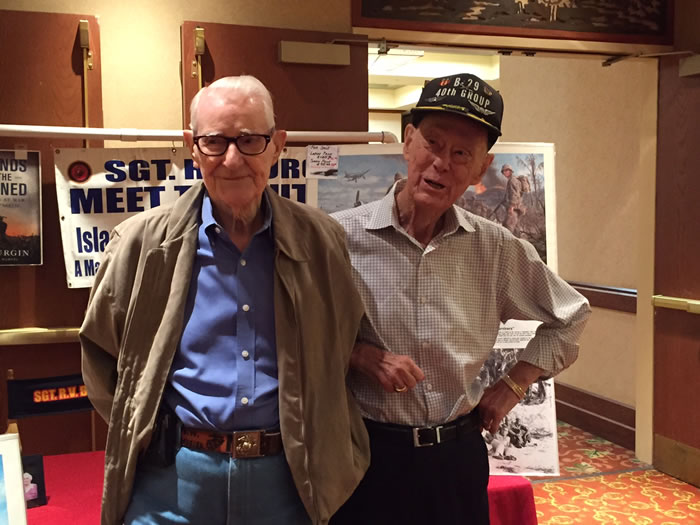 WWII Veterans RV Burgin (Islands of the Damned) and Bob Hilton (B-29 Combat Photographer)
---

EagleQuest 2015 took flight at the Embassy Suites in Grapevine Texas June 19 and 20 with over a 50% increase in attendance from last year's event. Modelers from all over the country came together to compete in a broad range of categories within the theme of "Heavy Metal" as well as to enjoy a weekend of comradery and friendship at the headquarters of MMD-Squadron.
Special guests Bob and Susan Letterman, founders of MasterCon were on hand to share memories of past conventions as well as their vision for the future of the hobby.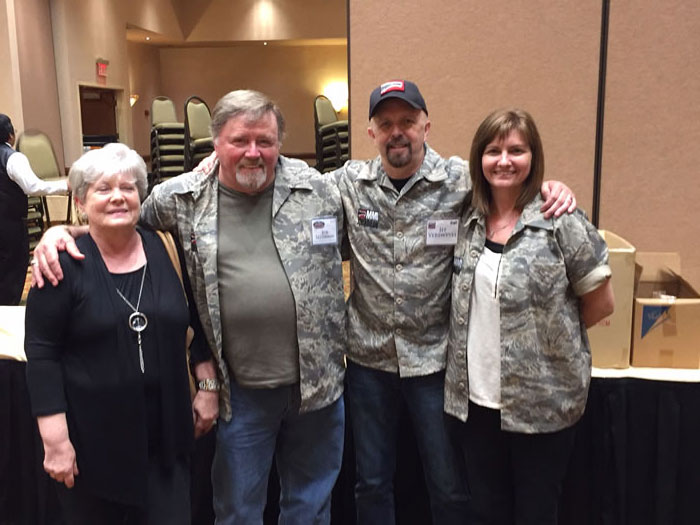 MasterCon Founder Bob Letterman and wife Susan strike a pose with Squadron Chief Modeler Jef Verswyvel.
---
Special guest Bob Hilton was also there for the keynote address, sharing his experiences as a B-29 combat photographer in WWII. In addition to Bob, RV Burgin (author of Islands of the Damned) also attended, sharing his experiences in the pacific during WWII and signing his book for attendees.
Tom Grossman from Iwata gave a workshop on using airbrushes and George Canare and Bill McEuen from Tamiya America exhibited an exciting group of the newest in Tamiya's kit line. Additionally workshops were hosted by Matt Wellhouser on figure painting and by Jef Versywvel, Squadron's Chief Modeler, on weathering of armor and airplanes.
In addition to the workshops and modeling competition, attendees enjoyed a fun-filled Welcome Party on Friday evening and an Awards Banquet Saturday night to celebrate the artistic and creative endeavors of the model hobby. Gwynne Gorr, CEO from MMD-Squadron stated "This event is a highlight of the year for us and the increase in attendance coupled with the excitement of everyone present reflects the greatness of this hobby and the overall health of this business. We were very happy to be the catalyst to bring all these enthusiasts together for a wonderful weekend and look forward to what the future will bring."
Top award winners for presented models went to:
Master's Division Bronze: Brian Joslyn for "Visible Man"

Master's Division Silver: Don Martin for "Heavy Metal Trio"

Master's Division Gold: Bob Waltman for "Over Watch Tribute to Chris Kyle"

People's Choice: Bob Waltman for "Over Watch Tribute to Chris Kyle"

Big Eagle: Terry Barrow for "The Kreig Adler Project"
For a full list of all winners and more photos of the event, please visit Squadron.com.
MMD-Squadron is based in Carrollton, Texas and has been serving the modelling community since 1968. In addition to a vast array of model kits and accessories, the company also publishes a line of historical military books with over 500 published titles that have been sold in countries all over the world.
To learn more about us, visit www.squadron.com.
---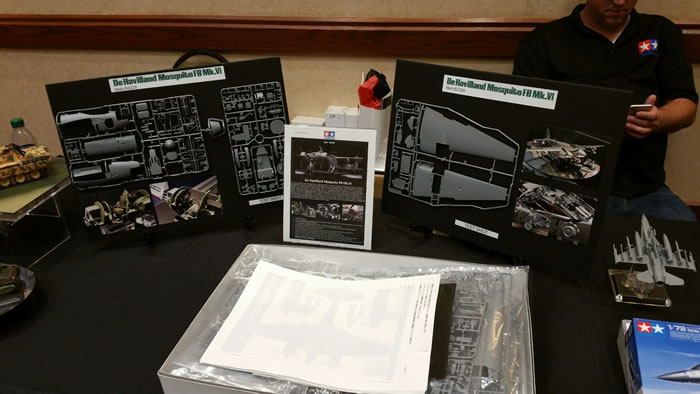 George Canare and Bill McEuen from Tamiya America shared the latest and greatest from the Tamiya collection, featuring the new de Havilland Mosquito.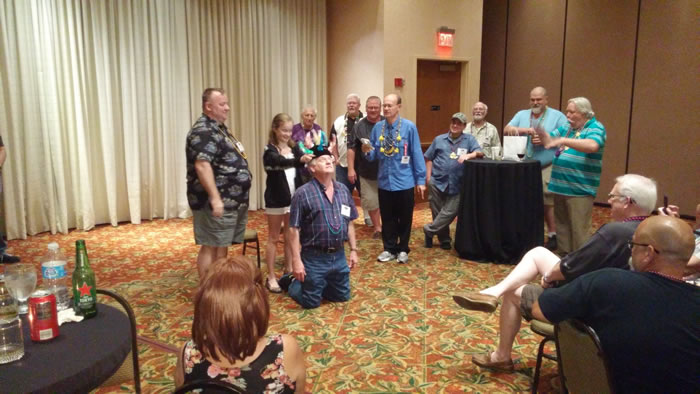 Hal Sanford announces Frank Landrus as the Grand Marshall by for next year.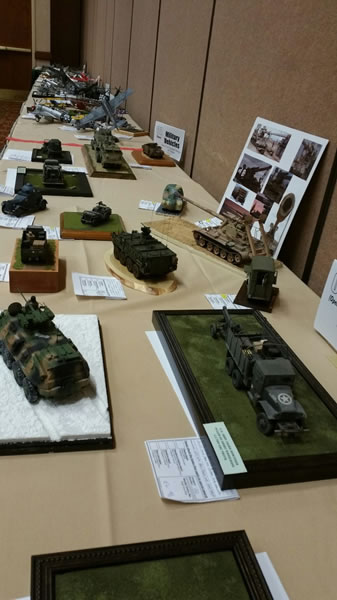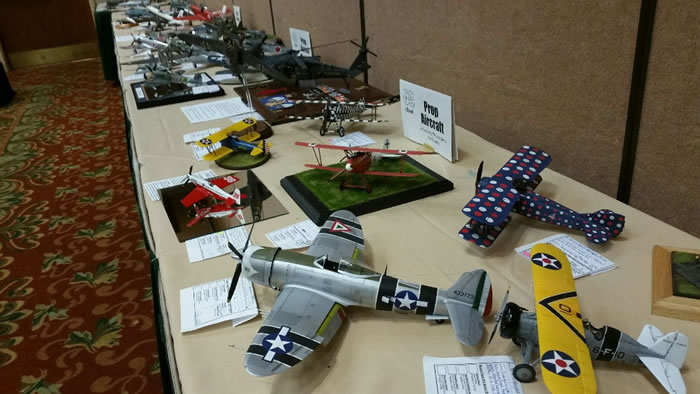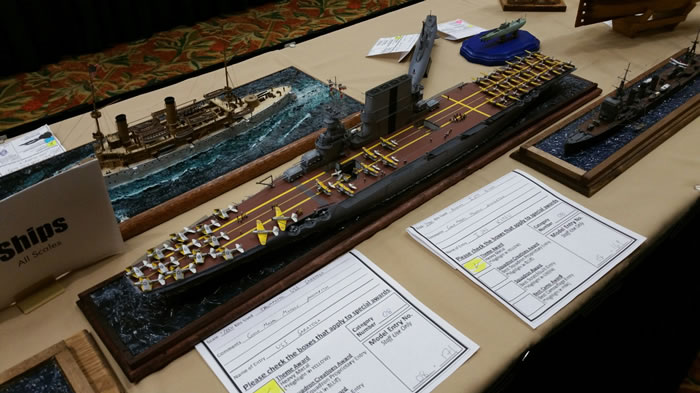 EagleQuest 2015 had over a 25% increase in modelling entries.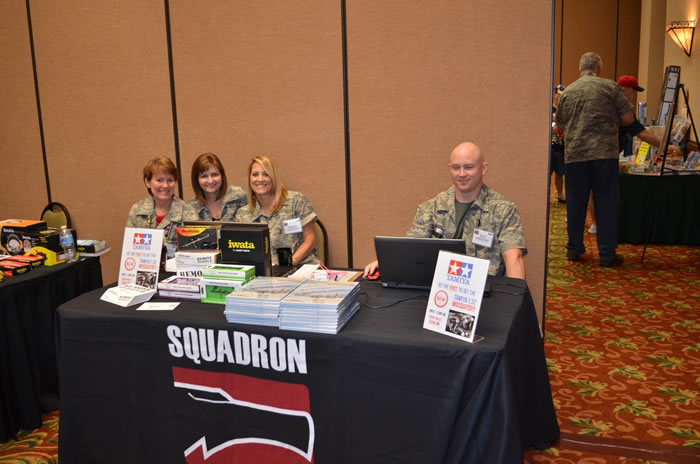 Gwynne Gorr, Jill Verswyvel, Marni Stallings, and Jeff Melton, all members of the team at Squadron, pause for a brief photo op.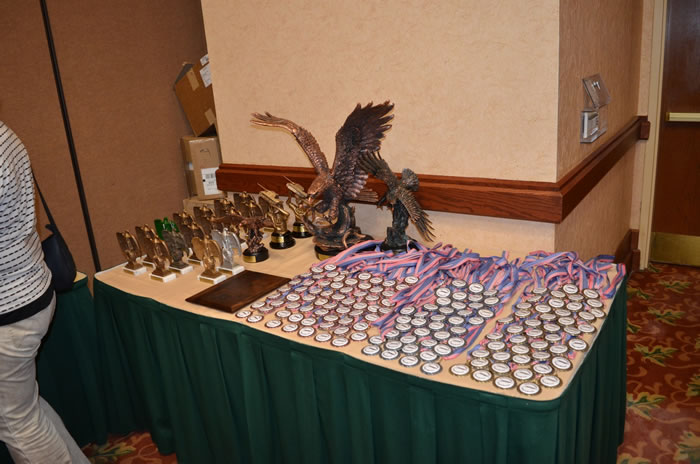 Excitement built throughout the day as voting on the models completed and the ballots were tallied.