Modelling and Painting
Hetzer Variants

by Neville Lord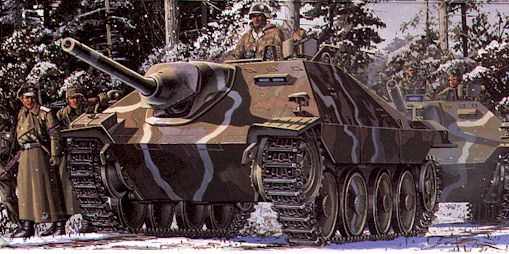 Dragon/DML Hetzer Boxart
Kit No. 6037
I d e n t i f y i n g H e t z e r V a r i a n t s

The Hetzer was a late WWII German light tank destroyer based on the chassis of the Czech Skoda 38t tank. This design was also operated with very few modifications by the Swiss and Czechoslovak postwar armies.
Until last year there was no single comprehensive English language reference available on the Hetzer. Most early references (e.g. Encyclopedia of WWII German Tanks) only consider two production versions of the Hetzer (early and late) and several limited production variants (e.g. flame-thrower & recovery vehicle). DML/Dragon's release of a "mid" had confused me. I now hope to clarify the matter.
In the "Leichte Jagdpanzer" German language book by Spielberger there are five sets of line drawings for production Hetzer. These depict the changes introduced over time and how vehicles made by Skoda differed from those made by BMM another Czech firm:
May 1944 version with all the features of an early Hetzer from either plant. This is Dragon's early kit with the exception of the toolbox. Most (I dare not say all) early Hetzers had toolboxes with perforated sides.

July 1944 version that has extra bolt heads on the mantlet. It is not available from Dragon. The muffler no longer has a perforated sheaf.
September 1944 version made by BMM. This has the early rear idler, driver's visor and exhaust, but the late toolbox, mantlet and engine deck. Dragon calls this a "command" version. This is a mid-production version. September & October saw the phased introduction of several changes.
December 1944 version made by BMM until the plant was captured. It has all late details including flame-retarding exhaust, revised road wheels, and simplified rear idler with 6 holes. This is the Dragon kit boxed as a "Mid" production; in reality it is a late production vehicle.
1945 version as made by Skoda with all late details and 4 holes in the rear idler. The purpose of this drawing is to illustrate that the rear idler of Skoda's late version differed from BMM's. This is not available from Dragon.
In summary, Dragon have released the early, mid and late Hetzers as made by BMM.
New Connection makes several resin conversions for the Hetzer including the Starr prototype which had a rigid mounted gun. Eduard and Show Modelling both offer etched metal sets which include the perforated tool box, improved exhaust muffler, MG shield and other enhancements. The Eduard set is designed for the older Italeri Hetzer kit.
Dragon's Early Hetzer can only be built as a May to June version. The command kit is a September version as described above with a crow's foot aerial. In reality it is the early Hetzer kit, less the etched metal exhaust sheaf, but with improved road wheels and many (not all) late style parts included, plus a bonus set of 5 crew men. This kit is quite flexible as to version.
The late Hetzer (kit 6040) is typical of Hetzers used in the Ardennes and the final defence of Germany. This kit offers a Flammpanzer option. It may only be built as a BMM Hetzer produced after October 1944.
The 20 Flammpanzers were used in the Ardennes Offensive and several captured vehicles were well photographed. Neither of the photographed vehicles I've seen had the combination of exhaust, toolbox and rear idler as represented in the Dragon kit. However some probably did.
B u i l d i n g t h e D r a g o n / D M L H e t z e r s

The three Hetzer kits were amongst Dragon's first to receive praise for their high quality.
The Hetzer kits fit well and are accurate in both outline and most small details. However caution is required at times, as they are not particularly forgiving. Separate link tracks are provided, as is a fret of etched metal. During assembly I noticed that two sprues were mis-moulded resulting in considerable loss of detail on the drive sprockets and return idler.
Construction Tips - CAUTION
the chassis suspension arms may be set at any angle, but lack locating pins to centre them. Take care when positioning.
the rear fenders will fit well, but again take your time and follow the instructions. Look at photos of the Hetzer's rear - the fenders have a slight slope, some Hetzers more so than others. The fenders appear subject to production variation and would have been easily damaged.
the chassis to the superstructure fits well but needs careful alignment when joining.
Enhancement & Correction
some OVE, although good, would benefit from replacement by parts from Tamiya's OVE set.
the jack block on front fender is poor. The straps that held the block in place are missing (Dragon copied the block of an incomplete Hetzer in a German museum) necessitating scratchbuilt straps.
add fuse wire for electrical cable from Notek lamp on front fender.
all kits come with early Hetzer tracks that were discontinued around September 1944. The late tracks had notches where they contacted the ground. Late tracks are available after market.
A small wing nut (not at all that obvious) was on both the jack strap (in the centre top) and the air filter (held the removable frame in place and is located on the left side of the slot in the mesh screen).
Dragon's command and "late/mid" Hetzers have the air filter frame fully extended. Most photos only have it partly extended (no particular position). The etched metal can easily be split in two by repeatedly bending it
H e t z e r C a m o u f l a g e

The paint scheme applied to Hetzers changed over time and much controversy exists over the colours applied from September 1944 onwards. Photos of Hetzers are limited because most German photos taken in late 1944 were destroyed in 1945. Newer books that access Czech and German sources are throwing more light on the subject. As far as I can I can tell Skoda and BMM did not apply the same camouflage patterns at the same time.
There is no dispute that up to August 1944 Hetzers were painted yellow in the factory and any camouflage paint was applied in the field.
September saw the introduction of the "ambush" scheme being applied in the factory as per official policy. This was a hard-edged mix of yellow/green/brown in even ratio with contrasting dots. The assembled kit on the side of the Command version box is painted as per the factory photos. In November the official policy saw primer red being used as the base colour with hard edged camouflage. This was quite likely done judging by monochrome BMM factory photos. Close examination of photos revealed these Hetzer's factory hard edged camouflage markings were applied using three patterns:
large painted areas with curved edges, often used as the basis for the ambush scheme.
large painted edges with edges of linked semi-circles, which would have required a template to achieve, often used as the basis for the ambush scheme.
small painted areas of irregular shapes.
From about November 1944 the hotly debated "Hetzer" scheme(s) emerged. This is a base colour with thin brush painted vertical camouflage stripes. There are three schools of thought on this scheme:
BLACK with cream/yellow and green stripes as per Dragon's box art on the mid-production version. This interpretation is based on some older UK publications that rely on b/w photos, a UK intelligence report and the colours the vehicle currently has in a museum.
A currently more popular view, based on German and Czech source material and closer examination of other photos is that the base colour is green (possibly a light or moss green from Czech army stocks) with red and dunkelgelb (dark yellow) camouflage stripes. The colour plate of the Hetzer Flammpanzer 38t in Jentz and Doyle's New Vanguard Flammpanzer book wears this scheme. This scheme is consistent with contemporary King Tigers (see Jentz's King Tiger books).
The view expressed by Tom Jentz at AMPS 1998 and supported by a colour photo of a Hetzer is that from late 1944 a base red brown primer with yellow and WHITE hard-edged camouflage. A colour plate of a Jagdpanther with this scheme is in Jentz's Panther Variants. No German Command order has been cited supporting this scheme and I've only read of this scheme in relation to Jagdpanzers.
I support that the second view was used view based on the quality of research behind it, that Czech green is close to the official German policy in December of a dark green base, and examination of photos. The clues to examining photos are that the black stripes under the visors and tyres are noticeably darker than the rest of the paint scheme (hence its unlikely black was a camouflage colour) and that the green paint luster is of a final coat in a light colour.
I am unsure on the extent the third scheme was used. I personally haven't seen the cited photo, and am looking forward to seeing some more evidence, especially concerning whether or not it was factory applied.

Dragon's Hetzer range are all excellent kits, which can be made into superb models out of the box. Several small points can be improved on fairly easily. Current references provide the modeller the choice of some quite interesting and complex schemes. Contradictory advice may make you check your colours twice. Whichever scheme you choose, enjoy it!
"Leichte Jagdpanzer" by Walter Spielberger (German Language),
"Czechoslovak Armoured Fighting Vehicles 1918-1948" by Charles Kliment
"Flammpanzer" Osprey New Vanguard No 15
"MMiR" Fall 1997 vol 14.
Footnote: On the red/yellow/white scheme a good way to form your own opinion is to compare the Jagdpanther plates in Panther Variants to that on p 38 of Schiffer's Jagdpanzers by H. Scheibert. Both are Nov 1944 MNH vehicles used in the Ardennes with identical features (e.g. relocated vent on roof, early grille, late barrel).
---
Article Text by Neville Lord
Visit Track-Link for the best of Armour Modelling.
Page Created 20 June 1998
Last updated 26 July 2007
Back to HyperScale Main Page
Back to Feature Articles