Jagdpanther Sd.Kfz.173
by Chris Beaumont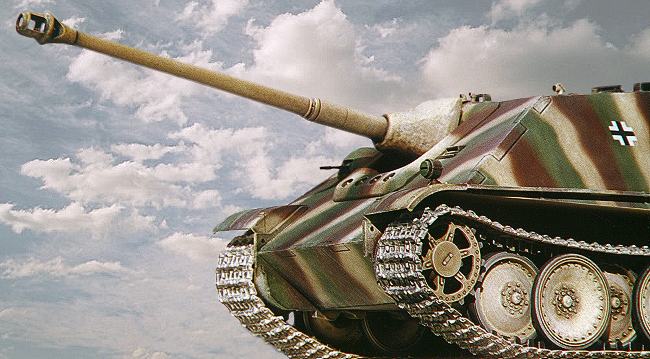 Dragon's 1/35 Jagdpanther Command (Late) Version Built Out of Box
K i t D e s c r i p t i o n
The command version of the late type Jagdpanther had extra provision for extended radio communications. The kit contains a 2-part plastic umbrella or "star" aerial and it's mount for the portside.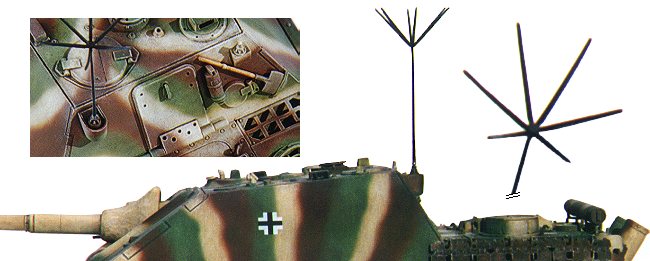 This kit was made specially for an out-of-box competition so only glue and paint was added. You should be able to get a fair idea of the quality of Dragon's moldings by the detailed model images. The only thing that was discovered curiously lacking was the 6 bolts on the final reduction gear covers on each side of the front of the hull.

This model was given a relatively light weathering. I did not want to spoil the extensive and delicate dry brushing or the black wash shadow detail by rubbing pastel chalks into it or using too much mud & dust wash. Most of the dirt and dust was spatted on by an airbrush. In the "More Photographs" section below you may be able to detect this effect on the chassis side wall profile images.
The soiled condition of the hull undersides had to be imagined. I cannot recall ever seeing a photo of this area of any type of tank. The only photograph that I have ever seen that came remotely close to it was that WW2 image of the Panther on it's back in Normandy reported to be flipped as a result of rocket firing Typhoons - page 28 of Squadron/Signal's Panther in Action. Unfortunately you only see a side view.
O n e W a y O f " M a k i n g T r a c k s "
Special attention was given to the painting of the tracks. It was intended to make them an interesting feature. For those unfamiliar to Dragon's AFV kits, hard plastic individual links have to be glued together to make up the tracks. It was not until gathering and studying a greater batch of AFV references like those illustrated below that I began to notice for the first time that a great deal of the inner side of the tracks could become nicely buffed to a shiny metal finish by the running gear. This effect was particularly evident when the tank had been travelling over sealed roads and cross country over firm, dry, mildly dusty fields. Of the few existing wartime photographs of the Jagdpanther a good majority are seen in exactly this environment. Lucky the Jagdpanther was from the Panther family of which there are many photographic images in publication. Those references were my initial starting point but then I looked to modern tanks on manouveres in color photographs to get a greater feel for tank track weathering. Some examples seen in the publications of the modern tanks were like seeing them wearing silver bracelets the inside of the tracks were so shiny !

I had observed in the past when looking at tank references that certain parts of tank tracks and the running gear, like the sprocket teeth, could become highly polished steel. If you want to see some in your face actual proof of how shiny those teeth can get then click on the thumbnail image(89k). It's not from a tank, more a close relative and probably more publicly accessable and likely to be on the move or parked somewhere in your town.


To shape the fully painted and weathered track sections a spare Jagdpanther's hull sponsons were cut off. By applying subtle heat from a hairdryer to the tracks they were carefully draped over the running gear on the chassis jig. Cotton tie downs and adjustable clamps were used to keep the track's contact points with the road wheels in shape until the plastic cement had securely welded the tracks to the wheels.


The central running gear and the tracks then became free-standing components that could be added at the final stages. This allowed special attention to be given to detail painting of every see-able surface of the hull unobstructed by any running gear parts.


1

2

3

4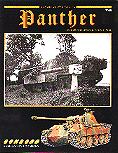 Jagdpanther and Panther family references.
1.Achtung Panzer No.4. Revised Edition; - Panther, Jagdpanther & Brummbar. ISBN 4-499-22643-0
2.Schiffer Publications; "Jagdpanzer"; - JagdpanzerIV & Jagdpanther. ISBN 0-88740-323-9
3.Squadron/Signal; "Panther in Action"; - Panther, Bergepanther & Jagdpanther. ISBN 0-89747-044-3
4.Concord Publications; "Panther"; - Panther, Jagdpanther etc.ISBN 962-361-610-4
The "Achtung Panzer" series is available from HobbyLink Japan and speciality hobby shops.
The other references are available from speciality book stores.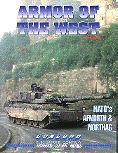 Full color photographic reference.
1.Concord publications;
"Armour of the West. Nato's AFNORTH & NORTHAG".
Tanks in color and in Europe. Nato's tanks on modern day manoeuvres.
A very appropriate reference to gauge what weathering patterns and
colors to apply to tanks active in the European countryside.
The mud, dirt and dust is still the same color as it was back in the 1940s.
ISBN 962-361-704-6
M o r e P h o t o g r a p h s
If you are interested in the photography of this model about 55 photos were taken spread over 8 x 35mm films shot under varying degrees of natural lighting - predominantly direct sunlight - to extract the best photogenic and detailed poses from the model in a non-professional studio, a neighbour's backyard to be exact. Anyone that understands lighting and photography should know the many moods a subject can experience under different lighting conditions, camera settings and photo lab processing. The end result was out of the 55 shots taken about 20 had something sharp and worthwhile to offer.


Click this image (55k) to see how sunlight was directed into the chassis areas; the model was propped up with a 35mm film container which was painted out in the photo editing phase. At times cooking foil reflectors - dull side exposed - were used to bounce more light onto the model and to help tone down harsh shadows.
Click on the thumbnails below to view the image full sized. Click on the "Back" arrow of your browser to return to this page:
---
See more images of this Jagdpanther at Track Link
---
Model, Images and Article Copyright © 1999 by Chris Beaumont
Page Created 26 July 1999
Last updated 26 July 2007
Back to HyperScale Main Page
Back to Features Page