Junkers Ju 188A-2 Rächer
by Ian Robertson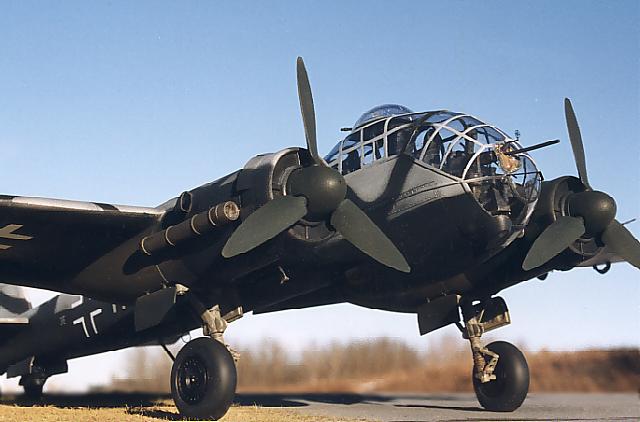 Junkers Ju 188A-2
The Ju.188 evolved from the basic Ju.88 design, with a large tail characteristic of the Ju.88G series, entended wing tips, and a distinctive "egg-shaped" cockpit gondola. The first production Ju.188, the Ju.188A, was intended to use Jumo 213 in-line engines. However, these engines were in short supply so the Ju.188A was actually preceeded in front line service by the Ju.188E series powered by BMW radial engines.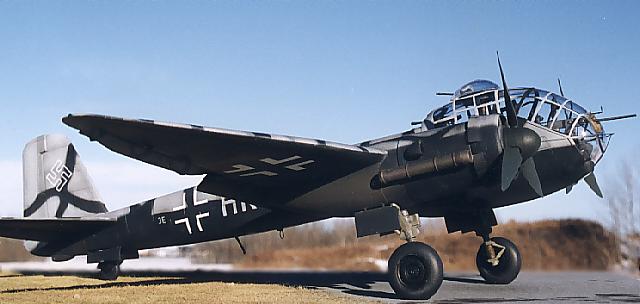 Operationally the Ju.188 participated in pathfinding operations, bombing raids over England, anti-shipping strikes and reconnaisance missions. Plans were also made for the aircraft to serve as a dive bomber and night fighter, although these plans never came to fruition. The Ju.188 seldom equipped entire units, rather it was distributed primarily to Ju.88 units for specialized missions.
This is Dragon's 1/48 Ju.188E-1 kit converted into a Ju.188A-2 using parts from a Dragon Ju.88G kit. The conversion was necessary because the Ju.188E-1 had a BMW radial engine whereas the Ju.188A-2 had a Jumo 213 in-line engine. Luckily, the Dragon Ju.88G-1/G-10 kit contains both engine types, so I scavenged the parts without compromising my future Ju.88G model. I believe that Dragon has since released a Ju.188A kit, so the conversion is no longer necessary.
The kit went together well, although typical for the Dragon Ju.88/188 series there were minor fit problems at the wing roots and the attachment point of the cockpit to the fuselage. The engine nacelles also required some work to fit them smoothly to the wing.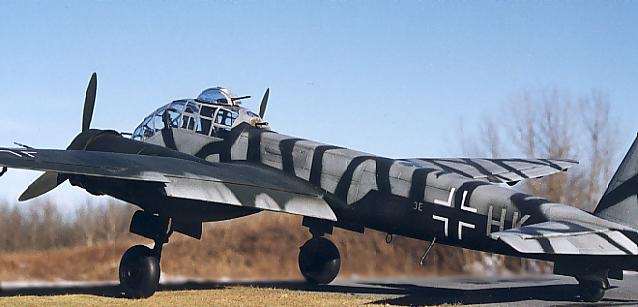 I dropped the flaps using resin replacements from Cutting Edge.
Etched brass gun sights, cockpit details and cable cutters were supplied with the kit. I added seatbelts from Reheat and weighted resin tires from True Details. The seal where the nose cannon and cockpit meet was made from seran wrap attached with CA glue and painted brown. The aircraft is shown fully armed, including its upper power turret and 20 mm nose cannon; however, many Ju.188's had the cannon and turret removed to increase speed.
The unique camouflage pattern of this KG6 aircraft was provided to me by Helmut Latoschinski. The upper fuselage and right wing have patches of RLM76 interrupted by RLM66, whereas the left wing has the standard RLM 70/71 splinter scheme. The inconsistent camouflage styles may indicate that the original photos were taken while the aircraft was in the process of being re-painted.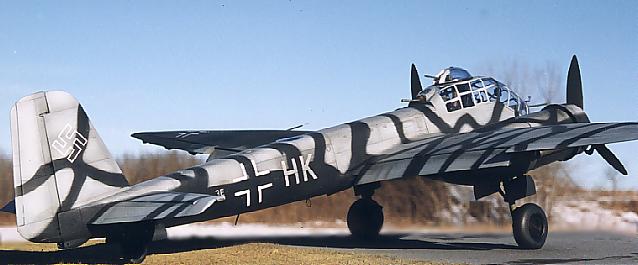 The black undersurfaces were painted using a mixture of RLM66 and black. The propellers and spinners were painted RLM70, and the undercarriage RLM02. Highly thinned black paint was sprayed unevenly over the upper surfaces to give the plane a dirty overall appearance. Polly Scale acrylics were used for all painting.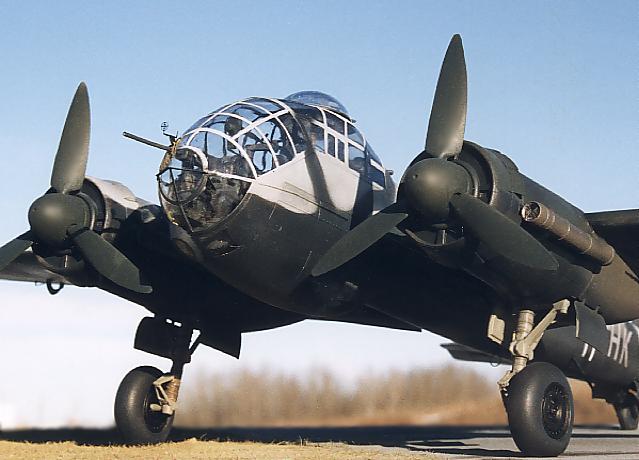 Clear parts were dipped in Future Floor Wax prior to assembly and painting.
---
Model, Text and Images Copyright © 2000 by Ian Robertson
Page Created 23 May, 2000
Last Updated 26 July, 2007
Back to HyperScale Main Page
Back to Features Index