Vietnam War
Australian M113A-1 APC
by Lindsay Sparkes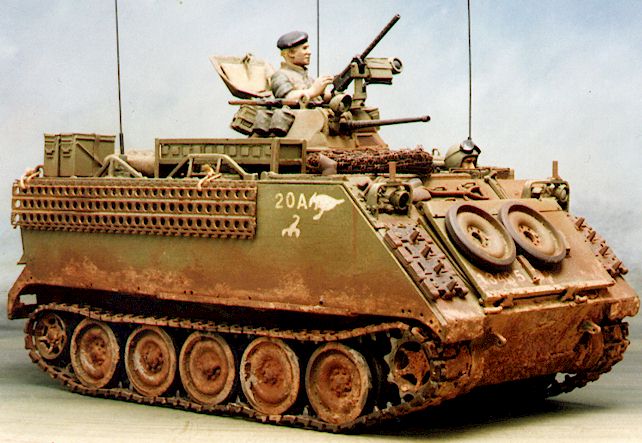 M113A-1
RAAC Vietnam, 1970
This model represents an Australian Army M113A1 as deployed in Vietnam in 1970. It is based on an actual vehicle - call-sign 20A, chassis-number 134350.
The kit used was a very early Tamiya kit of the M113. It is a very basic kit which required extensive modifications to convert it to an Australian vehicle.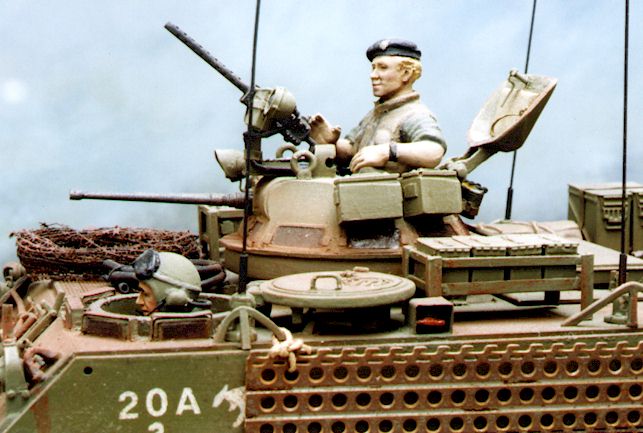 M o d i f i c a t i o n s
Armour Bits T50 turret added
.30 cal MG dismounted and moved to turret roof
Spotlights added to guns. These were removed from headlight assemblies as on real vehicle
Ammo boxes added to turret sides
Smoke grenades strung across back of turret
Commander's personal weapon, an AK47, on turret roof
Turret lifting-hooks added
Turret hatch locking-handle and strap scratchbuilt
Belly armour and mounting bolts added
Bumps representing trim-vane hinges replaced by accurate scratch-built hinges
Extended trim-vane and spare wheels added
Tie-down hooks on front plate made from scrap brass
Spare tracks either side of trim-vane
Tent-pole brackets on headlight guards
Barbed wire and booster cable on front top deck
Air-intakes covered by mesh
Headlight wiring and plugs added
Driver's periscope guards removed and replaced by scratch-built brass guards
Driver's hatch rotated by 230 as on actual vehicle to clear turret
External fire extinguisher and guard added to hull top
Front radio aerial guard shortened
.50 and .30 ammo racks and ammo boxes added to hull top
MG traverse guard rail at lower rear of turret
Australian air-filter box added to top of rear hatch
Claymore boxes on top of rear right hull
PSP plating on hull sides
Sponson reinforcements over front three roadwheels each side
Aerials and springs added to aerial bases
Jerrycans and carrying brackets on rear plate
Rear-ramp hinges replaced by accurate scratchbuilt items
Air-exhaust pipe to top right rear
Stops and locking latches added for driver's hatch, rear hatch and rear ramp door
The figures are Tamiya bodies and Verlinden heads.
Australian Military Equipment Profiles Vol 4: The M113 Armoured Personnel Carriers in Australian Service 1962 to 1972
Michael K Cecil; Castella 1994
The M113 Series
Simon Dunstan; Osprey 1984
Vietnam Tracks: Armour in Battle 1945-75
Simon Dunstan; Osprey 1984
M113 in Action
Squadron/Signal Publications
My collection of over 300 photographs of Australian M113s taken at various museums and army bases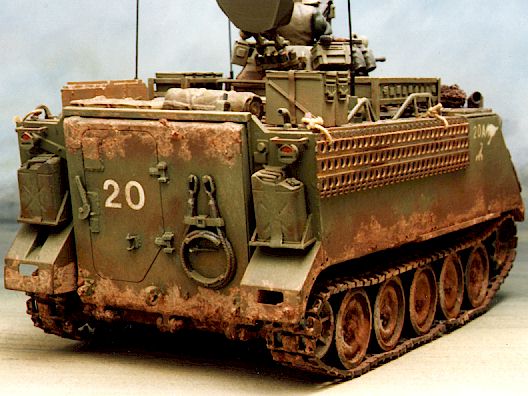 ---
Model and Text Copyright © 1998 by Lindsay Sparkes.
Photographs Copyright © 1998 by Pieter Stroethoff.
Page Created 18 September, 1998.
Last updated 26 July, 2007.
Back to HyperScale Main Page
Back to Features Page