Messerschmitt Me 410A-1/U2 "Hornisse"
by Ian Robertson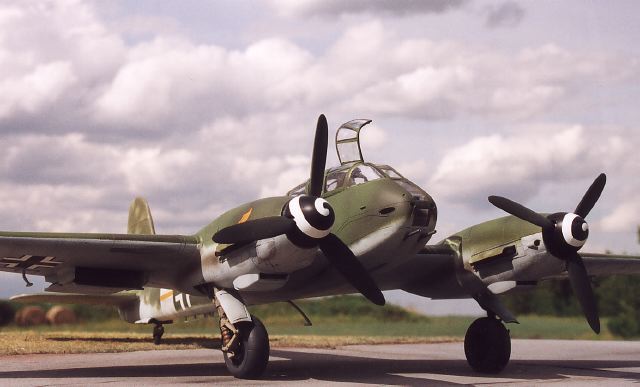 Messerschmitt Me 410A-1
The Me.410A-1, introduced by the Luftwaffe in early 1943, was the first production variant of the Me.410. Standard armament on the Me.410A-1 consisted of two forward firing 7.9 mm machine guns, two forward firing 20 mm cannons, and two rear firing 13 mm machine guns located on remote control side fuselage turrets. The Me.410A-1/U2 was a Zerstörer (destroyer) variant with provisions for an additional pair of 20 mm cannons mounted in the bomb bay.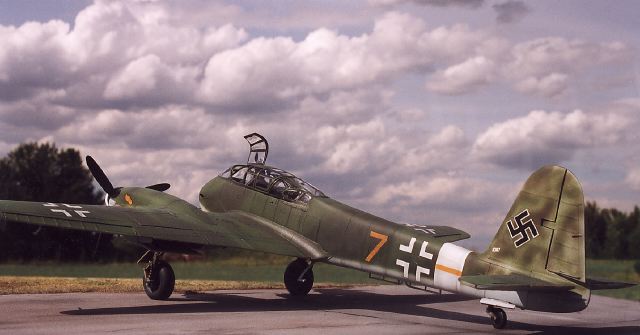 The Me.410B series, introduced a year later, and the subject of two kit releases in 1/48 scale (Pro Modeller and Revell), differed from the Me410A in that it was powered by a stronger engine and had a higher speed supercharger. To my knowledge these differences were not visible externally.
I built Pro Modeller's 1/48 Me.410B-2 as an Me.410A-1 (Werk Nr. 10117) from II./ZG26 operating at Hildesheim in late 1944. This aircraft, "Yellow 7", had its radio mast and fuselage gun turrets deleted. On my model I filled the vacant turret holes with sheet styrene sanded flush to the fuselage.
For those interested in building the A-1 variant, it is worth noting that Revell's Me.410B-2/U4 kit is not suitable because it does not contain the proper lower nose cover.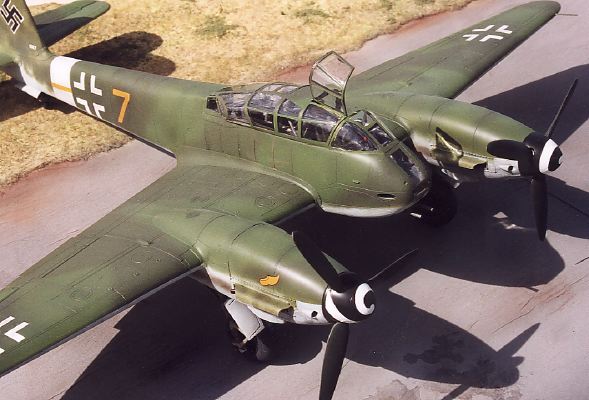 I opted to depict "Yellow 7" as an A-1/U2 variant by adding a pair of cannons mounted in the bomb bay. None of my sources could confirm this configuration (they simply identified the aircraft as an A-1), although given its described role as a high altitude interceptor, the additional weapons seemed reasonable to me....and they look good.
Colour profiles suggest that "Yellow 7" was painted either RLM 82/83 (Light Green/Dark Green) or 81/82 (Brown-violet/Light Green) over RLM 76 (Light Blue). Although there is no conclusive evidence for either scheme, a photograph of the aircraft in Squadron's "Messerschmitt Me 210/410 In Action" reveals little contrast between the upper surface colours, leading me to select the two-tone late war green scheme (as shown in Squadron's colour plate).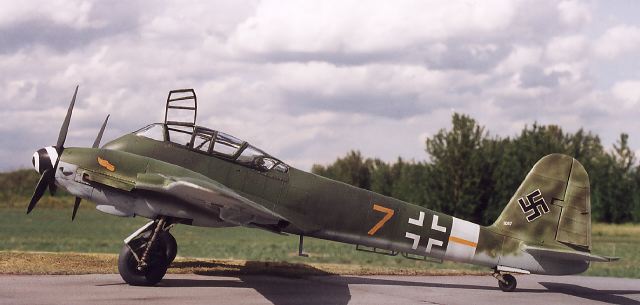 I sprayed the upper surface camouflage free-hand (except along the leading edge of the wings) using Polly Scale acrylics to soften the demarcation lines.
The cockpit is painted RLM 66, the undercarriage RLM 02, the spinners black, and the propeller blades RLM 70. Exhaust stains were sprayed using a thinned mixture of black and rust. The white theatre band was painted on and then masked until the camouflage was complete. The decals are from AeroMaster (sheet # 48-360). Note that the werknummer is angled such that it appears level when the aircraft is on the ground.
Click the thumbnails below to view images full-sized.
Click the "Back" arrow on your browser to return to this page.
---
Model, Text and Images Copyright © 2000 by Ian Robertson
Page Created 15 July, 2000
Last Updated 26 July, 2007
Back to HyperScale Main Page
Back to Features Index