A Modeler's Evolution
Part One
by Russell M. Field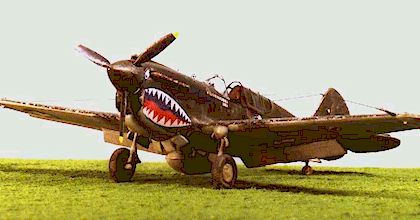 1/72 P-40
I returned to modeling a little less than a year ago after a 25-year hiatus.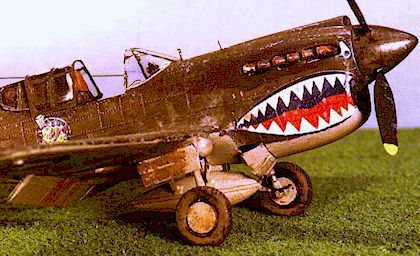 My first love in this hobby is WWII aircraft, and Hyperscale is one of the most valuable resources I've found. I enjoy seeing the results many folks get, but I sometimes feel overwhelmed and wonder if they ever had the problems I do and got the same results I get. With that in mind, I thought some of the "readership" might find it interesting to watch a relative novice progress, and maybe provide a different frame of reference from someone with not-so-developed skills.
SO … here's the first project in one modeler's learning progression. This is not a "how-to" or a kit review, but rather a chronicle of my experience as an evolving amateur. I welcome questions, comments and advice on both modeling and photographic techniques, as well as technical corrections. Comparisons to your own work are freely encouraged.
A warning: don't take the colors in the photographs too literally; I am even more of a novice photographer than a beginning modeler!
I re-entered this obsession by collecting some of the cast metal WWII "toy" planes now available. I wanted a P-40, but couldn't find any, so on a lark I picked up a Heller P-40E kit (Kittyhawk #79738), and a few small bottles of Testor's paint & thinner. I thought "I used to do this all the time - no prob!"
Even though the first one was strictly OOB, it was UGLY; I did a lousy paint job, accidental glue smears, canopy contusions, the whole nine yards. It was like I'd forgotten how to glue stuff together.
It was SO bad I turned it into a painting practice drone. I got another one; I was determined to make THAT particular kit look good! Therein lies the beginning of my journey toward more realistic modeling.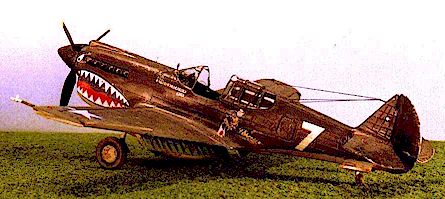 The kit subject is the AVG P-40E of Col. Scott. If you've ever seen or built one of these kits, you'll recognize it as one not intended for a great deal of detailing. The exhausts are solid and molded into the fuselage, the wings are two uppers and two lowers that attach at some approximation of the wing root, the canopy is thick, the interior largely nonexistent, and so on. But it looks enough like a P-40 that it would likely not be taken for another aircraft.
I tried to do too much to this kit, but was fairly pleased with the result. There are some things I'd do differently. One of the "did-rights", though, was learning how to use superglue. My standard practice now is to put a drop on a piece of waxed paper (thank you, Mr. Greenland) and either use a scribe point for application or lightly touch the part edge to the drop.
Some of the key modifications included:
True details wheels and cockpit set (painted under a magnifying glass with a .010" stylus - went blind on this one! BTW, the TD set in 1/72 makes no mention of the manual hydraulic pump handle on the starboard floor. Don't forget to add this if using this set!);
Removed and reset all control surfaces (and matched the joystick position - how retentive is that? Be sure to check the movement limits so you don't exceed them …);
Added wires behind the control panel (one reference states the wires are visible viewed straight down through the windscreen - somebody's laughing somewhere about that one, I'm sure!);
Drilled out the exhausts, installed hypo-tube gun barrels, added photo-etched external machine gun sights and a landing light (broke two #80 bits doing the exhausts, and the light is wildly out of scale);
Reworked the drop tank and its mounts (including a fuel line and cap);
Opened the front scoop up and added the intake throats (AFTER assembly - one of those "Gee, that would look nice" things that you figure out would have been a LOT easier to do BEFORE gluing the fuselage together!);
Replaced the pitot tube, added flap indicators and put some stringers in the wheel well roofs;
My first kit-bash: the landing gear legs looked too extended, so I robbed some from a Minicraft P-40B kit that looked more compressed;
Opened the cowl flaps, added antenna wires and brake lines (the brake wire is too thick, another scale issue), installed my first vac-formed canopy, and opened the starboard ammo bay (the piano hinge is .010" rod wrapped with .008" wire);
And the biggie - dropped the flaps.
So why, you ask, is dropping the flaps a "biggie"? It wasn't, until (after I had the wings glued on, of course) I realized that on a REAL P-40 the flaps extend inboard of the wing root almost to the fuselage centerline. I had removed the flap sections from only the lower WING halves. Got the @%$@! thing together and suddenly saw that I had to remove the inboard portion of the flaps from the fuselage, block off the resulting hole, and make the addition look seamless to the wing portions! ya-HOO!
That's one reason it takes me 3 - 4 months to finish a model …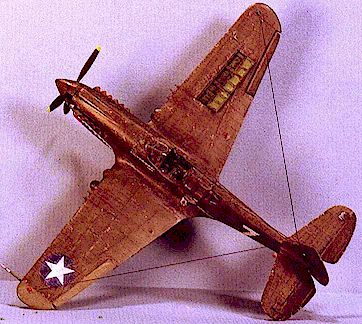 This plane was olive drab over light gray; I hassled a while over exact shades, then picked two. I usually hang my models on pegs stuck into the side of a cardboard box, first with the bottom out then the top. This time, when I did the OD top, I had the light gray bottom resting against the cardboard to further steady it. Sure enough, I saw later that tiny bits of OD had bounced off the cardboard and hit the underside. Fortunately, on this model it looked like light operational grunge or dirt, so I left it.
P-40 historians will notice the incorrect kill markings; if you could read the name, you'd also see that it calls out Olders as the pilot! This is because I thought the decals from the aforementioned P-40B kit looked good. A lesson in historical accuracy … live and learn …
This was my first foray into weathering. I learned to use colored pencils for chipped paint and mud-colored putty, as well as post-shading panel lines and drybrushing to fade the colors and decals. I also experimented with the use of sponge-type eye shadow applicators and silver paint for simulating paint chipping; this has become one of my favorites. The rudder and port elevator, wingtip and aileron are slightly different shades than the rest of the craft. This was intended to simulate replacement parts.
While I might have gotten a little carried away with the wear and tear, the saving grace is that the subject operated in the CBI theater where logistic lines were thin (if they existed at all), weather conditions were often messy and maintenance concerns focused more on functionality than cosmetics.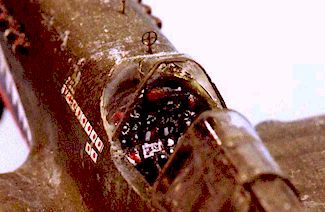 Here are a few things I learned while working this kit:
Kits are not always entirely accurate, physically or historically. This can stem from manufacturing considerations or strategies, outright errors, unclear characteristics or documentation, or poor sources.
Reference material can be confusing. In war, priorities lean more toward survival than ensuring future modelers will know EXACTLY the hue of (insert color here) used. It is also common to find conflicting references; make a decision and move on!
I began to get a sense of the scale effect. For example, the cowl flaps are made from the original kit cowl material - which at 1/72 scale appears to be 4" - 5" thick! I'll thin these or use card stock next time …
Taking a multi-media approach can make your detailed modeling a little easier and improve the overall effect of the finished product (especially if your scratchbuilding skills are no more developed than mine); by the same token, if you pick the right kits you don't HAVE to spend four times as much on aftermarket trimmings as you did on the kit.
Spend some extra time up front planning key features and modifications you want. THEN, research those until you can make detailed plans. For example, decide first if you WANT to drop the flaps, then decide HOW MUCH. Don't wait 'til you're halfway done; knowing these details ahead of time will greatly simplify your life later on and avoid gross technical errors!
Weather a model in layers. A little goes a long way, and it's usually easier to add more than remove extra. I tend to make mine look pretty much "factory fresh", and weather from there.
Next came a Mk I Spitfire and my excursion into the world of photoetched interiors; after that, R-S Tuck's Mk I Hurricane. Let me know if you want more "my tale" articles like this one, and thanks to all!
---
Article, Model and Images Copyright © 1999 by Russell M. Field
Page Created 14 October, 1999
Last updated 26 July, 2007
Back to HyperScale Main Page
Back to Features Page