Mörkö Morane

Model, Photos & Text by Mike Good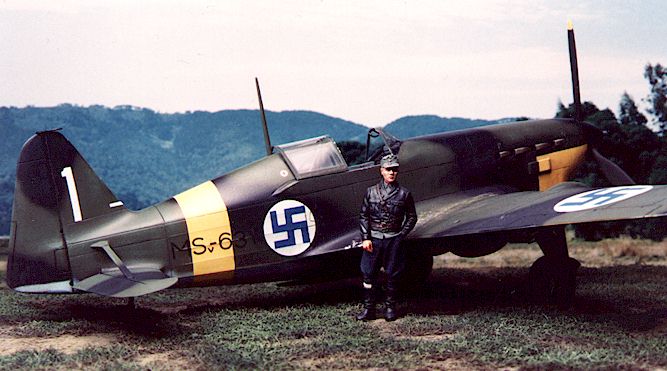 Mörkö Morane
MSv-631, Sgt. Lars Hattinen, 1/HLeLv 28, Värtsilä, August 1944
---
Mike Good sculpts master figure models for Jaguar Models in 1/48 scale. In this feature, he turns his skills to converting a limited-run 1/48 scale MS 406 kit to the very rare Finnish "Mörkö Morane". Mike has completed this package by duplicating not only the individual pilot, but also the look and feel of a Finnish airfield with his evocative background.
---
The Finnish Mörkö (Mörkö means "ghost" in Finnish) Morane fighter was developed from the Morane Saulnier MS 406. The Finns mounted captured Russian Klimov M-105P engines onto the obsolescent French fighter to improve its performance.Only two Mörkö Morane fighters were built before the end of the war with Russia. This did not stop young Lars Hattinen from achieving two victories with Mörkö Morane fighters during the summer of 1944. This model depicts one of his mounts.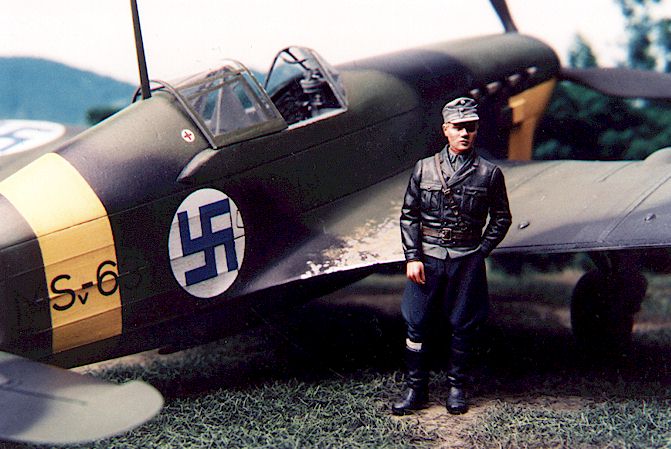 This model was built from the JMGT resin kit of the Morane MS 406. Although a much nicer model than the Hobbycraft MS 406, the JMGT kit is no more accurate. Too bad, because it has a lot of things going for it! The resin castings are excellent, with sharp engraved panel line detail. You also get excellent decals (French markings), photo etched detail parts, beautifully cast white metal parts, and two crystal clear canopies. Assembly is made relatively quick and easy by good design and a limited number of parts. However, outline and detail errors are numerous. The most obvious of these is an anemic and misshapen engine cowling.
By replacing the engine cowling, I could eliminate the worst of the kit's errors. The resulting exercise is an attractive and unique, if not entirely accurate, model. I am OK with that!

The new engine cowling started as the nose from an LTD Yak-9 kit. The oil cooler housing was built from plastic sheet around the grille from a Hasegawa Me-109G kit. The spinner came from a Hasegawa Ki-61. It had the backing plate cut away and the tip shortened and drilled out for a cannon barrel made from plastic tubing. The radiator cowling is a highly modified part from the Hobbycraft MS 406. The radiator core was made from thick sheet plastic faced with Detail Master fine-mesh nylon screen.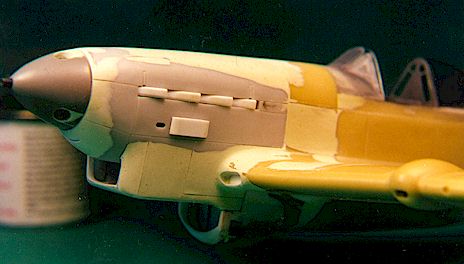 I used epoxy putty extensively on this conversion to fill out new contours and blend together mismatched parts. Epoxy putty's ability to be "sculpted" to shape when soft, and sanded, scribed and drilled when hard, makes it ideal for conversion work like this. It does not shrink either. The pale areas in the photo of the unfinished model are all either styrene or epoxy putty.

The cockpit was detailed using the kit seat along with Eduard photo etched parts and some scratchbuilding. New landing gear retraction struts were made from plastic rod and the outer portions of the kit photo etched parts. The landing light under the wing is an MV products lens. The pitot tube is a fine sewing needle encased in stretched plastic tubing. Machine gun barrels are stainless steel tubing. There are many more modifications and corrections too numerous to mention.

The model was painted with Polly Scale paints. The decals are from AeroMaster sheet no. 48-002 Finnish Aces. The fuselage serial numbers and number on the vertical fin were pieced together using items provided on this decal sheet plus some careful hand painting.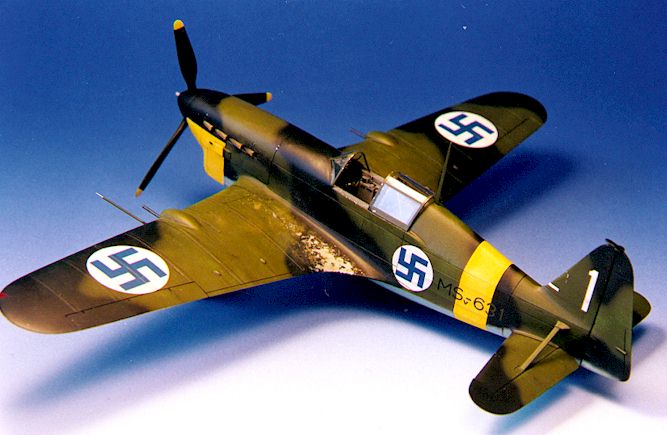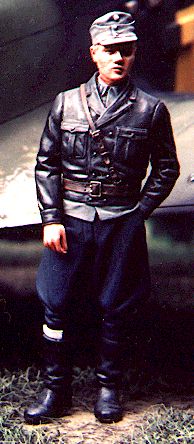 The figure of Lars Hattinen was converted from an earlier figure I sculpted of a Luftwaffe pilot. It will eventually be released by Jaguar models. It was painted with Humbrol and Testor enamels and good Winsor Newton Series 7 paint brushes! These are the best paintbrushes I have used and are critical to good figure painting. I use 0 and 000 brushes (and an Optivisor!) for painting figures in this scale.


Of course, I could have avoided a lot of the correction work if I had waited for a better kit of the MS 406 to come along. I have heard of at least two companies (Classic Airframes and Hi Tech) who are planning all new kits of the Morane. In the meantime, I already have a model of a Mörkö Morane and, I am OK with that!
A d d i t i o n a l I m a g e s
---
Model, Article Text and Photographs Copyright © 1998 by Mike Good
Page Created 18 October, 1998
Last Updated 26 July, 2007
Back to HyperScale Main Page
Back to Features Page