Republic P-47D Thunderbolt
by Fred List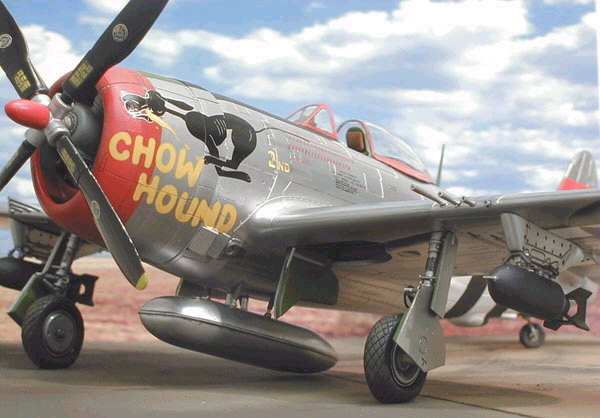 Republic P-47D Thunderbolt
The Republic P-47D was a brute. It was neither graceful nor pretty to most people, but what it did best was to put a whole lotta firepower on the ground where it was needed. This was the inglorious and dangerous job that the Thunderbolt was best suited to do. The pilots of these aircraft were truly unsung heroes of the Second World War.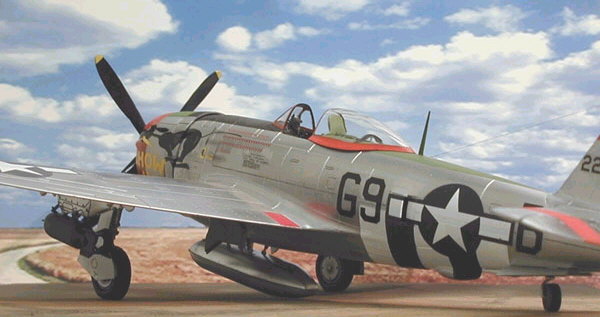 This is Hasegawa's P-47D in 1/48th scale. Flown by Captain Robert Blackburn the aircraft is marked with the insignia of the 509th Fighter Squadron of the 405th Fighter Group USAAF. The primary mission of this Fighter Group was to destroy ground targets. By the end of the war the three squadrons had amassed a staggering total of 6884 tanks, motor transports and gun emplacements destroyed, along with equally numerous numbers of logistical targets. Yet the three squadrons only claimed a combined total of 73 enemy aircraft destroyed in air-to-air combat. These pilots were dedicated ground pounders!
I elected to forgo my usual "straight from the box" technique this time and added some aftermarket details. Specifically, P-47D brass landing gear from Teknics, a Jaguar resin cockpit set, True Details wheels and a wonderful Aeromaster Special Edition decal set "Thunderbolts Over Europe Part 1".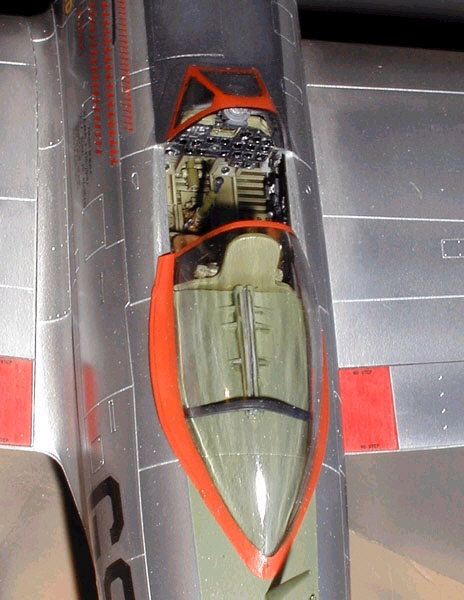 Having had mixed results with some aftermarket stuff in the past, I was extremely pleased with the quality of each of these offerings. The Jaguar set was finely detailed and accurate with no pinholes and little flash. Construction was simple and the cockpit fit into the fuselage with no modification whatsoever.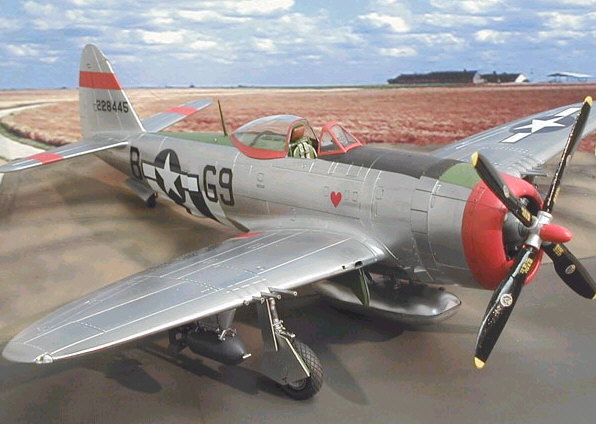 Construction of the model was straightforward in most respects. However, the belly area did have pretty serious fit problems. An enormous amount of careful sanding and some light rescribing was necessary to fix the area (and it still ain't perfect).
I elected to reposition the horizontal stabilizers to match the slightly depressed position I saw in many of the photos I had. This was a dicey proposition for me, because I haven't done a lot of plastic surgery. Overall, despite the fit problems I was happy with the final result.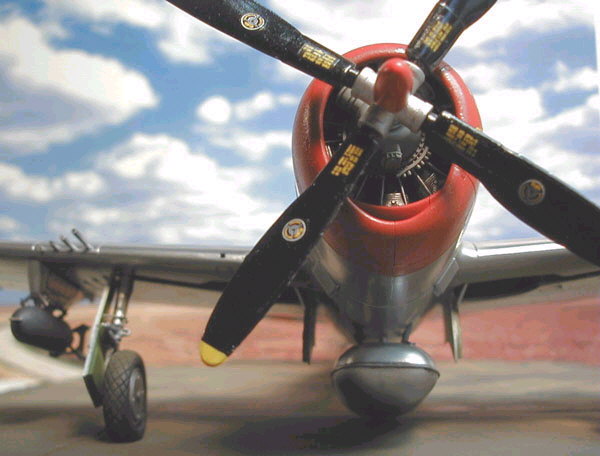 As Brett stated in his review of the Teknics brass landing gear these were very nice quality castings, which simply replaced the kit parts with no significant modifications.
The terrific Aeromaster decal set contains decals for 10 Aircraft from the 405th FG. It includes a very comprehensive booklet of some 20+ pages that details unit and pilot histories and has profiles of each aircraft.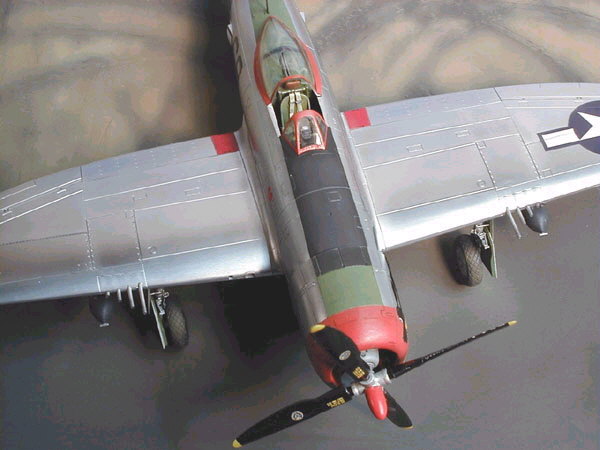 Another nice touch is a chart that details specific features of each aircraft like propellers, wheel types, mirrors as well as insignia and stripe placements. A very thorough research job! The decals themselves are on Decafix 4 paper, which has very strong glue. They where somewhat difficult to adjust once on the model, but I eventually got used to them. In any case, once in place they looked good.
Finally, thanks to Franck Oudin for the excellent reference material (you'll be getting them back, I promise), and Rick E. for the welcome advice.
---
Text and Images Copyright © 2000 by Fred List
Page Created 13 July, 2000
Last updated 26 July, 2007
Back to HyperScale Main Page
Back to HyperScale Features Index