Republic P-47D Thunderbolt
by Ian Robertson
Republic P-47D Thunderbolt
Capt. Frank Oiler of the 84th FS, 78th FG, England, late 1944
The kit is the excellent 1/48 P-47D "Bubbletop" from Hasegawa.
The model offers a great result out of the box but there is plenty of room for after market details should you choose to go that direction.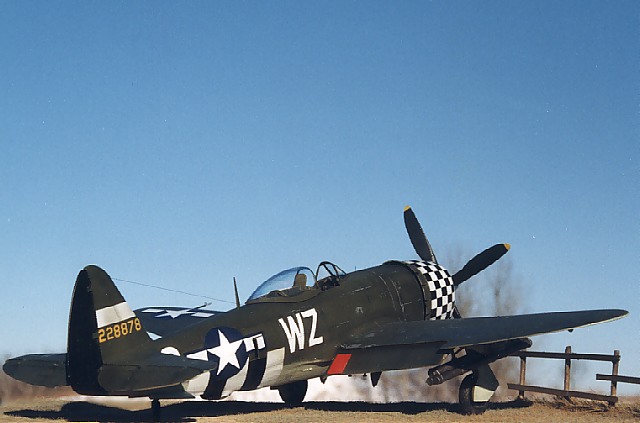 I used the Verlinden detail set to display the cowl flaps open (common for a parked a/c, but not an option in the kit), drop the wing flaps (evident in some photos, but not as common as the flaps-up alternative) and reposition the control surfaces on the tail. The Verlinden set also allows for a complete display of the engine and a gun bay, as well as cockpit detailing. I opted not to use many of these parts for fear of getting in over my head and fusing my fingers together with CA glue!
I also added resin tires from True Details. The bulged effect should have been toned down somewhat, but the tread detail is terrific.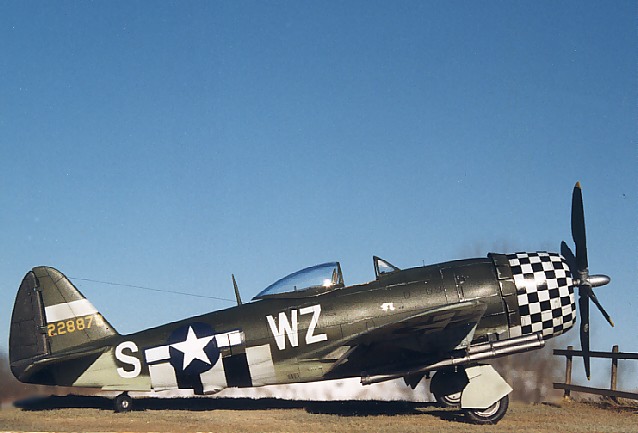 I decided to build the popular "Eileen" flown by Capt. Frank Oiler of the 84th FS, 78th FG, England, late 1944. Decals are from AeroMaster sheet #48-083. The distinctive checkerboard pattern on the cowling, which came in two pieces, required a base coat of white, followed by a clear gloss coat, before application. Wrapping the decals around the front of the cowling was accomplished with reasonable success by cutting them judiciously (i.e., short slits in the clear parts of the decal that needed to be wrapped) and applying micro-sol to help them conform to the curved surface. Note that an enlarged national insignia was present under both wings on this a/c, and that invasion stripes were present on the fuselage only.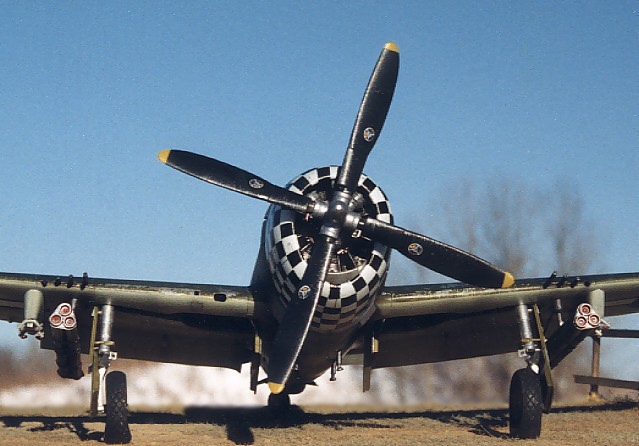 AeroMaster suggests medium green over neutral gray for this a/c; however, most references indicate that RAF green over RAF Sky type 'S' is the correct colour scheme, so this is what I used. An undercoat of SnJ aluminum metalizer was applied before painting the camouflage using Polly Scale acrylics. Demarcation between the upper and lower surfaces was masked with room for slight overspray to soften the edges. The camouflage was chipped in small areas to give a worn look to a war weary bird. Light coats of well-thinned black paint were then sprayed unevenly over various parts of the model to further this effect. The rudder is painted black, although earlier in Eileen's career it was RAF green.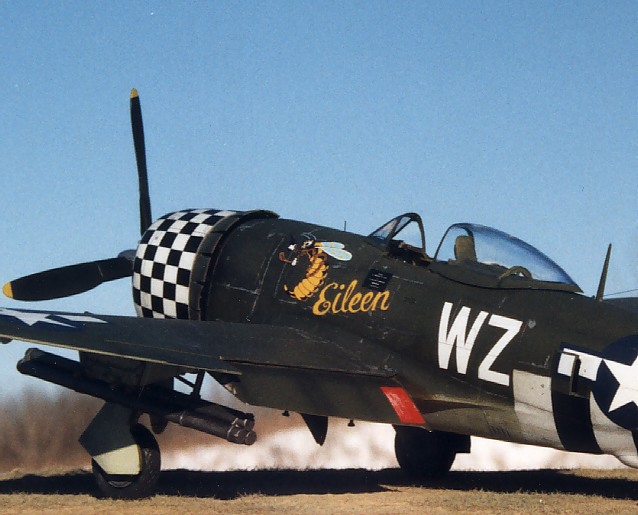 The rocket tubes fitted beneath the wings were scrounged from Tamiya's Pacific P-51D kit. As far as I can tell, these ground attack weapons were used infrequently on P-47s. I have no references to back me up for their use on Oiler's a/c. However, they are easy enough to pop out should it become evident that they are incorrect .
---
Model, Text and Images Copyright © 2000 by Ian Robertson
Page Created 05 April, 2000
Last Updated 26 July, 2007
Back to HyperScale Main Page
Back to Features Index