P-51 Mustang
Article by John Kerr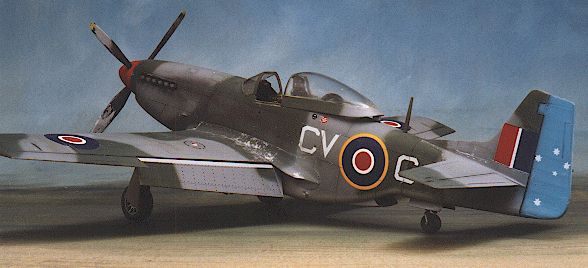 Tamiya's P-51D Mustang IV in the markings of 3 Squadron RAAF
Model by Brett Green
This aircraft will be the subject of Part Two of "Mustangs Under the Southern Cross"
In common with many other aircraft modellers I have a short list of favourite aircraft subjects. The P-51 Mustang stands at the top of my list, closely followed by the Albatross DIII/IVs, Fw190A/Ds, F-86 Sabres and F-14 Tomcats - all being among the best "gunfighters" of their time.
This article describes 1/48 scale P-51B and D Mustang kits in general plus the building of Tamiya's P-51D kit using Floquil railroad metallic paints and AeroMaster decals.

To most aviation enthusiasts and aircraft modellers the P-51D is the definitive version of the Mustang. However the earlier turtle-decked P-51B/C Mustang was a very important development step in combining the sturdy P-51A airframe with the powerful Merlin engine from the Supermarine Spitfire.
The sleeker lines of the P-51D Mustang screamed out "fighter". With a cut down fuselage and the characteristic bubble-top canopy, the pilot had superb all-round vision. The P-51D also carried plenty of punch with its six machine guns (two more than the P-51B) and optional ordnance consisting of bombs and rockets.
There were two basic versions of the P-51D, referred to in this article simply as "early" and "late" versions. The major visible difference between the two was the addition of a fillet at the base of the dorsal tail fin on the "late". The fin fillet overcame the lack of directional stability often noted by pilots of the early P-51D.
P - 5 1 K i t s i n 1 / 4 8 S c a l e - P e r s o n a l T h o u g h t s

The Mustang has been a popular subject with modellers, model kit producers and after-market decal firms in the 1990s. A number of high quality 1/48th scale kits of the A-36/P-51A, P-51B/MkIII and P-51D/K have been released in recent years by Accurate Miniatures, Hasegawa, Tamiya and Pro-Modeler.
Accurate Miniatures kicked off the trend with their P-51A series of kits in 1995. Tamiya was first with a P-51B/C with their superb kit in early 1996. Accurate Miniatures and Pro-Modeler have followed with their own versions of the B/C.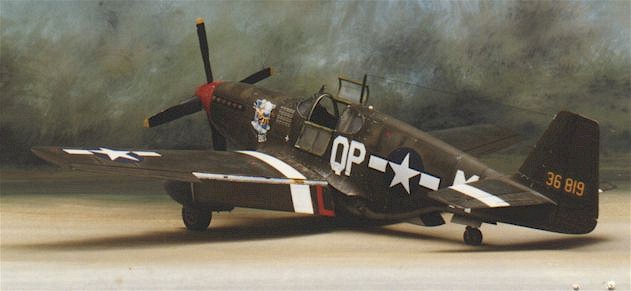 The superb Tamiya P-51B kit as built by Chris Wauchop (Photo Pieter Stroethoff)
Tamiya's "RAF Mustang Mk III" kit hit the hobby shop shelves late in late 1996. It is basically the same as the B except it features the "Malcolm Hood" blown canopy option.
By all reports the Accurate Miniatures' P-51B/C kits are very nice but do not have the dropped flaps of the Tamiya kits. A review in the defunct MMP magazine (which solely previewed military model kits/accessories) rated the Accurate Miniatures' kits as the most accurate B/C kits on the market. However I still prefer the dropped flaps look of the Tamiya kits. (For a description and pictures of an Accurate Miniatures P-51A converted to a P-51B, Mustang III of the RAAF click here).
The Pro-Modeler P-51B is a re-working of the venerable Monogram kit and does not feature the crispness or detail of the Tamiya and Accurate Miniature kits.
P-51D kits are plentiful (Hasegawa, Tamiya, Fujimi, Monogram etc. - I have built all four mentioned). Any modeller wishing to model a specific P-51D Mustang should check their references and determine if the aircraft was an "early" or "late" D. For example, take two well known P-51D schemes flown by famous Mustang aces;
For example, George Preddy's Cripes A'Mighty III is an "early" D while John Lander's Big Beautiful Doll is a "late" D.
The Hasegawa P-51D/K kits are ideal for modelling an "early" D because the fuselage halves have been tooled for easy removal of the fin fillet. I have found the Monogram kit is also easy to modify, however, I recommend modellers choose the Hasegawa kit for its superior detail, recessed panel lines and better fit of parts.
Use the Tamiya and Fujimi kits solely for the "late" Ds as removal of the fin-fillet plastic will leave a gaping hole requiring filler and then careful sanding to achieve the correct profile.
A word of warning about the venerable Fujimi kit. The tail wheel leg needs to be placed slightly below the placement hole in the fuselage, if not, the bottom of the rudder will rest on the ground instead of the tail-wheel. Apart from this annoying flaw the Fujimi kit is a good overall kit considering its twenty year plus age. It is one of the few P-51 kits to provide an engine, internal mounting frames and removable engine cowl panels.
T a m i y a P - 5 1 D a n d F - 5 1 D k i t s i n 1 / 4 8 S c a l e

Tamiya's "P-51D MUSTANG 8th AF" (kit no. 61040) released in 1995 was at the leading edge of Tamiya's return to 48th scale aircraft kit production. Their subsequent "F-51D MUSTANG KOREAN WAR" (kit no. 61044) is essentially the same kit but with added bombs, rockets, optional spinner/propellers and Korean War schemes.
I have built three of Tamiya's P/F-51Ds with another two awaiting building (yes, I really am a Mustang "nut").
B u i l d i n g T a m i y a ' s P / F 5 1- D K i t s

It don't get easier than this! As far as 48th P-51D kits go this would have to be the easiest and best fitting Mustang on the market.
The interior sub-assembly easily snaps together . The glaring omission is the seat harness but these can be easily added from other sources. The one-piece cockpit tub and rear decking makes for simple fuselage construction (compare this quick assembly to the multi-pieced of Hasegawa interior and its exacting construction).
The wheel wells and wings are a snap fit and insert nicely into the fuselage. The remaining parts simply click together with glue used to secure all the pieces.
The separate canopy frame and plexiglass parts are the only real disappointment of the kit. The clear blown canopy is attached to the sprue in a position which is visible when cut off. It is a serious pain to remove the resulting sprue-cut scar.
I substituted a spare Hasegawa one-piece clear canopy with the supporting brace from the Reheat P-51D brass detail set.

Before painitng the whole airframe was polished with Tamiya "Plastic Polishing Compound". This eliminates any fine surface scratches which would be obvious under the natural-metal finish. Floquil "Old Silver" thinned about 70/30 with Floquil "Diosol" (thinner) is my preferred paint for natural-metal finishes. This thin mix was applied in mist-like coats. "Old Silver" sprays almost touch dry, can be polished to a high sheen, and easily lends itself to masking.
The "Old Silver" finish looks like Humbrol's "Matt Aluminium" (a very flat silver). I gently buffed the surface to a sheen using a SnJ polishing cloth. Selected panels can then be masked off with any low-tack masking medium . I use "Post-It Notes" (yes - the sticky yellow paper you write messages on) and Tamiya Masking Tape or "Fineline Automotive" Masking Tape" (used by Crash Repair spray-painters).
The unmasked areas were then vigorously polished with SnJ "Aluminium Polishing Powder" applied with the SnJ cloth. After achieving the desired sheen the panel masks are easily removed. The contrast between the highly polished and masked off panels is spectacular. Be warned - if using this powder always wear a filter mask to guard against ingesting the fine metallic powder.
Note: Since building this model in 1996 I've found Floquil's
"Bright Silver" finish has more shine than "Old Silver" and requires less polishing to achieve a smooth metallic sheen. It depends on whether you want a slightly dull or very bright finish.
All areas requiring trim colours were masked off and brush-painted; the anti-glare panel "Olive Drab", spinner and nose-ring "U.S.A.F. Medium Green", rudder segments "Red Arrows Red".

Following my normal practice of totally ignored kit decals, I chose "Louisiana Heatwave" from AeroMaster 48-132 "Aces of the Eighth Pt. IV".
This P-51D was flown by First Lieutenant Claude Crenshaw of 369th FS, 359th FG during 1944. The striking nose art decals come as single piece decals and are nicely rendered. The only other unique marking are the four kills marks on the port side canopy frame. While this aircraft sports a simple scheme with subtle trim colours it is still quite striking.
Suffice to say the decals were typical AeroMaster and settled down beautifully on the polished "old Silver" finish (no need to apply a clear gloss coat before applying decals - another feature of the Floquil metal paints).

Most of the P-51 kits discussed in this article will produce a good model. Without doubt the Tamiya kits are the easiest to build. The Hasegawa D/K kits are better detailed but require exacting construction in many areas (e.g. the cockpit and interior fuselage centre section).
I would rate the Tamiya P/F-51D as one of the most enjoyable kits I've built and give it a rating of 8.5 out of 10 (which is very high for me). If you have a spare Hasegawa canopy I would recommend using it instead of the two-piece Tamiya canopy (Hasegawa provide two canopies in their kits).
JOHN KERR
of the South Australian Plastic Modeller's Association, Adelaide, South Australia
---
Article Text Copyright 1998 by John Kerr.
Models by Chris Wauchop (P51B) and Brett Green (P51D).
Photographs Copyright 1998 by Pieter Stroethoff.
Page Created on 24 April, 1998.
Last updated 26 July, 2007.
Back to HyperScale Main Page
Back to Features Page