F-15i Eagle
by Chris McKee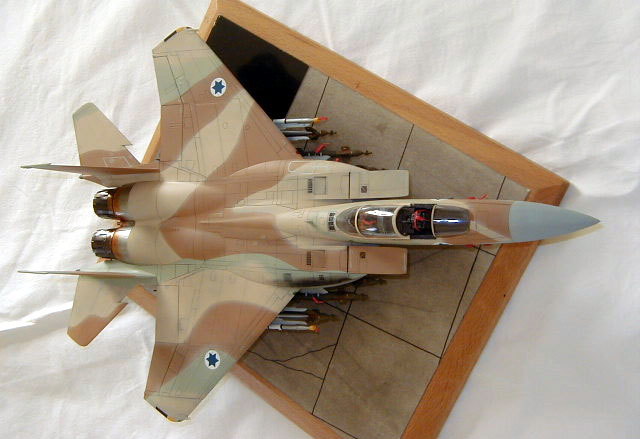 F-15i Eagle
Here is my 1/48 scale F-15i Eagle that I finished recently. The project was based on Revell-Monogram's F-15E Eagle.
I used the Black Box resin detail set (and a little artistic licence) with the Monogram F15E. In fact I used two as they are only £9 each here in Cyprus. I robbed the tailfin with the smaller pod on top from the second one to get two the same as this is how the Israeli's have them.
The most important item for making this model were the colour photos I got from IPMS Israel at the 1999 Telford IPMS UK Nationals. They suggested that the tail fin and the turkey feathers to be the main externally visible differences between the F-15E and the Israeli versions.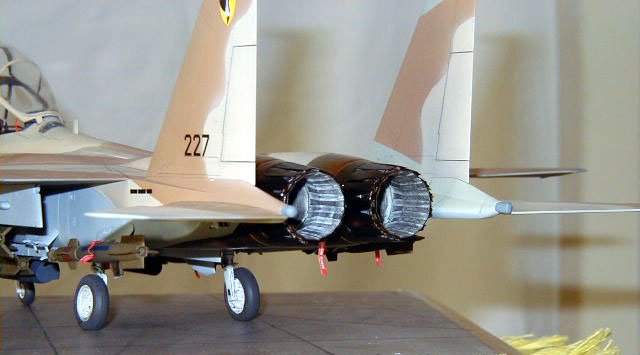 After studying photos of the Israeli and USAF machines there were the only major differences I could see. Although reviews else were have listed others, I couldn't see them (or understand what they were getting at!). The turkey feathers came from a fellow HyperScaler.
Construction proceeded per the instructions. The only problem area was the join behind the cockpit and the fragile nose wheel.
I am not a big fan of Acrylic paints or Xtracolour enamels so I used my ever reliable Humbrol colours.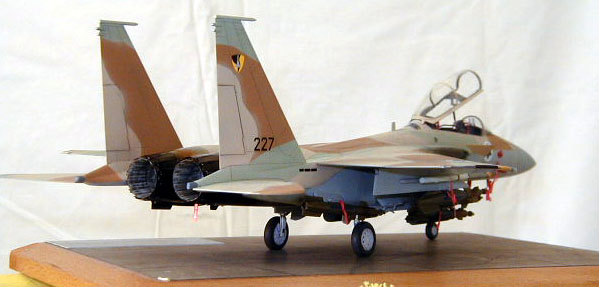 A reliable contact in Israel gave me the colours as follows:
My trustee Badger 200 airbrush did all the hard work.
Once the paint had dried, the decals were applied. No gloss finish is used, as with all my models the matt finish remains, what I do is loosen the decals in warm water, then submerge the decals in Johnston's Kleer (as it's known in the UK) then place the decal in position on the model. A brush is used remove any trapped air bubbles.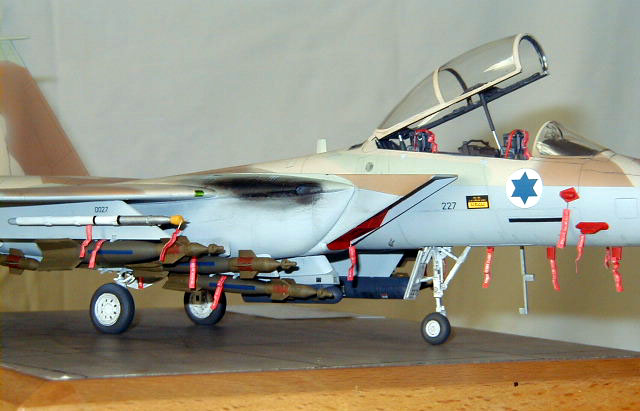 Why do I do it this way? Well, as aircraft are nearly all matt anyway, why gloss areas that will get up matt later?
The decals are left overnight. They wrinkle and twist but always end up perfect with no silvering.
The decals in this case are from Sky, not as good as Isra but the only ones available. I actually used Isra decal insignias as these were a lot better printed. The decals and finished were sealed with Revell Matt varnish, the remove before flight tags were from ED models and the protecting plates were scratch built.
The weapons come from the new Hasegawa weapons set .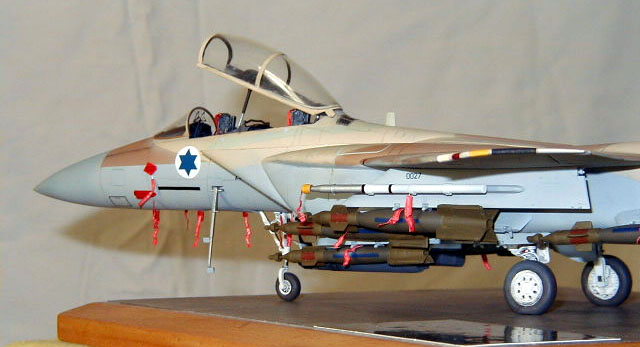 So there you have a different F15. One that's not grey, or even grey and grey!
Click the thumbnail to view the image full size.
Use the "Back" arrow on your browser to return to this page.
---
Text and Images Copyright © 2001 by Chris McKee
Page Created 25 February, 2001
Last Updated 04 June, 2007
Back to HyperScale Main Page
Back to Features Index