Vought F4U-1 Corsair
by Mark Gran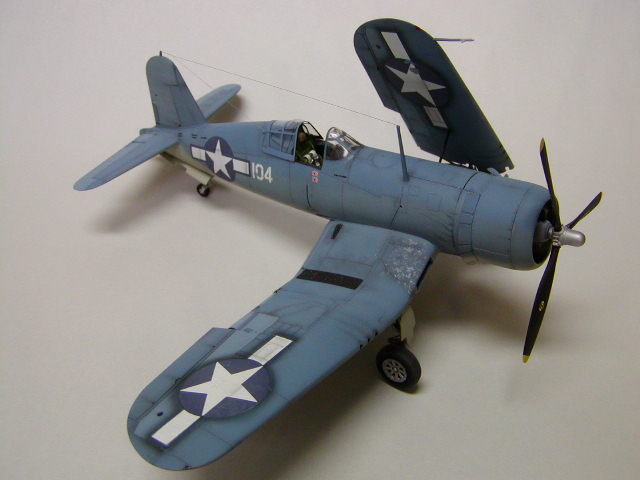 Vought F4U-1 Corsair
Tamiya's 1/48 scale F4U-1/2 Birdcage Corsair is available online at Squadron.com


What more can be said about the F4U Corsair family that hasn't already been stated? This is truly one of the great aircraft of all time in my opinion. When Tamiya decided to release their series of models covering this subject a few years back, I was very excited when the F4U-1/2 was announced.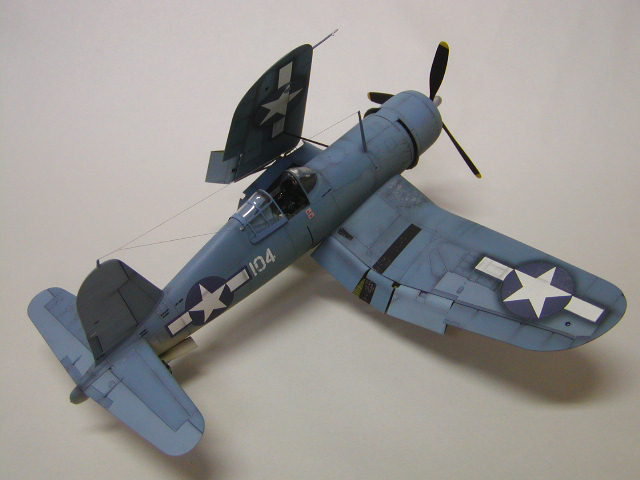 I've always liked the "Birdcage" look for some strange reason. The other reason I was excited about this kit was an unusual paint scheme that I had found in a book in my collection that I had never seen anyone model before, more on that later.
I think with as much all of the great work that other folks have posted here on Hyperscale and other model web-sites, I won't bore you with all the kit build up stuff. All I added to this kit was True Detail sidewalls and consoles, TD seat and aft bulkhead; remainder of cockpit is from the kit.
The engine is completely from the kit with .010 lead fly tying wire added to the engine. I also added .010 lead wire to represent brake lines and scratch built the locking springs on the main gear out of fine wire wrapped around itself.

In the wing fold, lead wire of various diameters was added as well as some scratch built fittings.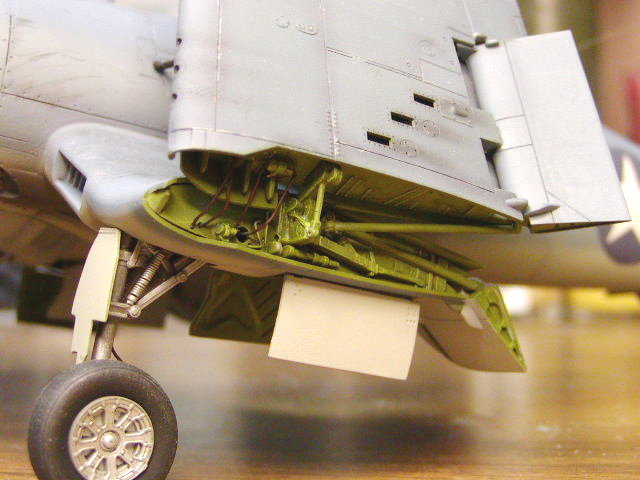 As far as overall fit of the kit was concerned, the only area that I had to use any filler was a "smidge," and I do mean "smidge" where the leading edge of the wing meets the fuselage as well as where the trailing edge of the wing meets the fuselage (inboard flap area).
As I mentioned before, I noticed years ago an unusual paint scheme that I had never seen anyone model. On page 53 of the Aero Series #11 Second Edition book "Chance Vought F4U Corsair," there was a picture of F4U-1's of VMF-123 with Stars and Bars presumably in all six positions! My model here depicts the aircraft in the foreground, #104.

The hard part was trying to determine if she was painted in the Blue-Gray/light Gray scheme or a tri-color paint scheme. After a few weeks of talking with a good friend of mine, Steve Mesner and a few other folks, I came to a SWAG of a conclusion. I painted her up in a tri-color scheme of a VERY faded NS Sea Blue over Blue-Gray/Light Gray. I figured that if I was a line mechanic in the middle of the South Pacific in a front combat area, I more than likely would not have bothered stripping my aircraft down to meet the official tech orders issued, I would have just added the NS Sea Blue to what I had. So that is how she is painted.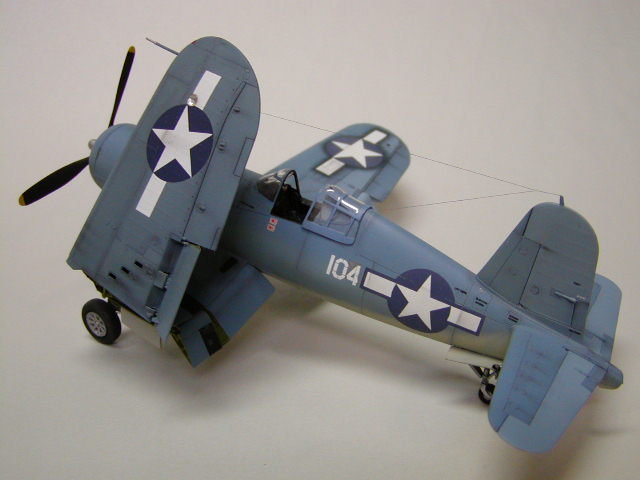 I pre-shaded all of the panel lines with flat Black and then started spraying. I like to keep my weathering subtle, the more you stare at the aircraft, the more detail that pops out at you. Oil streaks were done with watercolors added to various panels and bolts and then pulled back in the direction of the slipstream.

All in all I had a great time building and researching this aircraft. I hope you enjoy her as well.

---
Model, Text and Images Copyright © 2001 by Mark Gran
Page Created 12 August, 2001
Last Updated 04 June, 2007
Back to HyperScale Main Page
Back to Features Index