Grumman F6F-5 Hellcat
by Cameron Lynch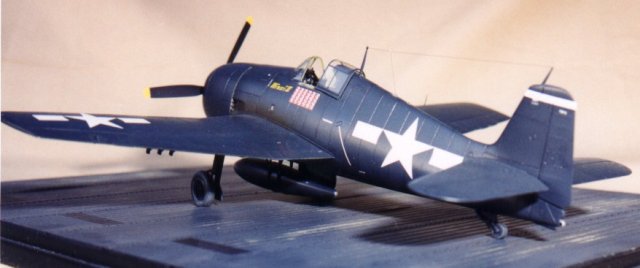 Grumman F6F-5 Hellcat

Hasegawa's 1/48 scale F6F-5 Hellcat is available online from Squadron.com
This is the Hasegawa F6F-5 in 1/48 scale.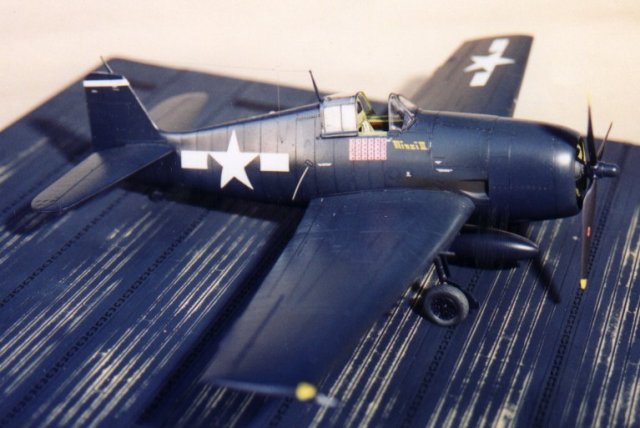 As is my usual practice, the cockpit was completed first although the kit cockpit was replaced with the superb Jaguar resin kit. The cockpit was airbrushed the base color of Interior Green with details brush painted followed by a wash of artistís oils to pick out the detail and a flat coat to even everything out. An Eduard instrument panel was used.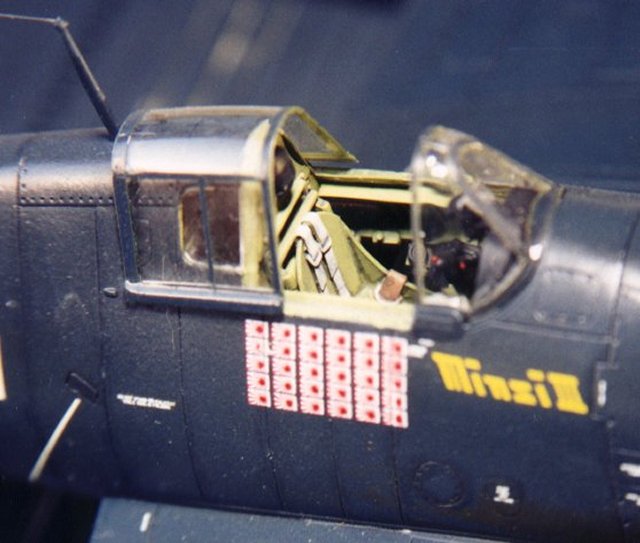 The engine cylinders from the Hasegawa kit were used but the gear reduction housing, prop governor and magnetos were replaced with resin parts. The ignition harness was scratchbuilt with solder ignition leads in the appropriate firing order. Solder was also used for the oil returns and vacuum lines. The painted engine was given a wash and semi-glossed.
The rest of the kit was built pretty much out of the box except for a beautiful Obscureco cowl and the wingtip position lights which were replaced with clear acrylic. The kit canopy was dipped in Future, but a Squadron vac canopy replaced the sliding hood.
The model was painted with Aeromaster Acrylics with Aeromaster national markings and stencils. The markings specific to Minsi III were obtained from a sheet manufactured by Aerocraft.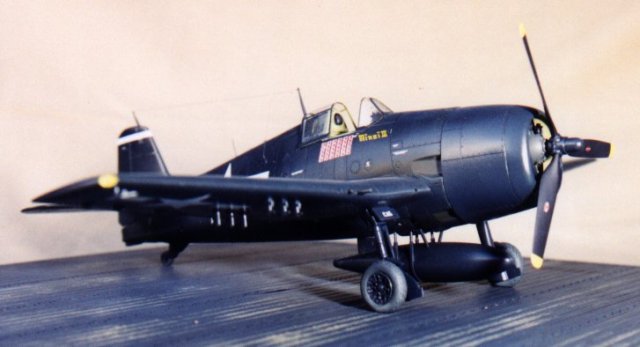 To the best of my knowledge these are the only accurate markings for Minsi III available in 1/48. Minsi III was beautifully maintained and weathering was kept to a minimum with a light wash of artistís oils and a heavily thinned gray/brown mixture for the exhaust.
This is one of the most satisfying models Iíve finished in the last few years and I often pause in front of the display case to admire the quiet, purposeful malevolence of the Grumman Cat. Iím looking forward to building another in the attractive tri-color scheme.
Cameron Lynch
---
McCAMPBELL, David Commander USN
34 Kills

Born: January 16, 1910 Bessemer, Alabama VF-15
Died: June 30, 1996 Rivera Beach, Florida Serial # 72487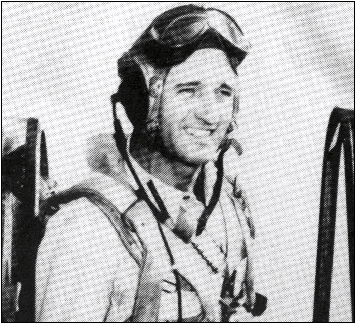 Dave McCampbell attended Georgia School of Technology for a year, before graduating from the US Naval Academy, and was commissioned an Ens on June 1, 1933 in the (inactive) Naval Reserve. On June 14, 1934 he was transferred back to the regular Navy, and commissioned an Ens wef May 29, 1934. He served on the cruiser Portland from June 1934 to June 1937, serving as an observer with VCS-11 from July 1936. He entered flight training, and was designated a Naval Aviator on April 23, 1938. He served with VF-4 on the Ranger for two years. In May 1940 he joined the Wasp Air Group, and served as LSO until Wasp was sunk on Sept 15, 1942. He was promoted to Lt wef June 1,1941. He was LSO on the Wasp during the missions to re-supply Malta with aircraft. He was promoted to LtCdr wef Oct 1,1942. He served at NAS Jacksonville and NAS Melbourne from November 1942 to August 1943. He commissioned VF-l5 in September 1943, and was CO until Feb 8, 1944, when he became CO of CVG-15. He was promoted to Cdr wef Jan 1, 1944. He lead CVG-15 throughout its combat tour on the Essex. He received a Medal of Honor, a Navy Cross, a Legion of Merit, a Silver Star, three Distinguished Flying Crosses, and an Air Medal. He was Executive Officer on the Franklin D Roosevelt from Feb 1951 to March 1952. He was promoted to Capt wef July 1, 1952. He was CO of the Severn (AO-61) from Jan 1958 to Feb 1959, and of the Bon Homme Richard from Feb 1959 to May 1960. He retired from the Navy on July 1, 1964. Assigned aircraft: F6F-3 41692 (?) Monsoon Maiden (damaged by A/A fire over Marcus Island on May 19, 1944, jettisoned the next day), F6F-3 ? Minsi (damaged by A/A over Manila September 1944, jettisoned); F6F-5 ? Minsi II (dam in air/air combat, repaired and renamed); F6F-5 70143 Minsi III (lost December 1944 by next group CO); F6F-5 72649 (unnamed), flown in the US.
MEDAL OF HONOR INFORMATION:
Place and date: 300nm W of Saipan, Philippine Sea, 19 June 1944.
Citation:
For conspicuous gallantry and intrepidity at the risk of his life above and beyond the call of duty as commander, Air Group 15, during combat against enemy Japanese aerial forces in the first and second battles of the Philippine Sea.

An inspiring leader, fighting boldly in the face of terrific odds, Comdr. McCampbell led his fighter planes against a force of 80 Japanese carrier-based aircraft bearing down on our fleet on 19 June 1944.

Striking fiercely in valiant defense of our surface force, he personally destroyed 7 hostile planes during this single engagement in which the outnumbering attack force was utterly routed and virtually annihilated.

During a major fleet engagement with the enemy on 24 October, Comdr. McCampbell, assisted by but l plane, intercepted and daringly attacked a formation of 60 hostile land-based craft approaching our forces.

Fighting desperately but with superb skill against such overwhelming airpower, he shot down 9 Japanese planes and, completely disorganizing the enemy group, forced the remainder to abandon the attack before a single aircraft could reach the fleet.

His great personal valor and indomitable spirit of aggression under extremely perilous combat conditions reflect the highest credit upon Comdr. McCampbell and the U.S. Naval Service.