North American F-86D
"Sabre Dog"
by Josh Bowling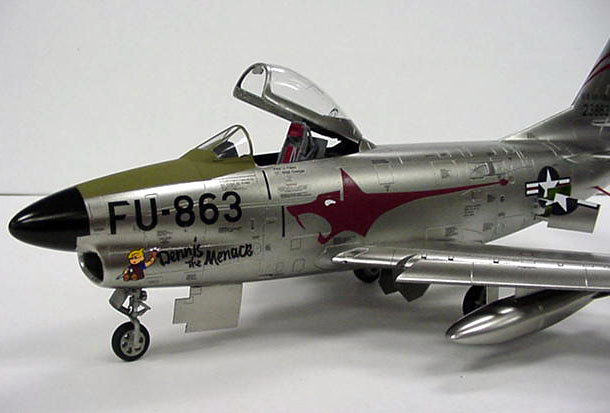 F-86D Sabre Dog

Revell-Monogram's 1/48 scale F-86D Sabre Dog available from Squadron.com


I recently finished the Revell-Monogram F-86D. Wow! What a nice kit. This was a first for me in several areas. It's been ages since I built a Monogram 1/48 scale jet, I had never used acrylic paints through my airbrush, and I'd never used Alclad lacquers for natural metal finishes. Thanks for the hints Bondo Phil!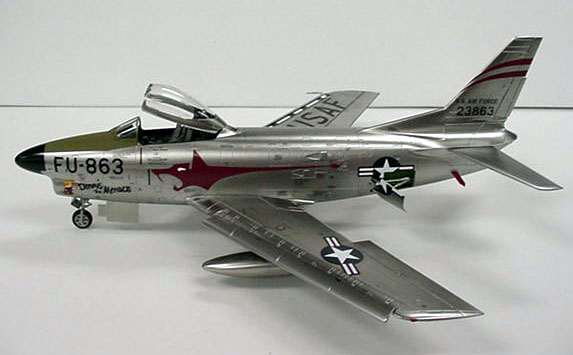 The Sabre Dog comes beautifully molded in light gray styrene, with petite engraved panel-lines, and excellent surface detail. The sprue trees are bagged in pairs, allowing some parts to rub together, but no damage was done to any of the smaller parts in my kit.
I did notice one of the upper wings was warped in my kit, however it wasn't a problem as the wing straightened out nicely upon construction.
This kit almost literally falls together. It is engineered to fit, and required absolutely no filler. I build with gap-filling superglue, and I did nothing to the seams beyond sanding and re-scribing details. Particular attention should be paid to the cockpit. Although the kit parts are quite nice, I'm almost sure that Black Box or Aires or another company will produce an aftermarket cockpit set for this kit. The instrument panel is a bit fiddly; make sure to test-fit the small side panels before gluing. I installed the small side panels after installing the cockpit in the fuselage and gluing the fuselage halves together. This allows a more precise alignment of the smaller parts. Joining the fuselage halves turned out to be the largest problem with this kit. There are several parts and assemblies that need to be glued into the fuselage before the halves are finally sealed. Make sure to test-fit all of these parts several times, so when the glue is wet, you can make the fuselage halves fit, line up and look good.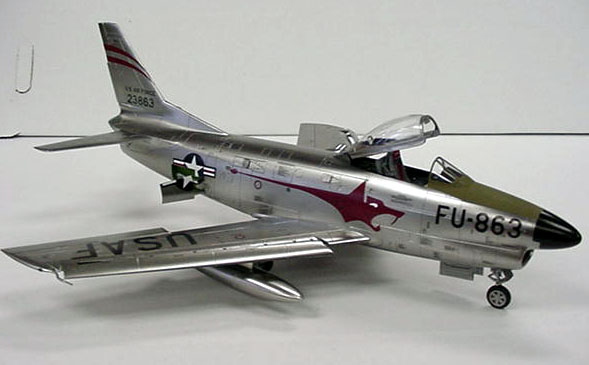 A word should be said about the kit-supplied intake. It's adequate, but again, I wouldn't be surprised if someone did a "Seamless Suckers" type replacement for the kit pieces. It's very narrow, and not easily sanded or filled. Good luck here.
Once the fuselage halves are together, it's time to put the wings on. I usually take a few days to do this, a day to worry about the fit, another day to get up the courage to glue the pieces, and a final day to actually screw up the operation! With this kit, it really wasn't a problem. You glue the top wings to the single bottom wing, and then glue that assembly onto the fuselage…Just that simple! Once again, fit was excellent if not a little too tight.
The rest of the kit assembly went without incident, and as I said, I did nothing more than sand and re-scribe the seams.
When it came time to paint, I was a little hesitant. I've never used acrylic paints through my airbrush, and wasn't looking forward to spraying Tamiya Gloss Black acrylic on this model. The gloss black acrylic is called for in the Alclad instructions and although it seems a bit goofy, the end result is fantastic. Well, what a pleasant surprise when the gloss black went down without a hitch, and dried in a record twenty minutes! I just might have to invest in a few more of these! I thinned the gloss black 50% with Tamiya thinner, and it sprayed just fine. I applied three light coats, which built up to a very glossy finish. I kept thinking the aircraft was still wet, when it had been dry for the last half-hour! Once the acrylic dries, you can spray the Alclad on the model. Just to be safe, I gave the gloss black a day to cure. During this time, I scraped and painted the landing gear, wheels, tires, and small parts that would be added to the kit after painting.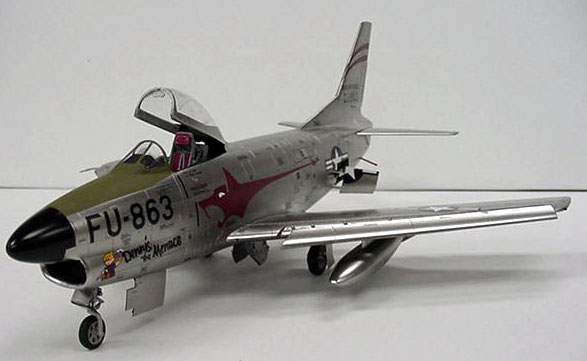 I sprayed the Alclad straight through the airbrush, using a narrow spray pattern; I coated the whole model twice. The result is outstanding, I couldn't be happier. The paint was dry in 15 minutes, and doesn't require buffing. It goes down that shiny, and stays that way. Just beautiful! Once I got up from where I had fainted, I touched the surface, expecting to see fingerprints, lifted paint, etc. None of that. I masked off the area for the anti-glare panel, and sprayed that with Model Master Enamel Olive Drab. I expected the natural metal finish to pull off when I peeled back the scotch tape masking…none of that either. I masked and re-painted the radome with Tamiya Gloss Black Acrylic, no NMF pulled up under those masks, and I mask with Scotch tape! I was beginning to like this Alclad stuff! I tried a little experiment, I took a long piece of Scotch tape, laid it along the spine of the aircraft, burnished it down, so that every inch of tape was stuck to that finish. I ripped the tape up as fast and as hard as I could…no finish came up with the tape, outstanding! It should be noted that all the paints I used over the NMF had no trouble adhering to the surface.
I applied the kit decals straight over the Alclad, perhaps next time I'll seal them in with a coat of Future, as the carrier film shows on several decals. Perhaps it's the decals, or the person applying them. One thing to be wary of, for some reason Alclad doesn't like Solvaset. I found a few places where the Solvaset actually ate into the Alclad finish, so be careful when using decal softeners.
After painting and decaling, I attached the canopy, landing gear, speed brakes, and external fuel tanks. I chose to model my Saber with the rocket sled retracted. I like the clean look of the aircraft without the rocket sled deployed.
Overall, this kit is outstanding. Great fit, excellent detail, and an interesting subject. I'm sure we'll see many upgrade sets and aftermarket decals for this one. I highly suggest this kit to anyone with moderate building experience.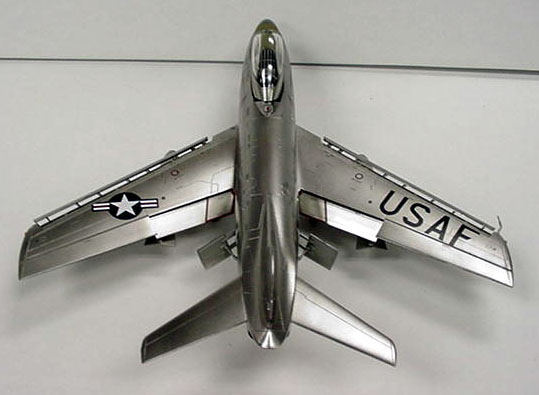 I also highly suggest purchasing and using Alclad. It's simple, quick, and provides a great finish. It comes in several different shades so you can choose how shiny you want your subject to be, and what shade of metal you prefer.
Thanks to Dave Heno at Hobby Island Houston, TX for providing the kit and the Alclad, and John Greiner for taking the pictures.
---
Model and Text Copyright © 2001 by Josh Bowling
Images Copyright © 2001 by John Greiner
Page Created 04 August, 2001
Last Updated 04 June, 2007
Back to HyperScale Main Page
Back to Features Index