North American
F-86E-30 Sabre
by Robert Blaschke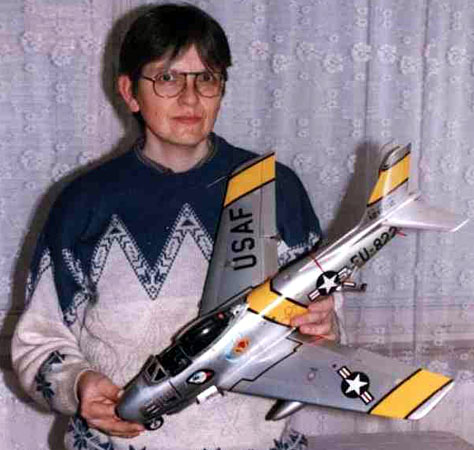 F-86E-10 Sabre in 1/18 Scale

HyperScale is proudly sponsored by Squadron
Some time ago I decided to leave my job but I had not decided on my next career move. I saw an advertisement in a model magazine that offered a professional modeling job. I decided to try it. It gave me one year and one month of building special models and accessories.
The first models I built were without exterior painting. My role was to build quality interiors, wheel wells and other inner surfaces and details.
Finally, the time came for me to build a complete model. In fact, it was also my swan song in my short career as a professional modeler.
The model was a North American F-86E-10 Sabre.
The model is HPH, in 1/18 scale. The technology is completely different from a classic plastic kit. The basic parts are laminated into negative forms and then laminated together. The kit includes the complete fuselage with solid wings and vertical stabilizer. Additional pieces, also from laminate, are ailerons, flaps, horizontal stabilizers, rudder, two parts of intake tunnel and canopy frame.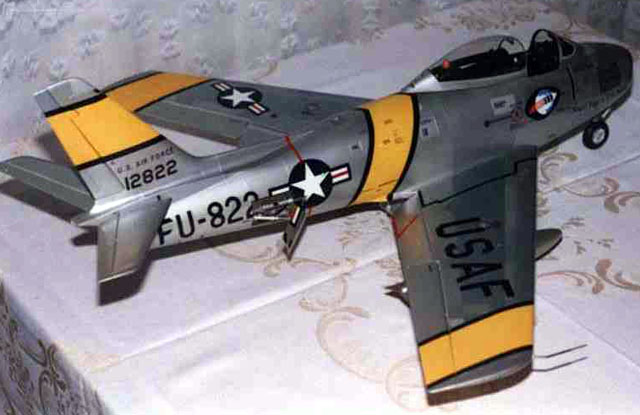 All other parts are PU resin pieces. Many additional details had to be scratchbuilt.
First I had to decide, what aircraft it will be at the end, because there were no available in this scale. I had many schemes from which to select. In the end I came to a decision - I chose "The King".
There were some problems. The model was F-86F-30, as it was designed primarily for Japanese market. I hesitated, how much to rebuild. I shortened the wingspan and opened up some fuselage "holes" that the F-30 did not have. I left the slots as they were, although at E-10 the wing root should not reach above the ammunition door. I took a decision to open it up and make the cartridges visible and so I had to make the root piece of leading edge, which this airplane had not. Never mind. It looks good anyway.
But one thing was bad - the wings were swept too far - three degrees more then reality! At least the panel lines were in fact at good angle to leading edge, i.e. they were three degrees swept back. I decided to let it be as the correction would be too difficult.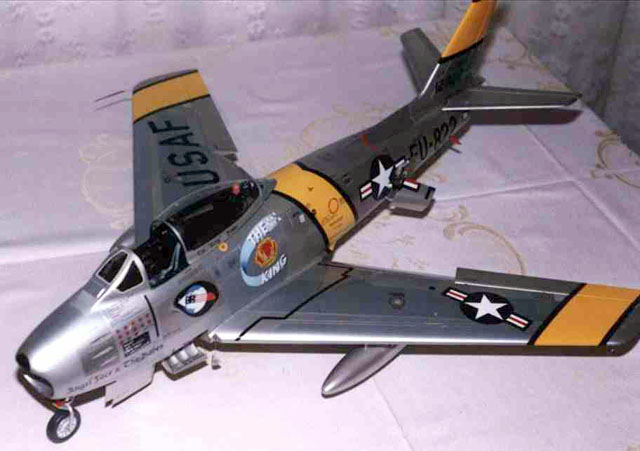 The main remaining problem was how to paint the yellow bands, if I don't want to make the wrong wing angle immediately apparent. My answer was to paint them accurately, and not align them with the panel lines of end part of the wings.
Fuselage Exterior
The work started with fuselage.
First I drilled out all the openings and removed the material in the wheel wells, speed brake bays and canopy. The panel lines of front wheel well were wrong - too far aft. If I let it be, I could never place the ammunition door correctly. I shortened it to the right dimension. For all this dirty work I used my highspeed Proxxon machine, with cutting discs and sanding bands.
I then washed the whole model in detergent and in toluene to remove all remnants of laminating separator. The next tool in my hands was a big rasp file. I removed all the excess resin material in the lines where the basic parts were laminated together. No.600-1000 sandpaper was used to prepare the parts with a smooth finish.
Of course there were a lot of little holes - air bubbles in the resin. I used a polyester two-compound fine putty PrestoFlex for big areas and Tamyia putty for fine jobs. All the missing and destroyed panel lines were then newly scribed. After a year in this business I had a lot of practice with this. I drilled out the missing rivets with a 0,5mm drill. Anyone who works with resin parts can attest how every sanding brings myriads of new bubbles to the surface. Experience and instinct for this kind of work can help here.
---
Fuselage Interior
This included fitting the intake tunnel, interior, wheelwells and speed brake bays. With the exception of the intake tunnel (that had to be glued from two laminate parts) all other parts were PU resin. Fitting was not good, so massive puttying and sanding was required.
---
Cockpit
The cockpit interior was a big and heavy part, but not heavy enough. I therefore added a lot of lead weight to the nose to avoid the model being a tail-sitter.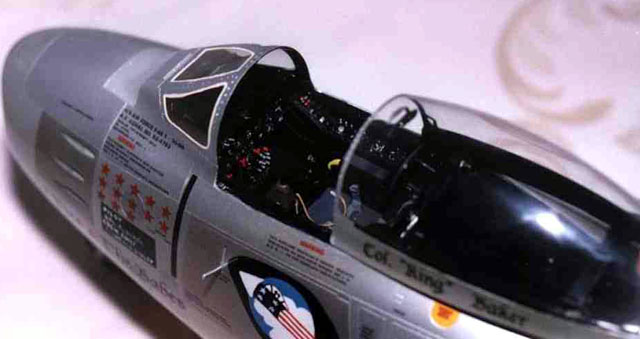 The cockpit had to be painted before gluing in. I wanted to paint it light gray, as it is very nice to me - black instruments with white symbols and hands on light gray panel, but that would have been inaccurate - the interior of this bird was black, as it could be seen from various pictures. So I painted it black and then all the above-mentioned hands and symbols white with 5/0 brush. Some pieces had to be red, some yellow. Complicated piping behind the ejection seat I made from solder and paint it black too.
---
Wheel Wells and Speed Brake Bays
I drew a technical scale drawing of the wheel wells and speed brake bays as I needed to have clear idea of every part of piping and wiring in them.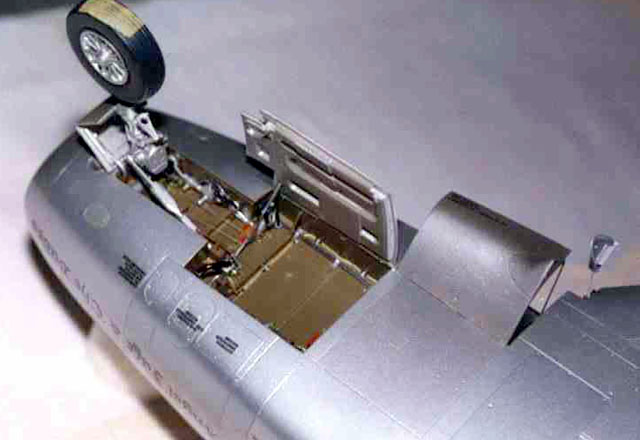 The front wheel well was too long, so it had to be shortened. After gluing it all together I painted it interior green and fitted with parts, piping and wiring, as I can read it from the pictures I had. (The color was really interior green, although on my pics it seems to be brown. It could have been a problem with my camera, I don't know.)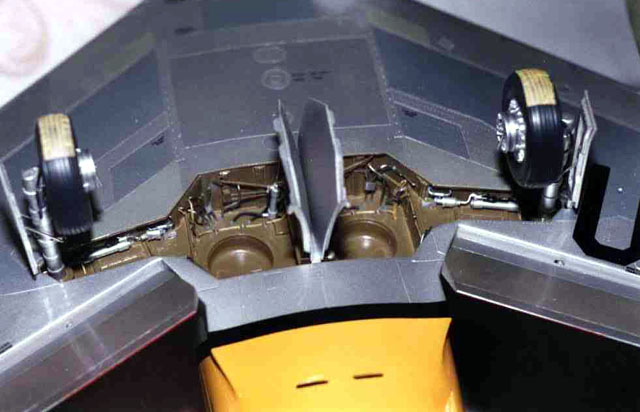 Many of the parts in wheelwells and also in speed brake bays were scratchbuilt.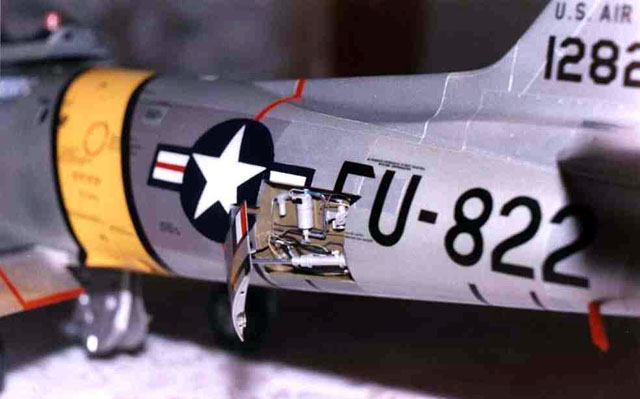 The piping is from 0,6 or 0,8 mm solder.
---
Undercarriage
Undercarriage legs were PU resin parts with steel rod cast in. The front wheel needed to be detailed with many parts, especially for the front wheel steering. Wheel discs were well detailed, but some putty had to be used and some sanding and engraving should be done on the tires.
Both the wheelwells and the undercarriage legs had to be glued with massive amounts of epoxy, as they had to bear the full weight of this heavy model.
---
Windscreen and Canopy
The windscreen and canopy were stretched on the master not from acetate but from acrylic sheet, 0,8mm plexi. It is not easy to cut out the right shape, especially if you need to fit it on laminate frame. And it is very fragile, too. But with a lot of patience and experience it was completed. The canopy had to get open and close with perfect fitting to windscreen. This was an important demansd of the company I work for. It proved another tough part of the project, but it was possible.
Rivets, drilled in the frame of canopy are important. They reinforce the impact of the model in this scale.
Unlike a regular plastic kit, this one was painted with PPG-Deltron BC-type acrylics.
When all the surfaces were nicely prepared for painting, I sprayed it with a reactive basic color and one shade of silver. Then came masking and re-masking and another and another shade of silver. I think I used about 10 shades. One with drop of white another with drop of blue, red, yellow etc. The effect was quite nice.
Then more masking for yellow bands with black borders, another for 4th FIW emblem and another paintbrushing. All the insignias were paintbrushed with plotter cutted masks. The emblem "THE KING" was masked and paintbrushed too, color by color, the crown was at the end shaded and make up with brush.
I use some decals. I received stencils with the model, but I made the inscriptions "Col "King" Baker" and "Angel Face & The Babes" myself on laser printer so as numbers 12822 on the tail.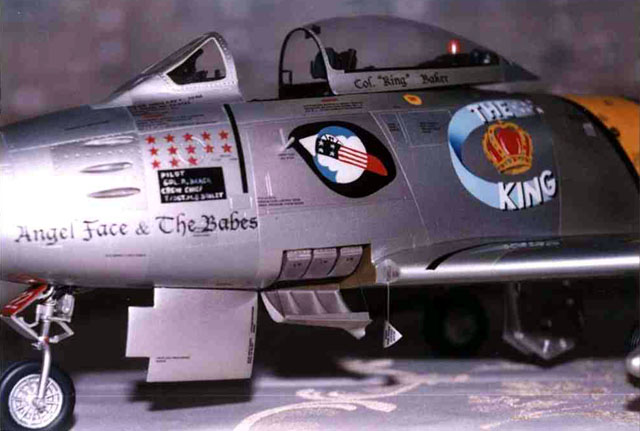 All the model I sprayed at the end with clear coat from spray can.
No weathering was added. I am no good at this kind of work and it was not necessary in this case.
Finally, I glued the pitot tube glued together, bent an emergency fuel dump from large hypodermic needles, and scratchbuilt ammunition cartridges and their doors.
In conclusion, I was pleased with the result. My professional modelers career ended, but I am not complaining. It was sure interesting part of my life.
Click the thumbnails below to view the images full-sized.
Use the "Back" arrow of your browser to return to this page.
---
Model, Text and Images Copyright © 2001 by Robert Blaschke
Page Created 28 April, 2001
Last Updated 04 June, 2007
Back to HyperScale Main Page
Back to Features Index