Gekko Part One
Building Tamiya's Nakajima J1N1Gekko (Irving)
"Straight Out Of The Box"
by Gregg Cooper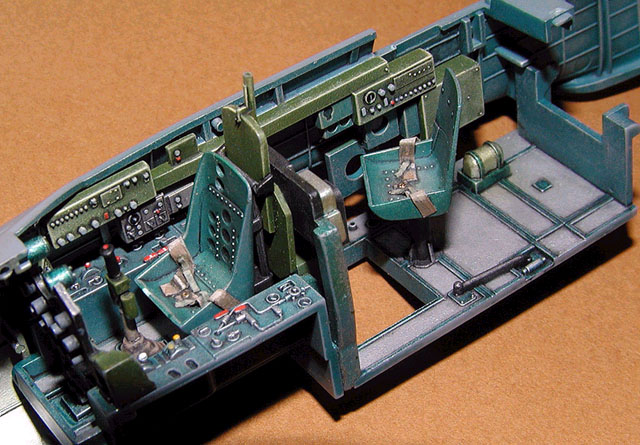 Nakajima J1N1 Gekko (Irving)
Tamiya's Cockpit Straight from the Box
I have always enjoyed "out-of-the-box" modeling, and consider it a challenge to create a beautiful model using only the kit parts. On the other hand, I also enjoy building a super-detailed model, and I often have a hard time deciding how to approach a new project. Sometimes I get the feeling that there is an expectation among modelers that in order to produce a great finished model, it is necessary to scratch-build everything, or add tons of aftermarket resin goodies. Speaking for myself, I can say that a GREAT model is simply one that I am proud of. You know the feeling…put the model down on the table, have a good look, check it out from all the angles, step back and smirk al little, and make that "YEAH BABY!!" remark to yourself in triumph. THAT is what modeling is about! Now that my time is more precious than it used to be, that feeling doesn't come around as often as I would like, so out-of-the-box projects have become even more appealing.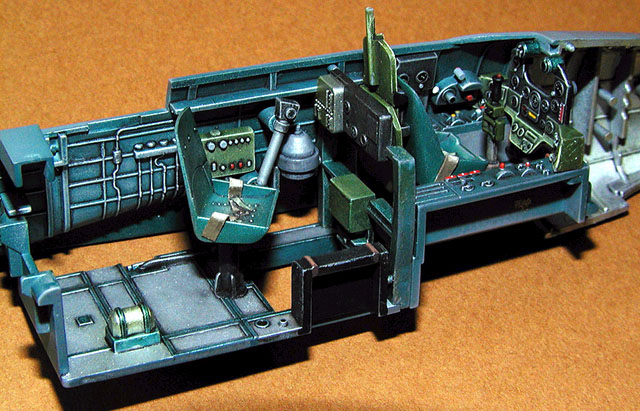 Tamiya's J1N1 Gekko Type 11 (Irving) kit is a terrific choice to build straight-out-of-the-box. This model kit features a superbly detailed interior with plenty of variations in paintwork to keep things interesting enough without feeling like I need to add anything. In fact, the level of detailed paintwork required in the cockpit is enough for several nights worth of enjoyment. The fit of the major airframe parts is superb, and the subject matter is fascinating. As packaged, the kit builds into a mid-production late style J1N1 that carried a overall dark green scheme with black cowlings. Monotone paintjobs can be a challenge to make interesting, so this will provide a good exercise in using different painting and weathering techniques as well.
My intention upon writing this article is to demonstrate the process of building an out-of-the-box model from the sprues to the tabletop in three instalments. I wish to demonstrate some basic techniques, as well as some advanced techniques that can turn a potentially "plain" model into a showstopper. Some of the more famous pitfalls of modeling will be examined along the way, as well as some aspects that may be new to you. As a guideline for building out-of-the-box models, the I.P.M.S. USA rules will be examined, followed for the most part, and maybe stretched a little to suit the purpose. It is NOT my intention to show how to win in the "Out-Of-The-Box" category of any contest, nor is it my intention to show how to cheat. Actually, it is my intention to demonstrate how to apply advanced techniques and a "quality" mindset to the Gekko while building it out-of-the-box, and hopefully satisfying all my expectations of a great finished model. Part one will cover some basic points of out-of-the-box modeling, starting a project, and detailing the cockpit. Part two will describe basic airframe construction, along with some "legal" enhancements. In part three, advanced painting and weathering techniques will be demonstrated.
I.P.M.S Out-Of-The-Box Rules
The I.P.M.S. USA rules can be examined in detail at this URL from the I.P.M.S. USA website: ( http://www.ipmsusa.org/handbook.html#rules ). For the purposes of this article, I have copied the "Out-Of-The-Box" rules here:
III. Special Categories
1.OUT-OF-THE-BOX entries will be governed by the following rules:
A. KITS. Any commercially available kit may be used. The number of categories incorporating Out-of-the-Box awards will be determined by the host chapter and the National Contest Committee.

B. FINISH. All finishing techniques are allowed. Decals other than those included with the kit may be used. Insignia, markings, and instrument panels may be hand-painted instead of decaled. Weathering is permitted.

C. CONSTRUCTION. The modeler may fill seams and gaps; sand off rivets; drill out gun ports, exhaust pipes, or other appropriate openings; thin to scale such parts as trailing edges, flaps, and doors; add rigging and antennas; and add simple tape or decal seat belts in the cockpit of an aircraft or the interior of a vehicle (NO commercial or modeler manufactured hardware - e.g., buckles, etc.).

D. IT IS NOT PERMITTED TO: vacuform, manufacture, or replace any part, or substitute parts from another kit; cut or separate canopies, surfaces, hatches, doors, etc. (no major surgery); combine a standard kit with a conversion kit; add anything other than specified on the instruction sheet except as shown in Section C above.

E. INSTRUCTION SHEETS. Modelers must attach the kit instruction sheet to the entry form. Models entered without an attached kit instruction sheet will not be considered for an Out-of-the-Box award.
Building Tamiya's 1/48 Scale Gekko
There. Now let's get started.
Reference
The first thing I do when starting a project is gather my reference materials. Sometimes this process starts long before the kit even gets to the hobby shop shelves. (My pile of F-86D stuff is still waiting….) Good reference materials should include photos or drawings of the subject in as much detail as possible. Period photos are THE most helpful, and pilot's notes or maintenance manuals are great as well. I usually try to stay away from photos of restored aircraft UNLESS the aircraft in question has been subjected to authentic restoration like the aircraft of the NASM for example. There are MANY publications out there that feature walkarounds of restored aircraft that are not authentic.
Surprisingly, there is quite a bit of good reference material available for the Gekko. The best all around reference is Robert Mikesh's Moonlight Interceptor featuring a good background on the aircraft, as well as the specific airplane restored by the NASM. This book may be hard to find now, however. There is good photo coverage of the airplane before, during and after restoration, along with a very good set of 1/72-scale drawings. The Famous Airplanes Of The World #57 features excellent color photos of both front and rear cockpits of the NASM Gekko as well as some excellent wartime photos. The Koku Fan special 302nd NAG is also an excellent source of wartime photos. Robert Mikesh has just finished a new book entitled Japanese Aircraft Interiors, that promises to be a great reference source for any fan of Japanese aircraft models.
After a lengthy comparison of the Gekko kit's parts versus the real aircraft restoration at NASM, it is very apparent that Tamiya got just about everything right. In fact, it is very tempting to jump in and start painting everything right away, but it is wise to wait and have a closer look at things. The injection molding process is limited, and there are trade-offs that must be considered and improved upon. The most obvious obstacles to overcome are the ejector-pin marks, mold parting lines, and sprue connections. Another problem that becomes apparent in this kit is hollow backsides to detailed parts. Bottom line is, there are things that need a little attention when building this kit, which brings up the next topic.
Mindset
In order to make the finished model as good as possible, it is necessary to first view the project with a critical eye rather than an admiring one. I know that when I look at a model that someone else has built, the first thing I do (after an initial first impression) is start to look for flaws. I can't help it. It is part of a mindset that allows a judge to quickly "weed" through 30 models on a table, and if you have ever judged a contest, this mindset becomes second nature. This may sound like a backwards way of looking at things, especially when our goal is to produce a piece of art, but having this mindset will help you to become a better modeler. You become self-inspecting, and can visualize what needs to be fixed, before it becomes a problem.
A little time spent sanding and filling here and there will make a huge difference in the finished model. You must try to hide the fact that these are injection-molded plastic parts. Make the commitment to spend time with every part. Examine it, identify flaws, and take the steps to fix them. If your model is successful, people will notice it, look closer, and stick around for a longer look. If there are visible flaws, most folks will tend to "weed-out" the model. It does not hold their interest. The goal is to draw them in, and keep them there. The longer they look, the happier I am.
The Interior
Most modelers will be pleased with the interior components of Tamiya's Gekko kit. Except for some wiring/plumbing and some equipment brackets, nearly everything visible in either front or rear cockpit is there. There is a completely detailed cannon bay, and details in the forward fuselage that are visible through the pilot's sighting windows under the nose. When prepared and painted properly, the crew areas can look stunning. I was very happy building these components out-of-the-box, adding only tape seatbelts and some creative painting.
However, when using the critical eye, some things become apparent. Most obvious is the abundance of ejector pin marks that must be dealt with. Many of the boxes and components that make up the interior are detailed on one side and hollow on the reverse. Unfortunately, many of these hollows will show when viewed at certain angles, so they must be filled. Tamiya has molded the sidewall details so that they follow the internal contour of the fuselage sides, which curve away along the internal shape of the wing fillet. This results in an unrealistic gap between the floor and the sidewalls. To be fair, the gap is not that noticeable after the separate electrical boxes and structural details are added. The instrument panel has bezels molded on, but is void of instrument details. Tamiya has included decals to replicate the dials.
There are several different ways to deal with ejector-pin marks. First, locate all marks that will show, and highlight them for fixing. Don't worry about the ones that will not be seen, but be extra careful not to miss the ones that do show. If the mark is sunken, I will usually fill it in with a mixture of automotive cellulose putty (Squadron Green or White Putty will do) and Testors Liquid Cement. 75% cement, 25% putty makes for a heavy cream that spreads easily and dries very quickly, and is easy to sand. Also, it can be manipulated with additional Testors Liquid Cement while curing to smooth it over. Incidentally, I use Testors brand because it is slower evaporating than most, and has a good working time for blending, yet is still dry within half an hour for most applications. Other methods include filling the depression with discs of punched-out styrene, or using typewriter correction fluid. For raised marks, I scrape or chisel them away with a hobby knife, followed by sanding or filing. After all of the marks are taken care of, a good coat of primer will smooth things over nicely. I use Mr. Surfacer 1000 thinned 50% with Mr. Color Thinner sprayed through an airbrush.
Parts that have hollow backsides will need filling in order to improve their appearance. The quickest way is to fill the void with gap-filling cyanoacrylate. Apply the cyanoacrylate in layers using accelerator between the layers until the void is filled. Simply file the super-glue smooth and you are done. Epoxy putty works good too, but the long curing time is a turn-off for me. I would not recommend using standard cellulose putty because of shrinkage and very long drying times. A coat of primer is useful to check for imperfections. Make sure that all of the interior components have been cleaned of mold parting lines, and sprue attach points.
Once satisfied with the preparation of the interior parts, some thought must be given to the colors of the interior. Cockpits are a prime focal point for anyone viewing your model. When building out-of-the-box, it is not possible to rely upon extra-added details or resin accessories to make your cockpit more interesting to look at. You must rely upon your skills as a painter to succeed here. There should be shadows, highlights, and various shades to each color in order to get the most from the molded-in details. Actually, very good results can be achieved with the simple techniques of drybrushing and washing. Whenever a little something extra is needed, I have frequently painted on details free hand to simulate wiring or plumbing.
I am using color photos of NASM's restored Gekko as reference for the interior painting. Tamiya calls out several colors for the interior, some of which are erroneous. Basically, the interior sidewalls and major structural parts are a combination of aluminum and a clear preservative coating tinted with blue-green known as Aotake. The electrical boxes and most of the equipment are a medium green color similar to FS 34092, and of course black. The floor is bare aluminum framed in Aotake.
Simulating Aotake was a challenge for me. I wanted to apply the Aotake in the same manner as the original; bare aluminum first, followed by the blue-green tinted clear coat. At the same time, I wanted to achieve a 3-dimensional look with shadows and highlights as if I were painting a cockpit in the normal fashion with drybrushing and washes. After several abortive attempts in an earlier KI 84, I came upon a nice solution.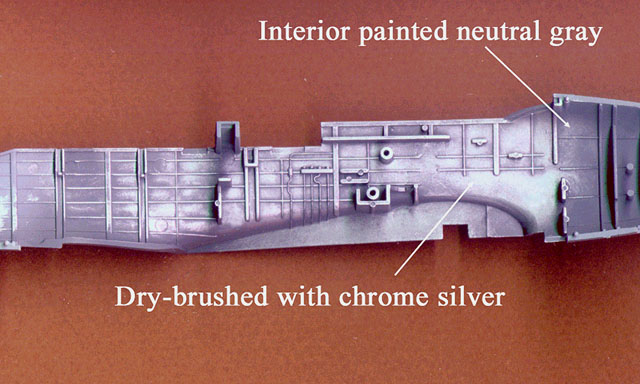 The first step is to paint the interior parts that are to be Aotake with a flat neutral gray. I used Tamiya XF 53. Then, I drybrushed the Neutral Gray vigorously with Testors Chrome Silver enamel. I did not empty the brush completely before starting, and I used a scrubbing motion with the brush. I was not after subtle highlights here; I wanted to color the majority of the parts with silver and leave the Neutral Gray in the shadow areas. The next step is to spray the blue-green clear coat. I mixed equal portions of Tamiya Clear Blue and Clear Green. This mixture was then thinned with Gunze Sangyo's Mr. Color Thinner.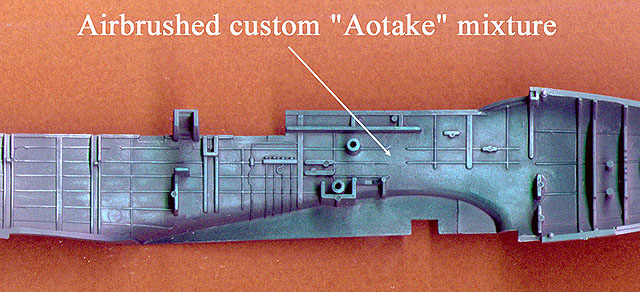 NOTE: Gunze's thinner does marvelous things to Tamiya Paint. Most notably, it allows Tamiya paints to go "translucent" and build up their color in gradual coats. Spectacular special effects are possible, which I will get into in part three.
The blue-green clear coat was airbrushed onto the parts in a random, sloppy manner. I did not want the interior to look too uniform. The color was built-up gradually with all of the shadows from the gray undercoat showing through.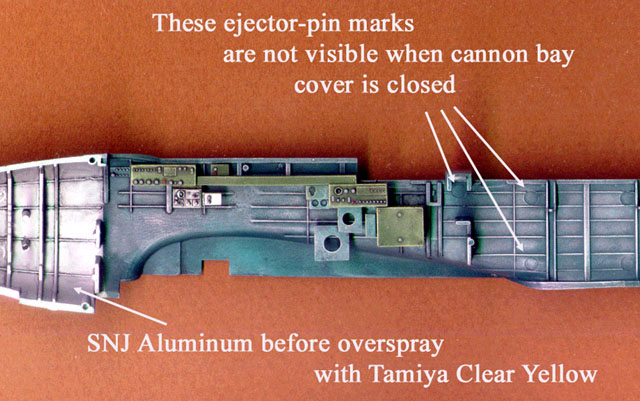 I wanted a satin sheen to the parts, so I airbrushed a very thin mixture of Testors Dullcote onto the parts. One more drybrush with Testors Chrome Silver brought out the highlights and details. This time the brush was kept pretty dry, and a light-flicking stroke was used.
To finish the effect, a wash of dark color was needed in the recesses. I use Windsor & Newton oils thinned with Ronsonol lighter fuel. The lighter fuel is very fast evaporating, and has great capillary properties. The real bonus though is that the wash dries in MINUTES. Completely dry, with all of the subtleties of an oil wash. It may take several applications until the effect is what I am after. I do not "wet" the parts beforehand, nor do I apply a sloppy wash. I apply the wash in a very controlled manner, touching the brush along corners and intersections, and let the capillary action do the work.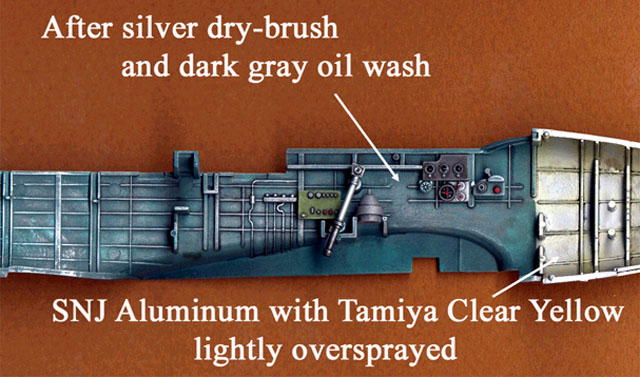 For the green parts, including the lower instrument panel, I used Tamiya's XF 5 Flat Green. It looks close enough, and offered a good contrast with the Aotake. I use Polly Scale paints for normal drybrush applications. They have nice qualities, clean up with water, and very subtle effects are possible. A pastel version of the base color is perfect for highlighting. Again, I use a heavier scrubbing motion for the initial application, though not as wet as what was used for the Aotake stage. To finish, I use an even lighter color, and apply the drybrush with a light flicking motion. A wash with oils finishes the major coloring. Details are picked out with fine brushes using Polly Scale acrylics thinned with water if necessary.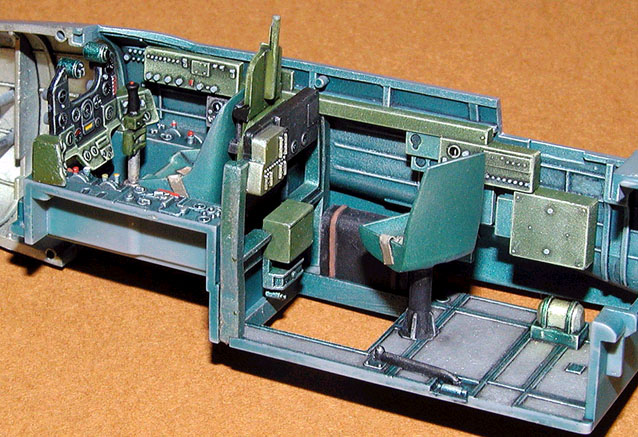 The upper instrument panel was painted black, and drybrushed with a neutral gray color followed by a lighter gray. A black wash enhanced the instruments and controls. I used the kit decals for the instruments. Using a Waldron punch, I removed the decals from the sheet, and applied them into the appropriate bezel. After the decals were dry, I sprayed the panel with Dullcote. A drop of epoxy on top of each instrument provides a nice glass effect. Care must be taken not to "dome" the epoxy. Try for a nice, flat pool.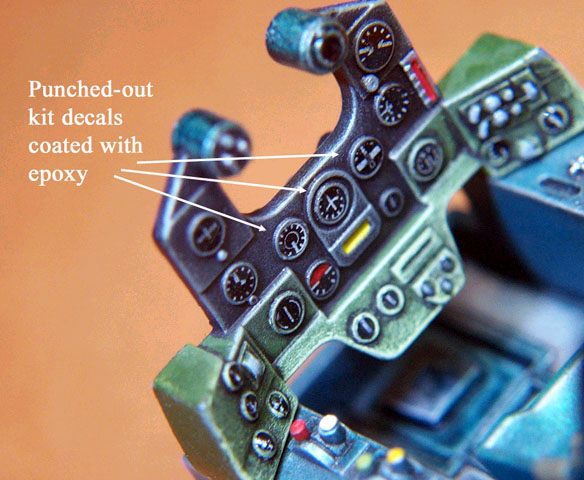 Painting the cockpit floor was a fun exercise, because the primary color is aluminum with Aotake frames in the rear cockpit, and Aotake consoles in the front cockpit. First thing to do is airbrush the entire floor with an aluminum finish. I used SNJ Aluminum for this, which dries quickly and stands up to masking tape very well. The aluminum portion of the floor was then carefully covered with Tamiya masking tape. The base color for the Aotake effect, neutral gray, was airbrushed over the frames and consoles, and then drybrushed with Chrome Silver. Next was an application of the same Aotake mixture from the sidewalls. Now the masking on the aluminum is removed and a light spray of Dullcote is applied to the entire floor followed by a final drybrush of Chrome Silver. In the rear cockpit there is a small canister that I airbrushed with a very thin coat of Tamiya Clear Yellow to give some contrast against the floor. A black wash, and color detail painting finished the floor and consoles.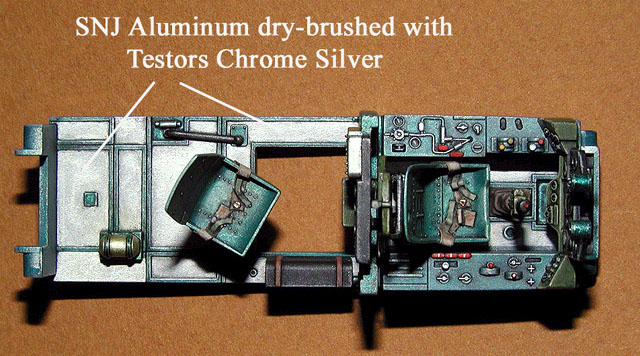 The color photos I have of the seats inside the NASM's Gekko can be interpreted a couple of different ways. At first glance, they appear to be dark green, similar to the exterior color of the aircraft, but with a slight metallic look. Several areas that I know are Aotake also appear to be dark green in some of the photos. I am assuming that indirect lighting contributed to the appearance of the seats in the photos, and that they are actually Aotake. Even if they are not, "artistic license" has been employed, and I painted them so. Actually, the seats could have been any number of colors, even unpainted. I wanted a different shade of Aotake on the seats for variety, so I mixed the color with a little more Clear Green in it. Otherwise, the seats were painted in the same manner as the rest of the Aotake parts.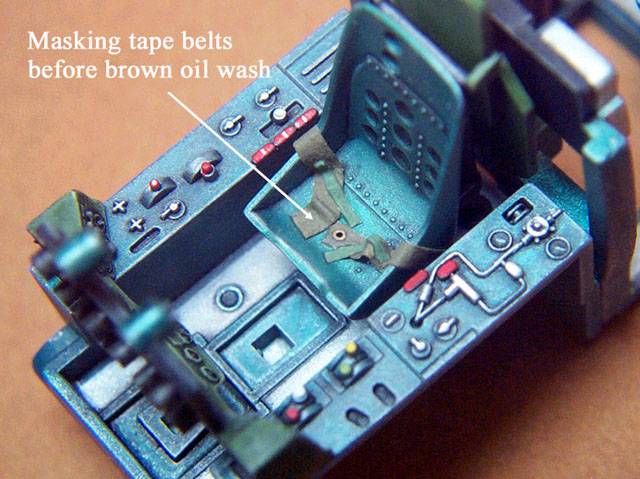 The I.P.M.S. rules for out-of-the-box state that simple tape or paper seatbelts may be added. I use 3M Drafting Tape because it has a slight texture and is thin enough to bend and drape realistically. Although no metal buckles are allowed, tape seatbelts can be folded over and around each other so that they look nice all piled up in a seat pan. I will usually install the belts after the seat has been painted. I copied the style and pattern of the belts from photos. Conveniently, the actual belts do not have shoulder harnesses, and are very simple with grommet style attach points. I painted the belts with thinned Polly Scale acrylics, followed by lighter shades of drybrushing, and finally an oil wash to give everything some depth. The brass grommet in the end of the left-hand lap belt was made from a piece of drafting tape punched-out with a Waldron punch set and glued in place. A hole was impressed into the middle and then the grommet was painted brass. A Sutton-style harness could easily be made in this manner.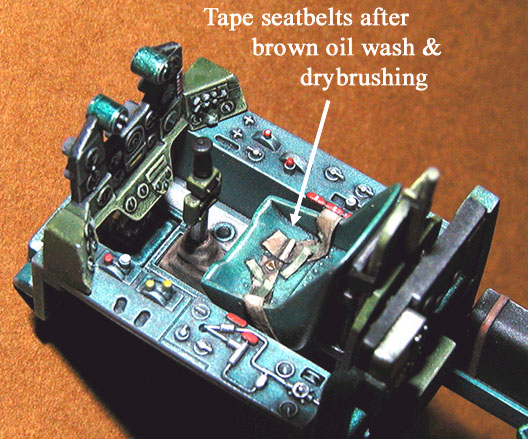 The cockpit is basically finished at this point, waiting for installation into the fuselage halves. The radio still needs paint, and there are some decisions that have to be made regarding the fitting of various internal components, especially in the nose. The next instalment of this article shall have a look at these options, and proceed to basic airframe assembly, and some other useful hints to spice-up an ordinary out-of-the-box model.
I am sure that most HyperScale Forum regulars have already checked out Christopher A. LeClair's website featuring a terrific step-by-step build up of the Tamiya Gekko. If you haven't, here is the URL: http://www.angelfire.com/movies/makingmovies/Gekko.index.html
Click the thumbnails below to view the images full-sized.


Tamiya's 1/48 scale Gekko is available online from Squadron.com
---
Model, Images and Text Copyright © 2001 by Gregg Cooper
Page Created 24 May, 2001
Last Updated 04 June, 2007
Back to HyperScale Main Page
Back to Features Index