Mustang III
by Dave Kovach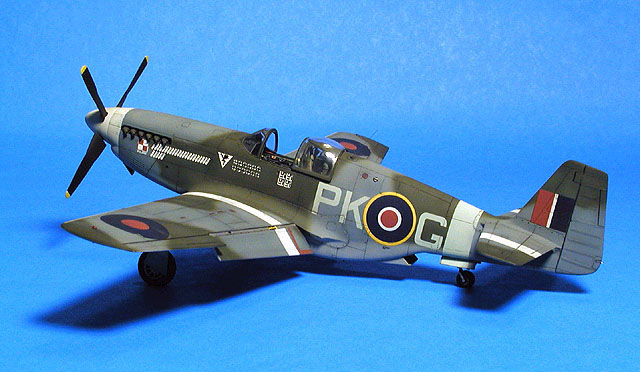 North American Mustang III

Tamiya's 1/48 scale P-51B Mustang is available online from Squadron.com
When Tamiya's P-51B was released, I thought that it had the best surface detail of any Mustang kit available, and it quickly became one of my all time favorite kits. Although it is a fabulous kit, I couldn't resist adding a few improvements to Tamiya's Mustang III.
Improving Tamiya's Mustang III
Tamiya's cockpit is OK, but it suffers from an inaccurate floor. True Details makes a nice resin replacement, but it suffers from an inaccurate seat and rollover pylon. By combining Tamiya's seat and rollover pylon with True Details' sidewalls, floor and instrument panel, I came up with a satisfactory assembly. Teknics belts finish the seat. The radio was detailed with fine wire, and a new whip aerial was swapped for the kit's antenna post.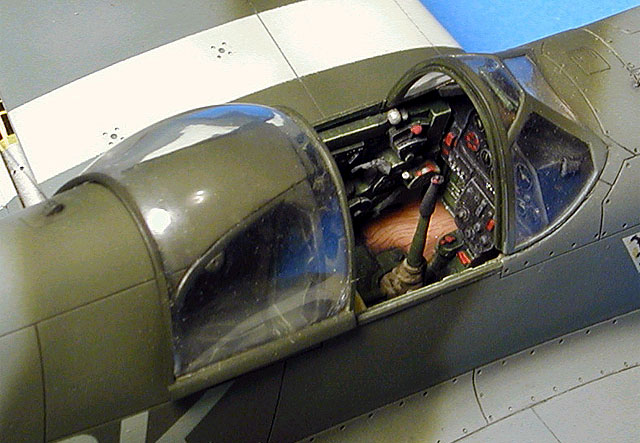 The Mustang III kit includes an optional blown Malcolm hood molded in the closed position, integral with the windscreen. Obviously this would not do, so I tried to swap one from either the Accurate Miniatures or Monogram kits. Of the three, I liked the look of the Tamiya kit's canopy better, so I used a razor saw to separate it from the windscreen. I thinned out the inside of the Malcom hood so that it would fit over the aircraft's spine, and then restored the shine with Blue Magic metal polish. I was able to use the kit's standard windscreen as well.
All of the air intakes received attention. The chin scoop was given a new duct, and the radiator scoop was detailed front and rear with new splitters and door actuators.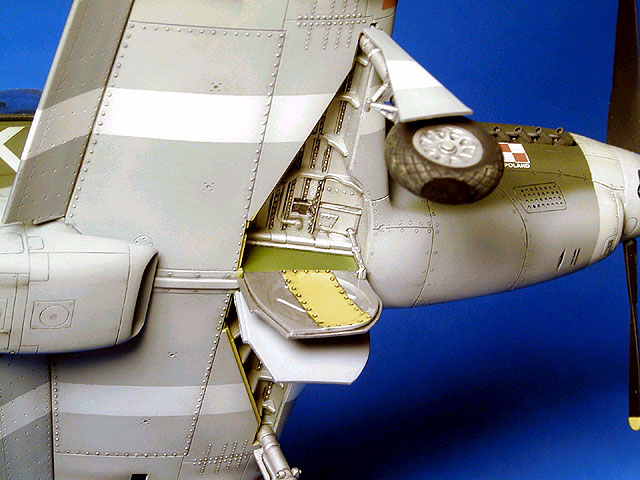 I added brake lines and other details to the gear legs. The wheel hubs were thinned from the inside in order to open-up the spokes. The tail wheel doors were detailed with retraction struts.
In the front, I swapped out the kit exhaust stacks for Ultracast's excellent replacements. The spinner needs some care when aligning the propeller holes. It fits best on only one of the holes. Also, the contour of the forward part of the spinner is not quite the same as the backing plate. Fixing this requires some careful sanding and putty work.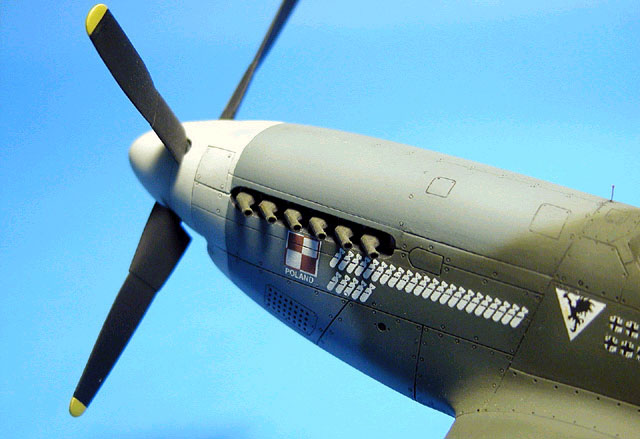 The airframe went together extremely well. The wing to fuselage joint is particularly nice.
I used gun barrels from Ultracast's Mustang I conversion, and dark red decals for the doped patches. The kit decals were used, and they were a real hassle.
Tamiya paints were used throughout, mixed to match authentic RAF paint chips. The early version of this kit had a bad batch of decals that wanted to self-destruct. I fought them, and finally made them work after using two sets.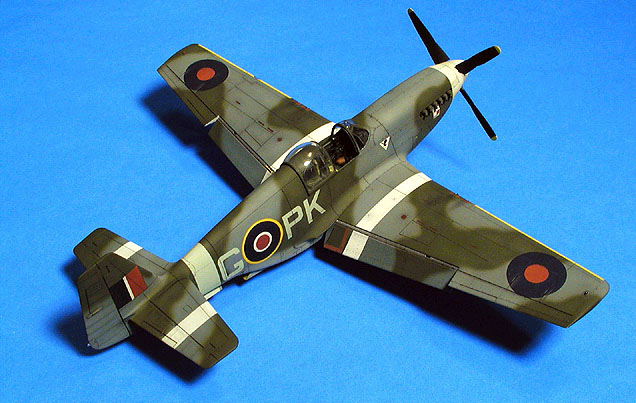 There are several more Mustangs that I want to build, and Tamiya's kit will be my choice.
Click the thumbnails below to view images full-sized.
Click the "Back" arrow on your browser to return to this page.
---
Article, Model and Images Copyright © 2001 by Dave Kovach
Page Created 28 July, 2001
Last updated 04 June, 2007
Back to HyperScale Main Page
Back to Features Page