Captured P-47D
by Nicola Morgantini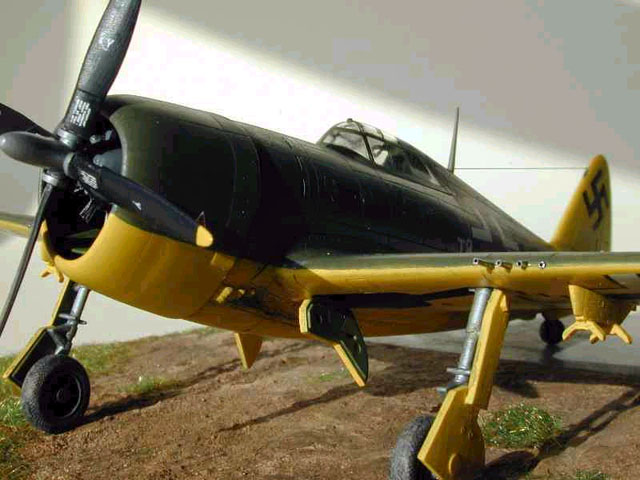 Captured P-47D Thunderbolt
II. /KG 200, GŲttingen, late 1944
Photographs by Riccardo Di Nasso

Hasegawa's 1/48 scale P-47D is available online from Squadron.com
During WW II, German troops captured a big number of enemy planes, as did all the other powers. Perhaps the biggest difference between Luftwaffe and the others was that RLM created a special unit which evaluated all their "prey": KG 200. This unit had even other employments: it was used as a test unit and to give logistical support to the so called "covered operations" of the German Special Forces and their spies.
For instance, captured B-17 were the favourite planes to put spies into enemy territories. These "fortresses" were relieved of the majority of their defensive armament (the remainder often substituted with German weapons, and in some case Luftwaffe mechanics worked on their engines to obtain a little extra power in order to avoid interception.
Fighters were also captured. The RLM (ReichsLuftfarhtMinisterium) could therefore test their fighters against Allied counterparts in mock combat. Nowadays this is called DACT - Dissimilar Aircraft Combat Training - and is probably the most important step to teach a fighter pilot to exploit all he can about his aircraft. This testing even assisted to build better planes.
The subject of my 1/72 model is a P-47D "Razorback", evaluated by KG 200 and abandoned on GŲttingen airfield following mechanical problems. It was found by its former owners at the end of 1944, when American troops conquered that city. To avoid being shot down by German Flak, Luftwaffe technicians painted the undersurfaces of most captured planes (with the obvious exception of the ones not able to fly again) with a bright yellow paint (RLM 04) and applied oversized crosses.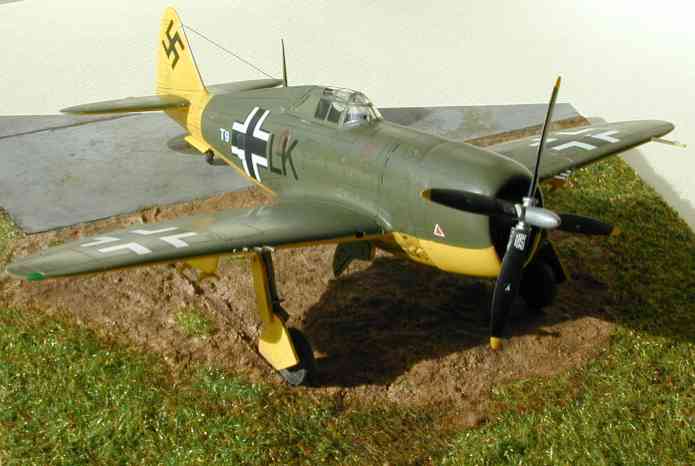 This P-47 is not an exception to this rule, in fact it wears very big crosses (I used He 111 decals to reproduce them!) and the yellow paint covers the whole fin and rudder, on which we can see a big black Hakenkreutz.
For my project I used an Academy 1/72 kit of the P-47D Razorback (art.2175). It is cheap (about $6), has nicely recessed panel lines and the detail of the engine is very good (the biggest problem is that it is 18 cylinders and Twin Spark, i.e. 2 spark plugs for each cylinder: 18 x 2 = 36 microscopic wires to add!).
The cockpit is nicely detailed, especially if you donít open the canopy (which is very thin and clear) to admire the beautiful line of the Razorback version. When you assemble the cockpit donít forget to separate the pedals from the instrument panel, glue them on the floor and glue the panel to the fuselage, or it will look more like something between the pilotís legs than a real instrument panel.
I then added seatbelts with card tape and scratchbuilt the gunsight which is definitely the ugliest part of the kit.
After the model was finished I sadly discovered that Razorback P-47Dís had armoured glass just behind the V-shaped windshield (inside), so if you want to produce an accurate model donít forget to add this detail, cutting a piece of clear sheet some 0.5mm thick.
Having closed the 2 halves of the fuselage, I assembled the engine with its spark plug wires I discovered what I think to be the biggest error of the kit - the oil coolers and supercharger air intake on the lower part of the cowl opening are too small. It is certainly easier to look at the pictures to understand what I mean. I thinned the cooling flaps and scratchbuilt a new intake with plasticard. Now it looks more like a P-47ís engine cowl!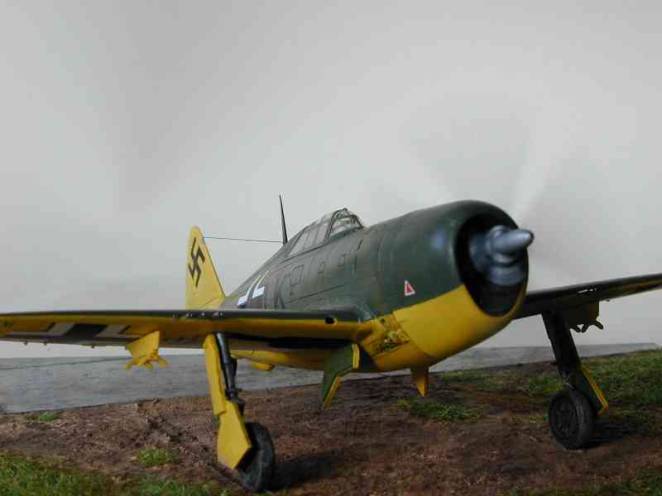 I assembled the wings (I substituted moulded machine gunsí barrels with hypo tubes), the tailplanes and the canopy and painted the plane. I used a mix of Lifecolor acrylics to obtain olive drab (as you probably know Iíve got just LW paints!) and Vallejo yellow with just a drop of red for RLM 04. I then assembled the landing gears and its covers and my model was ready for decaling.
Decals were from old Italeri kits (wing crosses and fuselage black letters), Superscale (oil triangle on the engine cowl, fuselage crosses and hakenkreutz) and dry transfers (fuselage white letters and underwing black codes T9 LK). Propeller stencils were out of register, so I corrected them with a small brush. At this point I applied the wing pylons (after having added stabilization braces from an old Ju 188 kit) and weathered my model with acrylic washings and dry brushing.
Academy's 1/72 scale P-47D Razorback is definitively a good kit, with just a small error on the cowl air intakes, but it would have certainly looked uninteresting in USAAF colours. Luftwaffe markings extra interest to this kit. I took my subject from IPMS Atlanta web site ( http://www.geocities.com/~ipms-atlanta/ Many thanks guys! I finally built an American WW II plane (even if in more "familiar" colours).
Associazione Modellistica "Ir' Bastione" Pisa, Italy
---
Model and Article Copyright © 2001 by Nicola Morgantini
Images Copyright © 2001 by Riccardo Di Nasso
Page Created 25 July 2001
Last updated 04 June 2007
Back to HyperScale Main Page
Back to Features Page