Israeli F-16A
by Rafi Ben-Shahar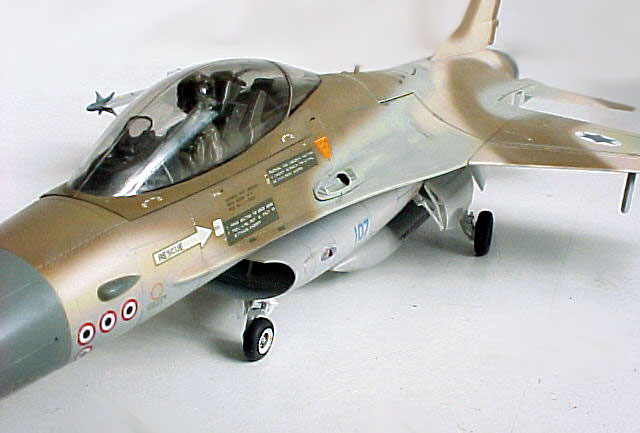 F-16A


Hasegawa's 1/48 scale F-16A is available online from Squadron.com
This particular F-16A arrived to Ramat David on the 2nd of July 1980 and marked the beginning of a new era in the Israeli Air Force. By 1982, the aircraft was credited with downing of 6.5 Syrian aircraft and was christened by the name of Sufa, (storm). It also participated in the attack on the Osirak nuclear power plant in Iraq.
The model is Hasegawa's F-16A "fighting falcon" that requires only minor adjustments to make an IAF aircraft. The construction of the model is straight forward and the fit of the parts is generally good. The cockpit is the usual Spartan Hasegawa style and I chose to close, (but not glue) the nicely tinted canopy. The only serious drawback that I found concerned the inside of the large air intake that is really difficult to shape and smooth.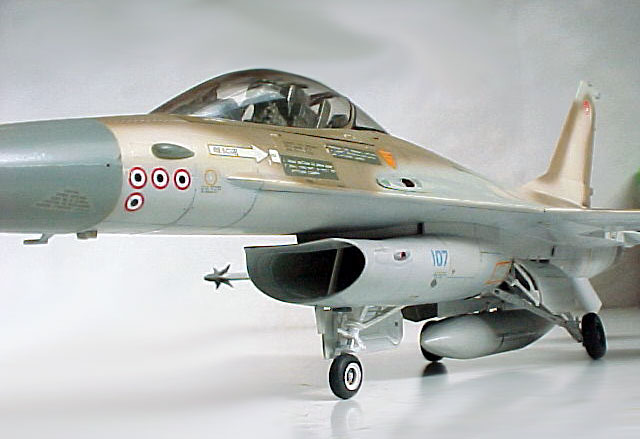 Having seen a few submissions here at Hyperscale of the 1/48 scale F-16s sporting IAF camouflage coats, I could not resist adding one of my own. Among some of our IPMS members there is a controversy regarding the painting scheme or the border lines between the different colours, to be more exact. Even after consulting good references, such as Weiss & Efrati's publication, there is much to be resolved by the modeller regarding the appropriate scheme.
The problem appears in what I consider to be an optical illusion. The paint is sprayed using masks at the American factory and the sharp separation is apparent in all the new aircraft. However, new paint coats that were added at the IAF workshops, particularly among the first batches of F-16s that arrived during the early 80s tend to blend with one another by comparison. One of my friends estimated that the transitional area between the colours on the real aircraft is 5 cm or less, meaning 1 mm on the 1/48 scale.
Since I favour the free style painting, I opted not to utilise loose masks during the painting process of this model. I think that expanded transition area between the colours makes the model look more realistic. Judge for yourself!
---
Model, Images and Text Copyright © 2002 by Rafi Ben-Shahar
Page Created 01 December, 2002
Last Updated 07 December, 2002
Back to HyperScale Main Page
Back to Galleries Index