White M21 Half-Track
by Hans Abbink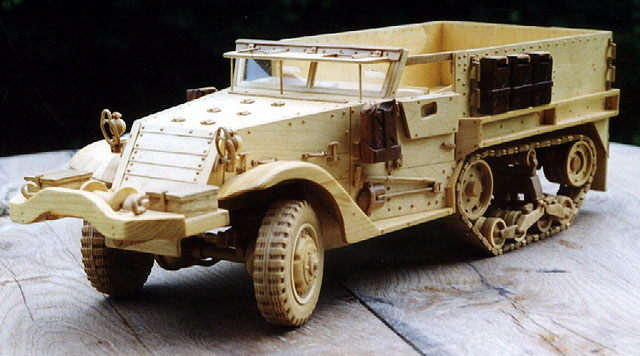 White M21 Half-Track
Scale approximately 1/11
images and text by Elger Abbink
Here is a White M21 Half-Track scratchbuilt by Hans Abbink in approximately 1/11 scale.

As we look at this model one question keeps coming to mind. Not even the question of how, but why? Hans says he made this model to explore the boundaries of scratchbuilding a detailed model entirely from wood. It looks as he may have found that limit. By using different kinds of wood, a contrast between parts is created. Hans purposely did not paint the model simply because painting would hide the fact that the model is made from wood.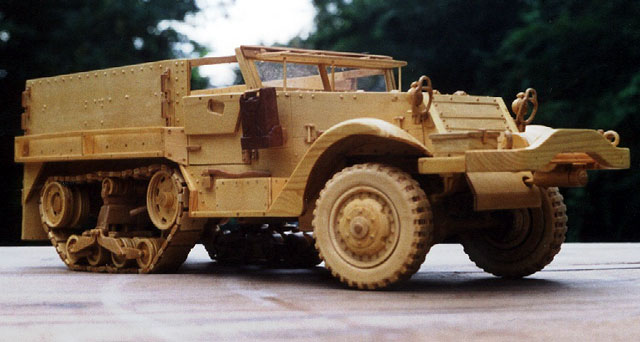 Hans got his first experience building in wood from a series of almost all-wood Willys Jeeps (built in 1/14 scale) and a GMC 6 ton truck (see other article). However, with these models Hans still used brass and other metal joints. Using reference drawings he made and pictures he took from a real M21 and using Tamiya's 1/35 kit as a rough guide, Hans built no less than 5 of these White M21s during 1998 and 1999. They took nearly 2000 hours to finish. "Coming up with ways of construction takes more time than the actual construction," Hans says.
One of the challenges of this model was creating working tracks. After having studied real tracks of M21s, Hans concluded that he had to come up with another solution because the real system could not be used to construct working tracks in this scale. Instead, Hans modelled these tracks after an old wristwatch. Each track consists of 28 pads that are linked together. Note that the smaller wheels are connected to hinges that really work.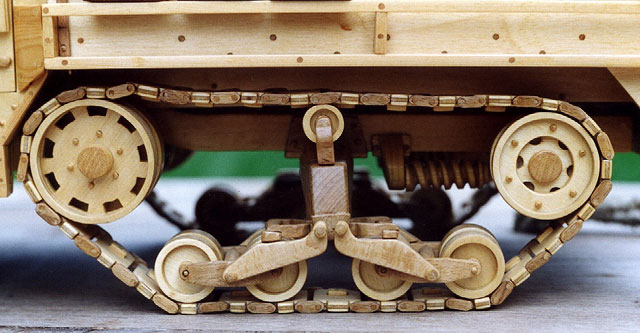 The doors of the model are functional (of course!) and the hinges are also made of wood. Even the doorhandle works. Hundreds of cocktail sticks are used as joints to strengthen the model but also to suggest rivets.
Click the thumbnails below to view larger images:
---
According to Hans the biggest challenge was to build the differentials. They had to be carved from a single piece of wood. The model also steers which was not the most difficult thing to build. Hans modelled the steering system after Tamiya's 1/35 model. Note the universal joints of the cardan shaft. The leafsprings are made of several layers of pinewood.

The steering wheel has been carved from 4mm-birch triplex. The windscreen is the only part that's not wood: it's 2 1/2mm thick plexiglass. Also note the levers and glove compartment.

Click the thumbnails below to view larger images:
---

Hans has signed his model on a fuel tank. This is number 4 of the 5 M21s he made. You can also see part of the engine. Since the engine cannot be seen from above, only the bottom of it has been detailed.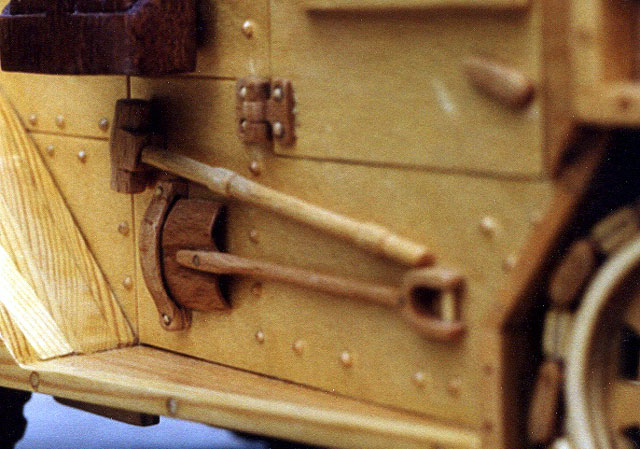 Using different kinds of wood increased the contrast which came in handy with the several accessories. Here you can see a sledgehammer and a shovel. Above that one of the working wooden hinges.

Hans feels he has definitely proven that a fully detailed model of an armoured vehicle from wood can be constructed in this scale. Building smaller with wood is impossible, because although you might be able to create all the details, making the parts of the model move would simply be impossible.

Is this Hans's definitive wooden model? Not really. Currently he's building two wooden replicas of Morgan 4/4 sportscars. These models do have fully detailed engines, he assures us.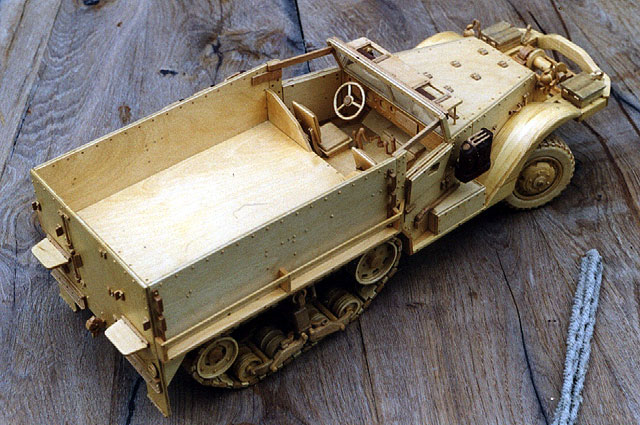 "They're totally useless (the models), but they do look kinda nice, don't they" Hans concludes.


---
Model by Hans Abbink
Images and Text Copyright © 2002 by Elger Abbink
Page Created 27 November, 2002
Last Updated 07 December, 2002
Back to HyperScale Main Page
Back to Gallery Index