Hansa-Brandenburg
W 20/2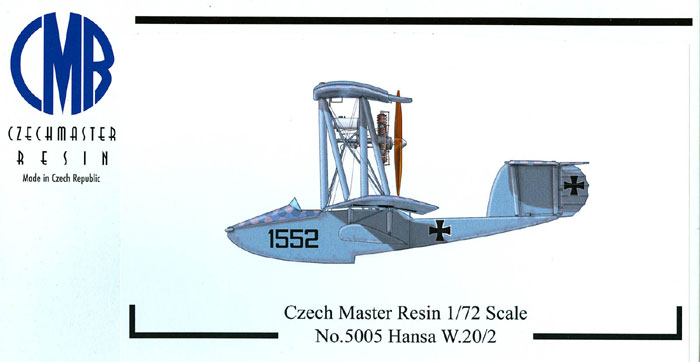 Czech Master Resin, 1/72 scale
S u m m a r y

Item No.
CMR Kit# 5005 - Hansa-Brandenburg W 20/2
Contents and Media:
16 parts in buff and 24 parts in black coloured resin
Scale
1/72
Price:
USD$55.80 available online from Squadron
from £17.30 available online from Hannants
and specialist hobby outlets worldwide
Review Type:
FirstLook
Advantages:
Excellent detail with crisp casting of parts, incredibly detailed engine, nice decal sheet with all items in register.
Disadvantages:
Some simplification of lower wing mount; fin appears too short.
Recommendation:
Highly Recommended
Reviewed by Jim Schubert


CMR's 1/72 scale Hansa Brandenburg W 20/2 is available online from Squadron.com
The successes of the German surface raider S.M.S. Wolf using a Friedrichshafen FF 33e floatplane, "Wolfchen", in her Pacific operations, prompted the German Navy, in late April 1917, to order three scout planes from Hansa-Brandenburg for carriage aboard large submarines. The "U-Cruiser" subs were to each carry one plane, disassembled and stored in a 6.2' (1.9M) x 19.7' (6M) watertight tube.
Critical to the program was the speed with which the airplane could be extracted, assembled and launched and the speed with which it could be recovered disassembled and stowed. Realistic Navy tests took a practiced team about 15 minutes for the former and about seven for the latter; Heinkel and Co. claimed ridiculously short times on the order of six and three minutes respectively.
Ernst Heinkel's original design produced a tiny biplane, pusher, flying boat with a wing span of only 19.7' (6M); this was W 20/1, s/n 1551. It was rather too fragile having, for example, no interplane struts. It was heavily damaged in testing. W20/2, s/n 1552 was built incorporating the lessons learned from W 20/1. It had an increased wingspan of 22.3' (6.8M), interplane struts, relocated tip floats and increased strength throughout.
Ironically, during the building of W 20/2 the Navy cancelled the requirement for carriage within a submarine. Their decision was driven by the realization that wood and fabric airplanes were not suitable for submarine duty.
Sometime after June 1918 the Navy placed an order with Luft-Fahrt-GmbH (Roland) for the all-metal, twin-float, monoplane LFG V 19 "Putbus" for use on submarines. Only one Putbus was built before war's end.
As the Navy had ordered three W 20s, Hansa-Brandenburg rebuilt W 20/1 and strengthened it even more than W 20/2. They then built W 20/3 in fulfillment of the contract. The whole project was an exercise in futility and wasted effort for Germany but led directly to the successful Japanese employment of planes carried by submarines before, and during, WWII. See… http://www.internetmodeler.com/2002/july/new-releases/book_sub-ac.htm
One positive result, for us, of all that wasted German effort was this attractive little biplane scout that has attracted much attention from modelers and kit makers. I know of at least four other kits of W 20/2:
Omega Models 1/32 scale, resin, very good.

Lone Star Models 1/48 scale, vac, very good.

Airframe 1/72 scale, vac, fair.

Merlin Models 1/72 scale, injected, poor.
The now typical and welcome CMR box encloses this little beauty. Beware! It really is tiny. The wingspan is only 3 ¾" (94mm) and the length is 3 ¼" (82mm). Due to the small size of this plane, compounded by its complexity, CMR have had to simplify it in the area where the lower wing is mounted. They've made a good compromise here but a serious AMSer will want to complicate the wing mounting to make if more detailed and accurate. Compared with the partial drawings, referenced below, the fin appears to be a bit too short. From the various photos of this plane it also appears the elevator had a very curved leading edge - almost a semi-circle.
There are 16 parts cast in CMR's standard cream-colored resin and 24 cast in extra strength black resin. The tiny, seven cylinder, 80 hp Oberursel rotary engine has incredibly finely cast cooling fins on each cylinder.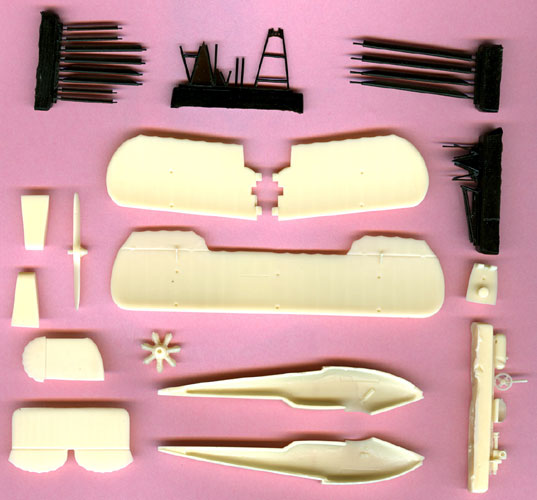 The markings, naturally, are only for W 20/2, s/n 1552. The decal sheet provides marine hexagonal camouflage printed in perfect register in mauve and two shades of blue plus iron crosses for the wing and the plane number for the nose.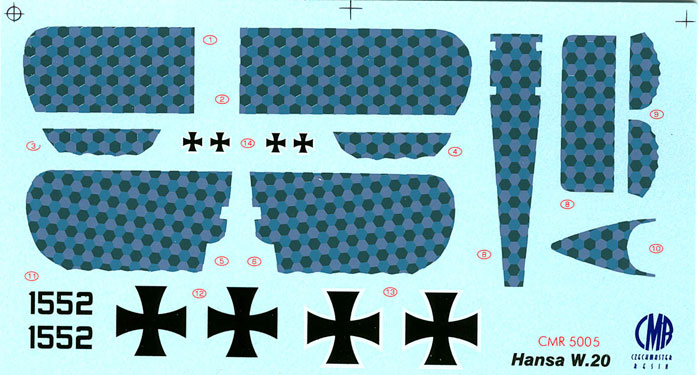 One reviewer has complained that the hexes are a wee bit too large ; maybe so but they look okay to me.
The cockpit is detailed with floor, seat, control wheel, rudder pedals, air pump and throttle. Anything more is up to you. No windscreen is provided but can easily be cut from clear plastic stock.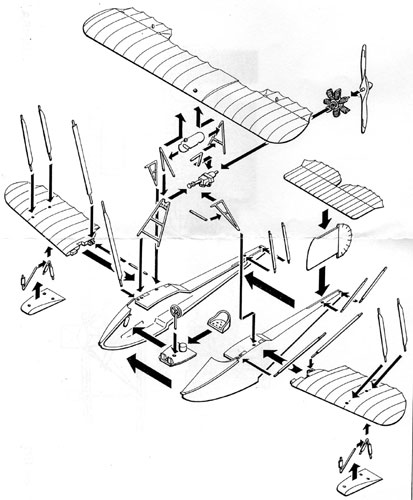 There is one sheet of assembly instructions in the form of an exploded drawing, a three-view on another sheet and well detailed colors and markings information on a third sheet giving both Methuen and FS references. There is no rigging diagram so you must resort to your references to figure it out.
This is a very attractive, one might even say cute, little airplane. I am anxious to start on it; it has just moved to "next up" position in my to-build list. The only thing I'd recommend CMR add to this little beauty is the simple two-wheeled handling trolley and a small trestle for the tail shown in many of the photos of the original.
Buy one; you'll like it.
Highly Recommended.
Thanks to CMR for the review sample.
---

References
WWI Aero, No. 119, April 1988: Article – A study in Contrasts, German Submarine Aircraft of World War One by Peter M. Grosz. This article is a slight expansion on Peter's earlier article in….

Air Enthusiast Quarterly, No. 33, 1987.

Stormy Life, Memoirs of a Pioneer of the Air Age: Ernst Heinkel, E.P. Dutton, USA, 1956, library of Congre3ss No. 56-8300.

Windsock, Vol. 11, No. 1, Jan/Feb 1995: Article – A Prize Winning Seaplane by Tony Clements on scratchbuilding his 1/24 scale model of W 20/2 s/n 1552. There is a good color photo of Tony's model on the cover.

Windsock, Vol. 22, No. 3, May/June, 2006: partial detailed drawing of HB W 20/2.

WWI Aero; Nos. 99, April 1984 and 101, September 1984: Book reviews – Die Flugzeug Des Alexander Bauman by Heinz J. Nowarra and Ernst Heinkel – Pionier Der Schnellflugzeug by H. Dieter Kohler.

Marine Aircraft f the 1914-1918 War: Heinz J. Nowarra, Harleyford, UK, 1966, Library of congress No. 66-29190.

German Naval Air Service: Alex Imrie, Arms & Armour Press, UK, 1989, ISBN 0-85368-920-2.

German Aircraft of the First World War: Peter Gray & Owen Thetford, Putnam, UK, 1962/1987, ISBN 0-85177-809-7.

http://www.cmrmodels.co.uk/072_czechmaster_files/cmr-5005_hansa-w20_files/0_hansa-w20.html Built up model by Eric Gallaud of the WWI list
---
CMR Models are available online from Hannants in the UK, Squadron in the USA
NKR Models in Australia and quality specialist model retailers worldwide.
---
Review Copyright © 2007 by
Jim Schubert


This Page Created on 23 August, 2007
Last updated 26 August, 2007

Back to HyperScale Main Page

Back to Reviews Page