Building Tamiya's 1/48 scale
F-14A Tomcat Test Shot
Part Three - Gallery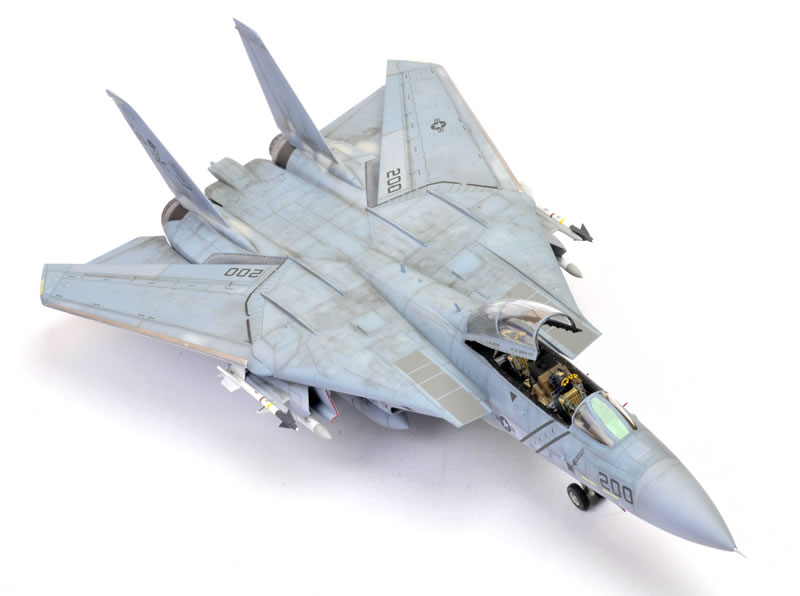 Grumman F-14A Tomcat

Tamiya's 1/48 scale F-14A Tomcat will be available online from Squadron
A few weeks ago I started building the test shot of Tamiya's forthcoming 1/48 scale F-14A Tomcat, as reviewed earlier on HyperScale.
In the first instalment, I built the cockpit and the nose section and last time I described the bulk of main construction.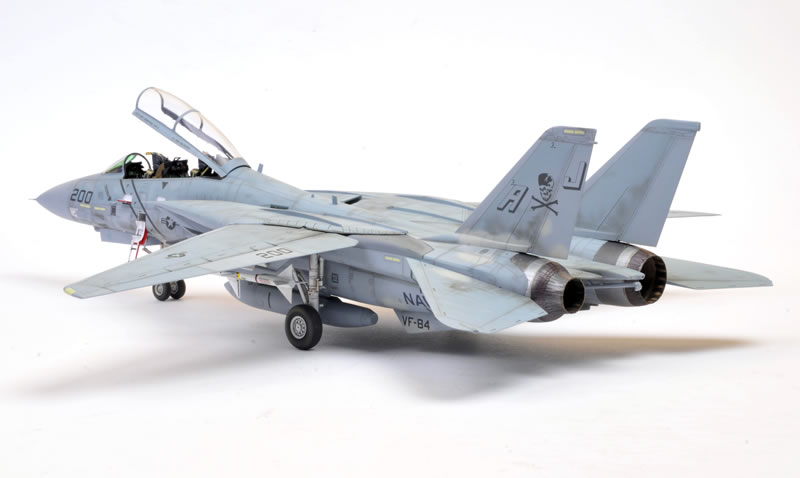 Painting, weathering, decalling and finishing touches took considerably longer than construction, but it was a very enjoyable journey.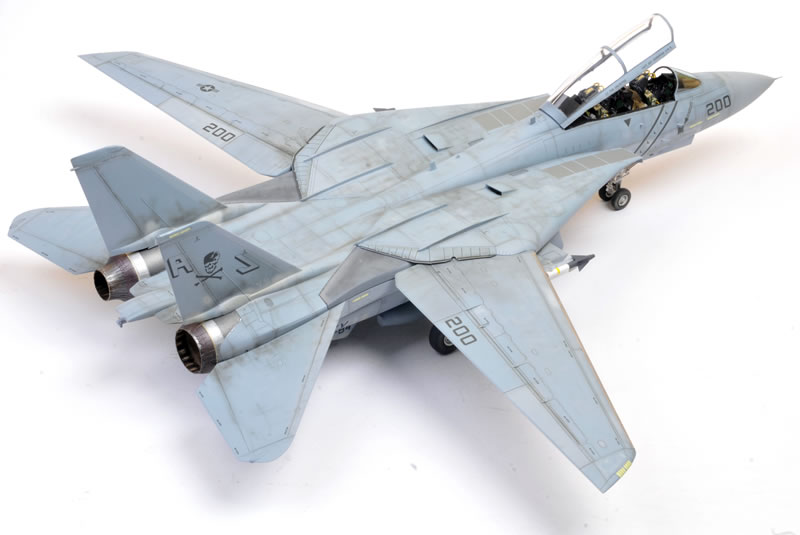 I have always wanted to build a Jolly Rogers Tomcat in a grubby low-viz grey scheme; specifically an F-14B or F-14D from VF-103. I have a couple of Hasegawa kits in my collection but, wary of its thorny reputation, I had never mustered the courage to start one.
When the Tamiya 1/48 scale kit arrived, it seemed to finally be my chance to work on a dirty grey Tomcat. However, I wanted to build this one pretty much straight from the box so I resisted the temptation to convert it to a late A or a B model.
That limited my marking choices, but I did find decals for a low-viz grey VF-84 Jolly Rogers F-14A in the early configuration of the Tamiya kit on Furball Aero Design's decal sheet no. 48036, "F-14 Air Wing All-Stars Part Two". This Tomcat was based on USS Nimitz in 1984.
I ordered a set of the decals online from the UK and waited.
I didn't cool my heels though, as there was a lot of painting and weathering to be done.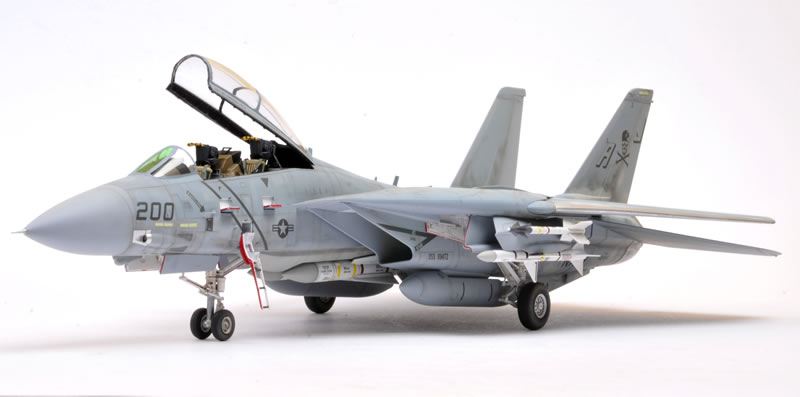 The main camouflage paints are Tamiya's AS-26 Light Ghost Grey and AS-25 Dark Ghost Grey, applied first from the spray can for the main upper and lower base coats, then decanted and mixed together and with white to create different shades for the patchy finish.
A thin mix of Tamiya XF-1 Flat Black and XF-64 Red Brown acrylic was sprayed in patches, lines and mottles to represent general grime.
Gunze-Sangyo acrylic Light Gull Grey was also used for fresh repairs.

By the time the decals arrived yesterday the model was already painted and glossed, so I got to work straight away.
The decals performed well over the glossy Future finish.
Kit decals - lots of them - were used for the missiles.
This 1/48 scale F-14A Tomcat continues Tamiya's proud tradition of accurate, well-detailed, thoughtfully designed and modeller friendly kits. Surface textures are beautifully restrained and the design of the swinging wings with their separate wing gloves is very clever.
All this is impressive enough, but the best part of this kit is in the building. Fit is perfect throughout, and I found myself grinning like a loon during several construction steps due to the sheer ingenuity of the parts breakdown and assembly sequence.
This is a model that should not be left in the box for long. It deserves to be built.
Tamiya's 1/48 scale F-14A Tomcat now ranks as my Kit of the Year.
I'll be writing this one up in detail for a big Feature Article in Issue 67 of Military Illustrated Modeller magazine.