Fokker Dr.I
Weekend Edition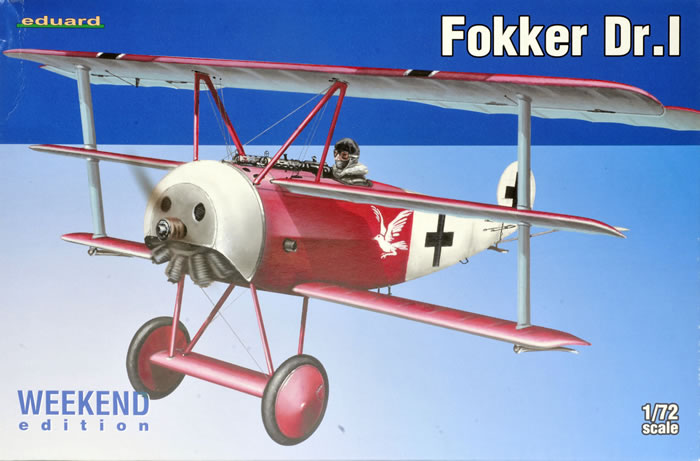 Eduard, 1/72 scale
S u m m a r y :

Catalogue Number:

Eduard Kit No. 7438 – Fokker Dr.I Weekend Edition

Scale:

1/72

Contents & Media

35 grey styrene parts and two decal options.

Price:

Available on-line from these stockists:

Click for currency conversion.

Review Type:

First Look.

Advantages:

Excellent surface detail and good decals.

Disadvantages:

Engine lacks induction piping.

Conclusions:

Eduard's Dr.I has been around for 17 years now, but does not seem dated at all. It has beautifully executed surface detail that betters its two main rivals, whilst ease of assembly is about equal with Revell and better than Roden.

Although Eduard's engine is just adequate, it can be easily improved with a few scratch-built induction pipes. Alternatively, replacement engines by Eduard Brassin or Small Stuff are available, but add about two thirds to the kit's cost.

Despite this minor engine shortcomings, the Eduard kit's surface detail and general finesse, combined with excellent decals, make it my preferred choice of the three modern injected Dr.1 kits available. I highly recommend it.

Reviewed by Mark Davies


Eduard's 1/72 Fokker Dr.I Weekend Edition is available online from Squadron.com

The Fokker Dr.I (Dreidecker, "triplane" in German) was a World War I fighter aircraft built by Fokker-Flugzeugwerke. The Dr.I saw widespread service in the spring of 1918. It became famous as the aircraft in which Manfred von Richthofen gained his last 19 victories, and in which he was killed on 21 April 1918.
In February 1917, the Sopwith Triplane began to appear over the Western Front. Despite its single Vickers machine gun armament, the Sopwith swiftly proved itself superior to the more heavily armed Albatros fighters then in use by the Luftstreitkräfte. In April 1917, Anthony Fokker viewed a captured Sopwith Triplane while visiting Jasta 11. Upon his return to the Schwerin factory, Fokker instructed Reinhold Platz to build a triplane, but gave him no further information about the Sopwith design. Platz responded with the V.4, a small, rotary-powered triplane with a steel tube fuselage and thick cantilever wings, first developed during Fokker's government-mandated collaboration with Hugo Junkers. Initial tests revealed that the V.4 had unacceptably high control forces resulting from the use of unbalanced ailerons and elevators.
Instead of submitting the V.4 for a type test, Fokker produced a revised prototype designated V.5. The most notable changes were the introduction of horn-balanced ailerons and elevators, as well as longer-span wings. The V.5 also featured interplane struts, which were not necessary from a structural standpoint, but which minimized wing flexing. On 14 July 1917, Idflieg issued an order for 20 pre-production aircraft. The V.5 prototype, serial 101/17, was tested to destruction at Adlershof on 11 August 1917.
The first two pre-production triplanes were designated F.I, in accord with Idflieg's early class prefix for triplanes. These aircraft, serials 102/17 and 103/17, were the only machines to receive the F.I designation and could be distinguished from subsequent aircraft by a slight convex curve of the tailplane's leading edge. The two aircraft were sent to Jastas 10 and 11 for combat evaluation, arriving at Markebeeke, Belgium on 28 August 1917.
Richthofen first flew 102/17 on 1 September 1917 and shot down two enemy aircraft in the next two days. He reported to the Kogenluft (Kommandierender General der Luftstreitkräfte) that the F.I was superior to the Sopwith Triplane. Richthofen recommended that fighter squadrons be reequipped with the new aircraft as soon as possible. The combat evaluation came to an abrupt conclusion when Oberleutnant Kurt Wolff, Staffelführer of Jasta 11, was shot down in 102/17 on 15 September, and Leutnant Werner Voss, Staffelführer of Jasta 10, was killed in 103/17 on 23 September.

The remaining pre-production aircraft, designated Dr.I, were delivered to Jasta 11. Idflieg issued a production order for 100 triplanes in September, followed by an order for 200 in November. Apart from the straight leading edge of the tailplane, these aircraft were almost identical to the F.I. The primary distinguishing feature was the addition of wingtip skids, which proved necessary because the aircraft was tricky to land and prone to ground looping. In October, Fokker began delivering the Dr.I to squadrons within Richthofen's Jagdgeschwader I.
Compared to the Albatros and Pfalz fighters, the Dr.I offered exceptional manoeuvrability. Though the ailerons were not very effective, the rudder and elevator controls were light and powerful. Rapid turns, especially to the right, were facilitated by the triplane's marked directional instability. Vizefeldwebel Franz Hemer of Jasta 6 said, "The triplane was my favourite fighting machine because it had such wonderful flying qualities. I could let myself stunt – looping and rolling – and could avoid an enemy by diving with perfect safety. The triplane had to be given up because although it was very manoeuvrable, it was no longer fast enough."
As Hemer noted, the Dr.I was considerably slower than contemporary Allied fighters in level flight and in a dive. While initial rate of climb was excellent, performance fell off dramatically at higher altitudes because of the low compression of the Oberursel Ur.II, a clone of the Le Rhône 9J rotary engine. As the war continued, chronic shortages of castor oil made rotary operation increasingly difficult. The poor quality of German ersatz lubricant resulted in many engine failures, particularly during the summer of 1918.

The Dr.I suffered other deficiencies. The pilot's view was poor during takeoff and landing. The cockpit was cramped and furnished with materials of inferior quality. Furthermore, the proximity of the gun butts to the cockpit, combined with inadequate crash padding, left the pilot vulnerable to serious head injury in the event of a crash landing
Source: Wikipedia
---
Previous 1/72 scale Fokker Dr.I Kits
Given its fame I was surprised by how few kits of Fokker's Dr.I have been released in "The One True Scale".
Airfix were first in 1957 with a kit that was typical of its time, and now best limited to collecting. Revell followed in 1966 with its first Dr.I tooling (#H-652-**, H-52 & later 04154). This was a good kit for its time, and went together well when I built mine about 20 years ago. It has been re-boxed by Takara and I think Gunze Sangyo. Also in 1966, Renwall issued their Dr.I based loosely on the Airfix kit, but featuring Aeroscale tissue skinning for the framework flying surfaces; as such it is another one for collectors rather than serious modellers.
It was a long wait until 1998 when Hawkeye Designs released their all resin kit (without decasls). A review in Windsock International (Vol.14 No5) considered it to be extremely accurate, rating it the best 1/72 scale, if not the best Dr.I kit in any scale, at that point in time.

In 2000 both Eduard and Roden released new kits. The Eduard kit was re-boxed by SMER, plus Eduard released a "strip-down" PE kit of the aircraft's un-skinned structure that used a few of the styrene kit's parts like wheels and engine (the separate styrene wing spars for this kit are surplus parts on the sprues of the kit reviewed here). The Eduard kit could be converted to the earlier F.1 configuration using a resin conversion by Roseplane. Roden also offered an F.1 option to their Dr.1 by including alternate parts, and the kit was re-boxed under Squadron's Encore brand. Then, in 2003, Revell released their new-tool Dr.I (#04116).
I shall discuss the pros and cons of these three 21st century injected kits later.
The Contents
The parts come in a rather oversized top-opening box and are enclosed in re-sealable cellophane bag, with the decals in their own separate bag.
The instruction booklet is printed in colour on glossy paper, with clear and easy to follow drawings, along with four view colours & markings guides. These can be viewed or downloaded from Eduard's website by clicking here. Colour call-outs are cross referenced to Gunze Sangyo's Aqueous and Mr. Color paint ranges using generic names.
---
The Kit
This kit, along with its ProfiPACK and Dual Combo iterations, has been reviewed widely since its initial release 17 years ago; so I shall just give a quick run-down of my assessment of it.
This simple 35-piece kit is supplied as one sprue, with crisply moulded parts, quite fine sprue gates, and no ejector-pin issues. The surface detail is beautifully done, and trailing edges are nice and sharp. Cockpit detail is adequate and the two guns done well enough,.
The kit has one minor weakness in that engine lacks any induction piping, an absence that is unfortunately noticeable. However, it should not be too demanding to scratch-build the missing pipes for the four of nine cylinders visible through the cowling cut-out.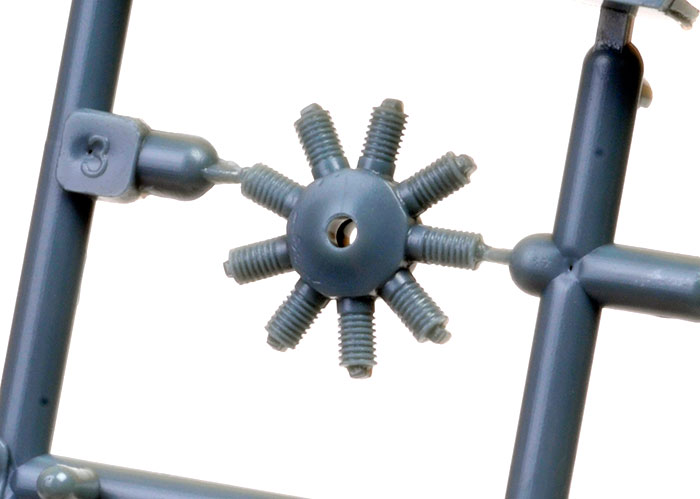 Alternatively, Eduard Brassin offer a nice aftermarket engine for the Dr.I, Part No672139 for US$9.95, see the images below of this simple four-piece resin and PE package, or click here to view the instructions as a PDF.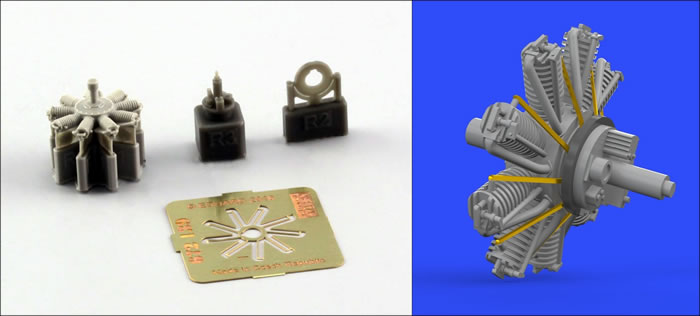 It is not a gem like Small Stuff's Le Rhone 9J/Oberursel Ur.II engine, but it is still quite an improvement on the kit parts; and not a great deal of it will be visible anyway.
Rob Baumgartner mentioned some additional accuracy points in his review of the same base kit here on HyperScale in 2009:
"Despite the excellent detail, there are a couple of areas that the fastidious will want to change. First is the celluloid inspection window that's found on top of the upper wing. This should be moved slightly forward so that it's located over the main spar. The kit also portrays fasteners on the undercarriage wing which assumes that the lifting surface could be split for maintenance purposes. This wasn't the case but a few swipes with wet 'n dry will easily eradicate them. These discrepancies are due to Eduard using references that have since been revised."
Several articles advise that this is simple kit to build. This, and the fact that the Dr.I requires the simplest of rigging between the cabane and undercarriage struts, makes it an ideal introduction to WWI modelling.
---
Colours & Markings
Eduard provides two markings options:
4779/17, Lt August Raben, Jasta 18, Montingen, France, October 1918; and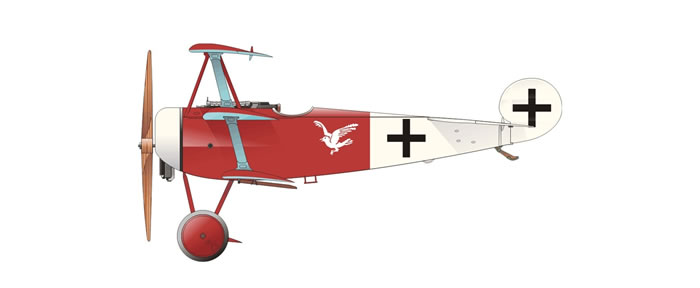 195/17, Lt Hermann Vallendor, Jasta 2, Halluin, France, April 1918.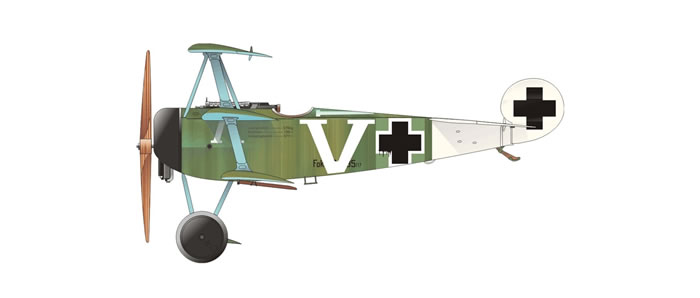 The decals appear to be of excellent quality, with crisp registration and good colouration.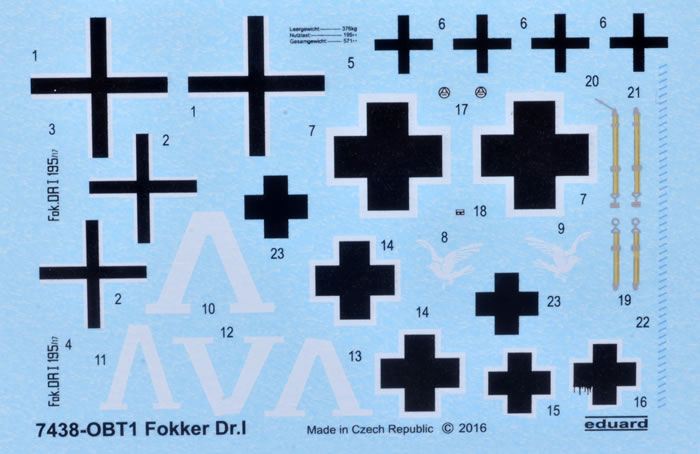 A Quick Three-Way Brand Comparison
The Eduard, Roden and new-tool Revell kits are all very good; with some modellers having their preferences and others considering them to be broadly equal. I have not discussed the 1998 Hawkeye kit as it is not widely available, despite being an excellent kit by all accounts.
Final determination of overall outline accuracy is for experts to rule on, and whilst I am unaware of any major failings concerning any of the three brands, the most sensitive area appears to be cowl shape, with the Revell kit possibly having the best shape of the three injected kits.
I have never owned the Roden kit, but from my memory of the Revell kit which I sold when I got my first Eduard Dr.I, and reading several review and build articles on all three kits, I feel able to list the more significant pros & cons of each:
Eduard: Its delectable surface detail is the best of the three, countered a little by a rather bland engine lacking induction piping. It slightly less internal detail in Weekend Edition from than Revell (The ProfiPACK and Dual Combo boxings include far PE detail superior to the other brands, but cost more and are currently out of production). The kit builds well, as Mike Hinderliter's article here on IPMS USA indicates.
Revell: Some praise the "sucked in" look to the fabric between wing-ribs on the wing undersides, whilst others feel this is overdone, as is the ribbing on the upper wing surfaces. It has slightly better engine and cockpit detail when compared to Eduard's Weekend Edition, and is and about equal to Roden. Revell has the best guns off the three, and I think the best ammo feed chutes too. It builds well, although its bright red plastic does not help with painting non-red colour schemes. See Michal Moore's 2009 build article here on HyperScale.
Roden: Surface detail is nice, and falls between the other two brands. Cockpit and engine are on par with, or possibly a tad better than Revell's, and superior to Eduard's Weekend Edition. Its guns are better than Eduard's as well. It builds well enough, but it is not as good as the other two brands, with some fit issues and needing more parts cleanup. Roden kits also have a reputation for shockingly fragile decals prone to breaking into multiple shards once removed from their backing sheet. See Clarence Wentzel's build review of Roden's F.1 boxing here on IPMS USA.
Any of the three kits will provide enjoyable builds and a rewarding model. Retail availability will vary from market to market, but probably favours in descending order - Revell, Eduard, and then Roden. Pricing varies too much across markets to assess here, but may have a bearing on choice where more than one brand is available; although none of these can be considered expensive kits.
Eduard's Dr.I has been around for 17 years now, but does not seem dated at all. It has beautifully executed surface detail that betters its two main rivals, whilst ease of assembly is about equal with Revell and better than Roden.
Although Eduard's engine is just adequate, it can be easily improved with a few scratch-built induction pipes. Alternatively, replacement engines by Eduard Brassin or Small Stuff are available, but add about two thirds to the kit's cost.
Despite its minor engine shortcomings, the Eduard kit's surface detail and general finesse, combined with excellent decals, make it my preferred choice of the three modern injected Dr.1 kits available. I highly recommend it.
Thanks to Eduard for the sample
---
Review Text and Images Copyright © 2017 by Mark Davies
Sprue Photos Copyright © 2017 by Brett Green
Page Created 13 March, 2017
Last updated 13 March, 2017
Back to HyperScale Main Page
Back to Reviews Page