Focke- Wulf Fw 190D-9

Model by Chris Wauchop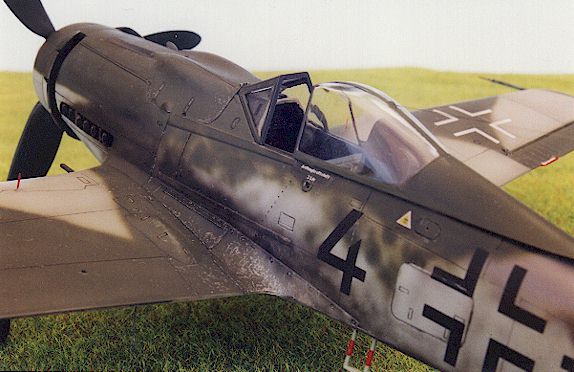 Focke Wulf Fw 190D-9
"Black 4" of 6. II./JG6, Furth, Germany, May 1945
Description and Photographs
by Brett Green

The Focke Wulf 190D is proving to be a popular aircraft on HyperScale. Its sleek profile and impressive performance make it a natural subject for modellers and researchers alike.
Black 4 was one of four Focke Wulf 190D-9s from 6./JG 6 that flew to Furth and surrendered to American forces on 8 May, 1945. Two of the other three accompanying aircraft are also depicted on HyperScale - Black 8 in a construction feature and Black 12 in the Gallery.
The four aircraft shared similar werknummern, but wore very different camouflage schemes.

This colour plate of Black 4 is a sample from a forthcoming book by the authors of "Luftwaffe Fighter Aircraft in Profile" published by Schiffer (see refs below). One of the authors, Claes Sundin, also has a web site called "Luftwaffe Fighter Aces and Aircraft" where a number of colour profiles and descriptions are on display. Their excellent first book is reviewed here on HyperScale (image used with the kind permission of Claes Sundin).
The finish of Black 4 featured large areas of grey primer as a camouflage colour on the upper wings; a disruptive patter of RLM 83 Dark Green; a sparse, spotty mottle of RLM 81 Brown-Violet on the rear fuselage and tail; undersurfaces in standard RLM 76 White-Blue; and the fuselage extension in a lighter shade of RLM 76. Compare this finish to the other two aircraft mentioned above on HyperScale.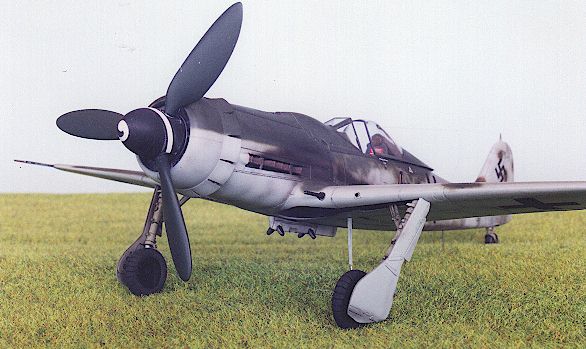 Markings were the simplified black style typical of late war Doras.
T h e M o d e l a n d t h e D e c a l s
This is the Tamiya 1/48 scale Focke Wulf Fw 190D-9 built almost unmodified by Chris Wauchop. The only extra details are harnesses from lead foil and wire, and flattened tyres. For full details of construction of the Tamiya kit, see John Kerr's Feature Article.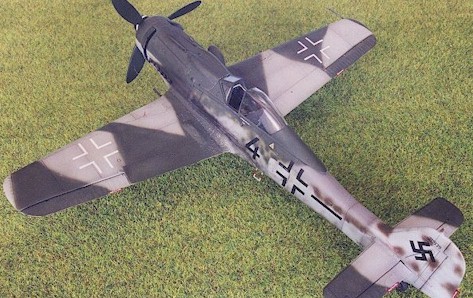 Markings were sourced from "Experten Decals No. 3 - History, Camouflage and Markings of JV 44, JG 6 and JG 1 Focke Wulf 190 Ds". This set includes markings for three Doras, plus a 36 page book with historical research, colour notes, colour photographs, scale drawings and a helpful FS Number reference guide to RLM colours. Although the quality of the decals is excellent, I have found the book is even more useful!
For modellers wishing to depict one of the other three aircraft, "Black 8" and "Black Chevron Dot" are offered on KommanDeur Decals sheet KD4801FD, and "Black 12" may be sourced from Experten Decals No. 1.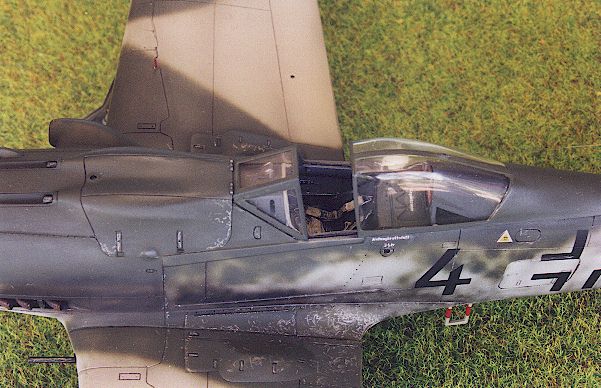 Experten's Web Site lists their products and contact details. The site also provides reproductions of painting and marking instructions from their sheets. KommanDeur may be contacted via E-Mail.
The following web sites and references will be helpful for Dora aficionados:
"Luftwaffe Fighter Aces and Aircraft" Web Site
Lovely colour profiles to inspire new modelling projects!

Experten Decals Web Site
although somewhat out of date, this site is very helpful for colour notes and camouflage schemes of six interesting Doras

"Luftwaffe Fighter Aircraft in Profile" by Claes Sundin and Christer Bergstrom, Schiffer Publishing Limited, Atglen Pa, 1997
ISBN 0-7643-0291-4 - Some truly inspirational profiles of Luftwaffe fighter aircraft, including a number of Doras

"History, Camouflage and Markings of JV 44, JG 6 and JG 1 Focke Wulf 190 Ds" Experten Decals No. 3 by David E. Brown and David Wadman, Experten Historical Aviation Research Inc., Calgary, 1995

"Walk Around Fw 190D - Walk Around Number 10" by E. Brown Ryle and Malcolm Laing, Squadron/Signal Publications, Carrollton, Texas, 1997 - A compact and comprehensive "walkaround" of Fw 190Ds. Includes wartime photos and colour profiles.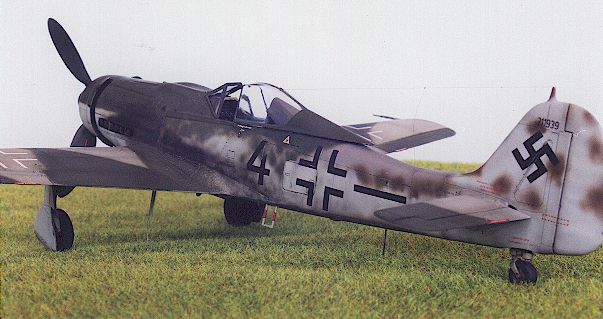 ---
Model by Chris Wauchop
"Black 4" Colour Plate Copyright 1998 by Claes Sundin
Text and Photographs Copyright 1998 by Brett Green
Page Created 04 April 1998
Last updated 26 May 2007
Back to HyperScale Main Page
Back to Feature Articles