Supermarine Spitfire Vb
by Matthew Walker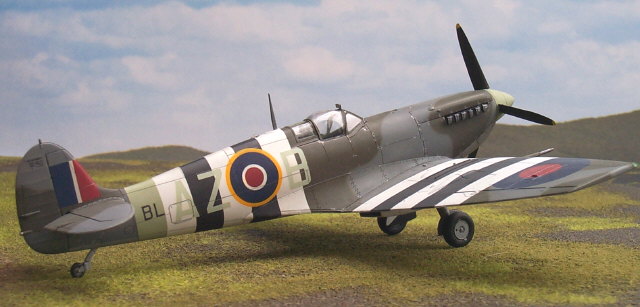 Supermarine Spitfire Vb
234 Squadron, June 1944
Clipped, Cropped and Clapped!
This model was inspired by an article written by Neil Robinson in Scale Aircraft Modelling Vol 22, no 1.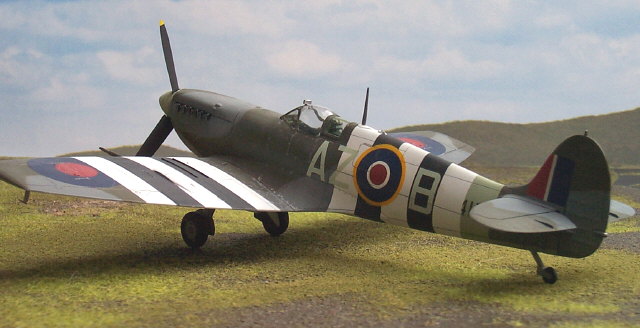 I had been out of the hobby for a couple of years, and Neil's article provided the spark to get me going again. Thanks Neil for your very interesting and informative article.
Tamiya's 1/48 scale Spitfire Mk Vb is a very easy kit to build, and as Brett Green stated in his recent article, a good "tonic" when you are stuck in between more demanding projects.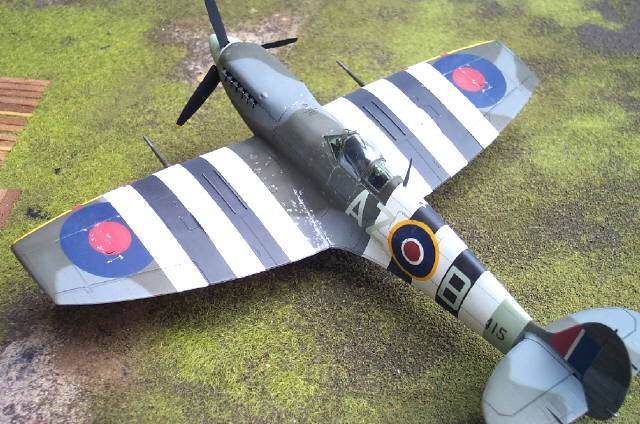 This model was built out of the box, except for tape seat belts, and the 6 stack exhausts from a Hi-Tech Spitfire IX conversion. A combination of Aeromaster, Tamiya and Gunze paints were used, the determining factor being the colour that came out of the pot!
This particular aircraft was flown by Walter (not James) "Johnny" Johnston of No 234 Sqn. over the Normandy beaches on D-Day.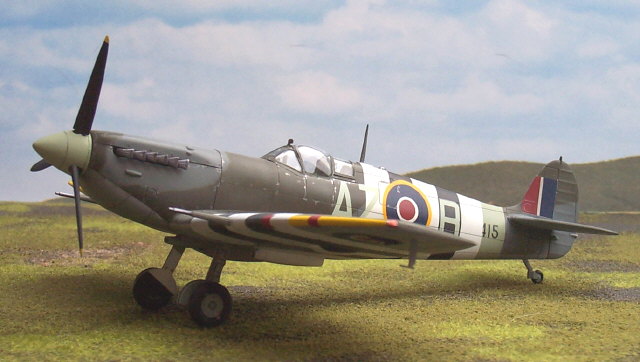 The mission was to provide low cover for Stirling, Halifax and Albermarle glider tugs and their gliders. Both air and ground crews referred to these aircraft as "clipped, cropped, clapped" due to the clipped wings for better low level roll rate, cropped engine super charger blower, and clapped-out airframes, since many of these aircraft had been on strength for some months before D-Day. Many modifications had been carried out on these planes to keep them up to date, including internal armour glass, 6 stack manifolds, wing strengthening ribs over the main wheel wells and enlarged horn balanced elevators.
These aicraft were also polished with beeswax to reduce drag as much as possible. "Johnny's" Spitfire underwent a complete engine change on the evening before D-Day. As a result I depicted the aircraft in a fairly clean state, with no exhaust plume or gun powder stains. I also thought that the beeswax treatment would have kept the paint looking fairly dark and "new". Paint chipping, however, would have still been evident.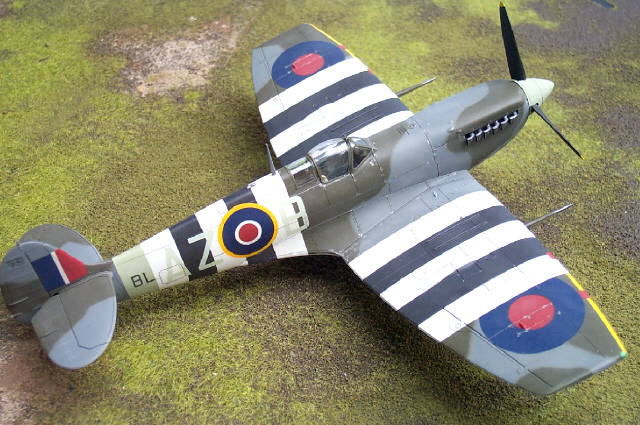 On D+8, June 14, "Johnny" was shot down by flak in this aircraft, and crash landed on an airstrip that was under construction (Coulombs/Cully). He was back flying again 23 hours later, over the same region in France, looking down on the wreckage of BL415 that had been pushed to the side of the new run way!
Thanks again to Neil Robinson for the fabulous article that has got me hooked by modelling again!!
---
Model and Text Copyright © 2000 by Matthew Walker
Images Copyright © 2000 by Brett Green
Page Created 23 August, 2000
Last Updated 26 July, 2007
Back to HyperScale Main Page
Back to Features Index