A-4E Aggressor
by David W. Aungst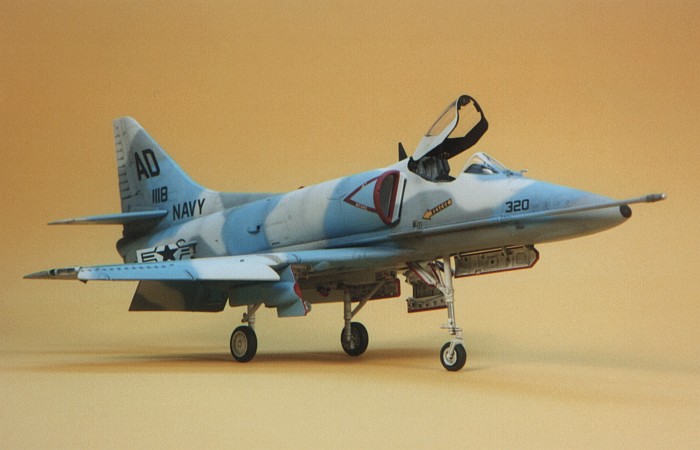 A-4E Skyhawk
Hasegawa's 1/48 scale A-4E Skyhawk is available online from Squadron.com
As I alluded to in my "Fake MiG" A-4E article, I had to build more aggressor Skyhawks. To that end, here is another Skyhawk in aggressor camouflage. I actually built this model at the same time as the "Fake MiG". With so much of the construction of the two models being the same, it was easy to build both of them at the same time and get two aggressor Skyhawks for my display shelves in only a little over the time it would have taken to build one.
For years I have been building W.W.II German aircraft as a means of modeling relaxation. I use these as "painting projects" where I can relax, keep the model construction out-of-the-box, and enjoy just painting a mottled camouflage (different from those worn by most modern aircraft). Now that I have a very easy to build, mostly accurate A-4 Skyhawk kit, the "painting projects" have shifted topics. With an almost endless variety of aggressor camouflages applied to the Skyhawk, I can get modeling relaxation and unique paint schemes without departing from my favored topics of modern aircraft.
Now, if only some manufacture would produce an updated kit of the F-5E/F, I could get a even more variety into my "painting projects". Monogram's F-5s are not bad, but they could stand being replaced by current technology moldings like the Skyhawk was. Of course, there is always the Luftwaffe ... ;o)
Hasegawa's 1/48 Scale A-4 Skyhawk
I am not going to say anything about the construction of the kit, here. I built it using only the pieces that were provided by Hasegawa in the box. For a full review of the Hasegawa Skyhawk kit, see my previous postings about this kit.
I used mostly Testors Model Master enamel paints for this project.
The aircraft is from VA-43 (later VF-43) from June of 1975, the early years when the unit was first becoming an adversary-training unit. This may well be one of the first non-standard camouflages applied to a VA-43 aircraft. When it comes to camouflages, blues and browns are what I like the most. This aircraft qualifies under the "blues" part of the rule.
I obtained most of the documentation to build this model from a couple old SuperScale decal sheets (32-037 and 72-170). If SuperScale ever produced these markings in 1/48th scale, I am unaware of it. According to SuperScale, the camouflage colors are "Light Blue" (which I originally mistook as Bright Blue, F.S.35183), Neutral Gray (F.S.36270), and Camouflage Gray (F.S.36622). The one color photograph of this aircraft I found in Famous Airplanes of the World #3 (Douglas A-4 Skyhawk) sort of supported these color choices.
On painting these colors on the model, I was unsatisfied by the look of the colors. The Camouflage Gray was much too light, almost white. The Neutral Gray was much too dark, especially in contrast to the Camouflage Gray. The Bright Blue was way too dark, also, making the entire aircraft too vivid. I decided to try different colors.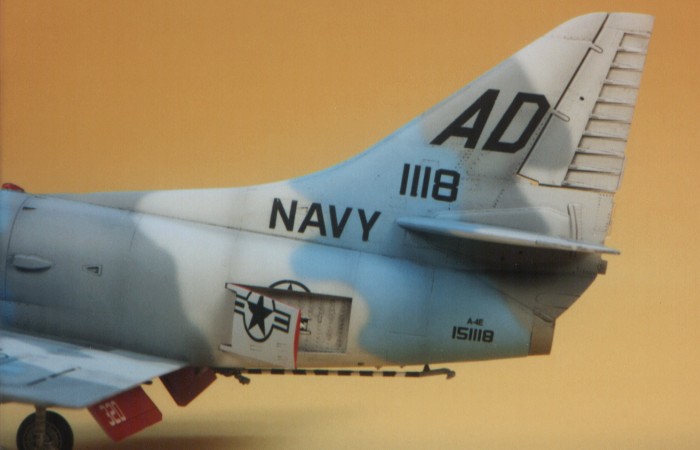 I did some more study of the FAOW picture and decided to try a more logical approach to the colors. For the time period, aggressor paint schemes were a new thing. The first schemes tended to be painted in readily available paint stocks (why order paints you otherwise would not need?). To that end, I decided to consider what colors would be readily available at the time. I decided on Light Gull (F.S.36440) and Dark Gull Gray (F.S.36231) as the two gray colors. I scale effected both of these with white in 5:1 mixing ratios.
For the blue, I think this was a nondescript custom mixed color, probably using a lot of white and a little Dark Blue (F.S.35109). This Blue would be readily available as the color of practice bombs ("Smurf Killer" Blue). The color in the FAOW picture approximated a light blue color close to F.S.35250. I found a Testors "Little Bottle" enamel paint of Flat Sky Blue (stock#1162) in my paint stocks that was close, so I decided to use it. I mixed this bottled color 50:50 with flat white to achieve a fair match to the color picture.
With these color choices, I was a little happier with the look of the camouflage as I painted the model. It was still not quite right, though. When a friend came over to visit, he pointed out that the colors did not work as I had painted them. The blue color looked good, but the gray colors were off -- too much brown. We set out and ran through another set of color experiments to come up with better choices.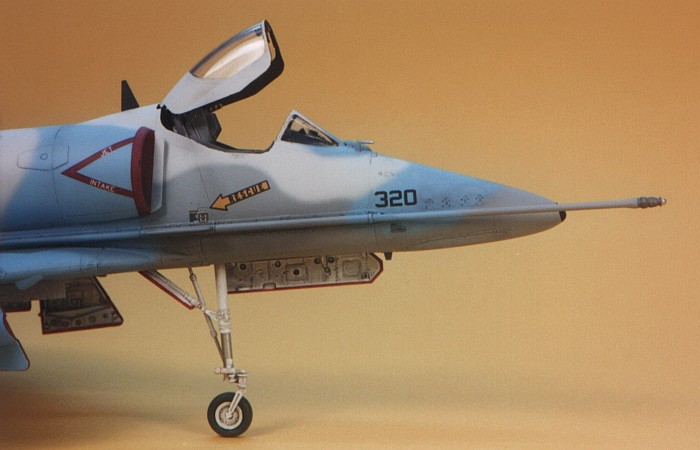 Five different gray colors later, we settled on some lighter shades that made both of us feel better about the camouflage. The final colors that are on the model as seen in the pictures with this posting are a custom mixed light blue (as described above), Light Ghost Gray (F.S.36375), and Light Gray (F.S.36495). After a total of six hours of camouflage painting and two complete camouflage jobs on the model, I finally called it quits on camouflage painting.

The SuperScale instructions are rather poor and hard to make out. I squinted and studied every little piece of them to figure out what I could on the actual camouflage pattern. I had some help from an old issue of Scale Modeler Magazine (Vol-11/No-9, September 1976). Bob Archer built a 1/32 scale Skyhawk using the SuperScale decals and his model provided me some insight into some of the trickier camouflage areas. To the left is a link to a camouflage diagram I created for this aircraft using all these resources (click thumbnail to enlarge diagram).
To get decals for the model, I scanned the 1/32nd scale SuperScale decals and cleaned up the images to have them print cleaner. The image below shows my cleaned up decal image (reduced in size to save space). Then I resized the image to 1/48th scale and printed it on clear decal film using my HP laser printer. Since the markings are all black, I did not need to use my ALPS printer. The few color markings around the engine intakes were taken from the Hasegawa kit decals.
For weathering, I used my typical style of thinned down enamel paint washes and air brush shading. I finished the weathering with some dry brushing to pop out the surface details. For a more complete discussion of what I do to weather my models, see my Reference Article on "Weathering Aircraft".
I hope nobody gets too tired of seeing more Skyhawks as I am sure this will not be my last. The combination of an easy to build, mostly accurate kit with an almost endless variety of camouflages is just too good to ignore. Stay tuned for more...
---
Reader Bonus:
Print Your Own Decals Using a Free Decal Image

As I noted above, I do not know whether markings for this aircraft were ever produced in 1/48th scale by SuperScale. Click here to see an enlarged image of the decals you need to build this aircraft. Be aware that while the file size is small (at around 27K), the image size is quite large (740x2000 pixels). Doing a major reduction of the image during printing provides better quality designs in the decals.
Right click on the enlarged decal image and save the file to your PC (it is a .GIF file). You can use this file to print your own decals for this VF-43 aircraft. Print the image at 16% (for 1/48th scale) on clear decal film using a laser printer with at least 600 DPI resolution. The image provides most everything that you will need.
If you have access to an ALPS printer, the gray 320 numbers should be printed in white for use inside the wing flaps. If you do not have access to an ALPS printer, use the printed decal image to select the correctly sized numbers from a white US Navy Block Lettering decal sheet. Use standard Skyhawk data (available in the Hasegawa kit) to do the aircraft data markings that are not provided on this decal image.
Use the camouflage diagram provided in this posting as the decal instruction sheet. Enjoy!
Additional Images and Project Summary
Click the thumbnails below to view images full-sized.
Click the "Back" arrow on your browser to return to this page.
Project Statistics

Completion Date:

13 April 2001

Total Building Time:

39.9

Research:

1.3

Construction:

7.5

Painting:

24.9

Decals / Markings:

6.2

Extra Detailing / Conversion:

0.0
---
Text and Images Copyright © 2001 by David W. Aungst
Page Created 28 May, 2001
Last Updated 04 June, 2007
Back to HyperScale Main Page
Back to Features Index