Werner's Wings 1/32 scale
Messerschmitt Bf 109 V-14
conversion for Eduard's 1/32 scale
Bf 109E-1/E-3 kits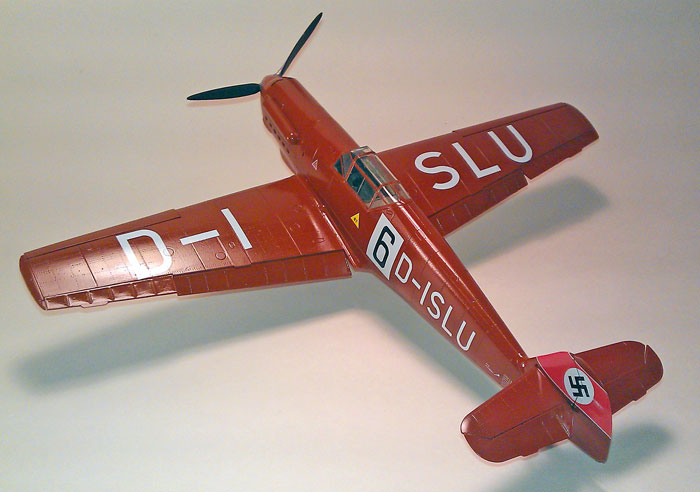 S u m m a r y :

Catalogue Number and Description:

Werner's Wings #32-V14 - Messerschmitt Bf 109 V-14 conversion for Eduard 1/32 Bf 109E-1/E-3 kits

Scale:

1/32

Contents and Media:

20 parts in mid-grey resin, decals for one aircraft plus a two-page photocopied A4 instruction sheet containing instructions on how to convert the Eduard kit as well as three-plan views of the V-14 airframe.

Price:

USD$40.00 plus postage available online from Werner's Wings website

Review Type:

First Look

Advantages:

Beautifully cast resin pieces, lovely decals, detailed step-by-step instructions to guide you through the conversion process.

Disadvantages:

Small and poorly-reproduced starboard and upper views of the V-14, and no undersurface view, which means you will need to source your decal placement guide from elsewhere.

Conclusion:

Accurate and relatively straightforward conversion of a highly desirable subject which has not previously been available in 1/32 scale, and rarely in any other.

Reviewed by Brad Fallen



HyperScale is proudly supported by Squadron.com


Germany brought five of its new Messerschmitt Bf 109 aircraft to the international flight meeting at Dubendorf, Switzerland in mid-1937 – three Jumo-powered machines and the experimental V-13 and V-14, driven by boosted versions of the DB 601 engine which went on to power the Emil production series. These aircraft performed sensationally against competitors at Dubendorf – notwithstanding the destruction of Ernst Udet's V-14 in a forced landing – enhancing the reputation the Bf 109 was already establishing with the Legion Condor in Spain, and prompting the Swiss to buy 80 Emils in 1938. The V-13 went on to further glory in November 1937, setting a successful world air speed record for landplanes of 610 km per hour (379 miles per hour).
Befitting their role as performance racing machines, the V-13 and V-14 were also highly attractive aircraft. In their Dubendorf guise, as well as being stripped of all military equipment, both aircraft featured enormous cylindrical supercharger intakes, extended wheel fairing covers, and oil coolers which were significantly deeper and broader than those found on production Emils. Some sources suggest that the panel lines on both aircraft were puttied and sanded smooth at the time of Dubendorf – this was definitely the case with the V-13 when it set the air speed record later in 1937. What is not in dispute is that both aircraft were highly polished and strikingly coloured – the V-13 was overall light grey (possibly RLM 63) with a slightly darker grey forward of the engine firewall, while the V-14 was overall wine-red. Identification markings consisted of standard German civil registration codes (D-IPKY in black for the V-13 and D-ISLU in white for the V-14) applied to both sides of the fuselage and across the full span of the upper and lower wing surfaces; respective racing numbers of '1' for the V-13 and '6' for the V-14, applied on the fuselage sides just forward of the civil registration codes; and the standard black hakenkreuz in a white circle inside a red band on both sides of the rudder and vertical stabilizer.
A final point worth making about the V-13 and V-14 is that, while they look like Emils on steroids, the airframes were sourced from fairly early in the 109B production run (some sources say 109D). This means that, in addition to the obvious modifications made to enhance their racing performance, both aircraft feature a number of minor differences from Emils, which any modeler attempting to build the V-13 or V-14 should take into account – more on this later.
Modeling the V-14
It's clear from the above that I'm pretty fond of the Dubendorf 109s, particularly the V-14 with its gorgeous deep red paint scheme. In fact, it was the first aircraft I attempted to model when I got back into the hobby seven years ago. Inspired by the excellent Chidley and Kiker article here on Hyperscale, which details two 1/48 conversions of the Hasegawa and Tamiya 109E-3 kits and includes a comprehensive tweak list, I set to work on the old Airfix 1/24 109E kit. Not surprisingly (in hindsight), my aspirations exceeded my skill levels by a considerable margin, and I shelved the project after a couple of months.
Moving forward several years, I admired Jean-Luc Formery's superb 1/48 builds of the V-13 and V-14 over on Aeroscale but again decided the conversions would be too much work. So in February 2010 I was delighted to hear that Floyd Werner of Werner's Wings was going to release a 1/48 resin conversion set based on Jean-Luc's original masters. I quickly ordered a copy, sat down with a Tamiya 109E-3 kit, and began cutting.
Unfortunately, I didn't get far into the build before I realized there was a problem with the 1/48 set – the solid-cast modified upper cowling (the centerpiece of the conversion which was intended to replace the kit cowling) had shrunk significantly (2-4mm) in all directions after being removed from the moulds. It wasn't a fatal flaw – some cutting and filling will fix the problem – but I wasn't prepared to tackle it at the time, and once again, the project was shelved.
At the time I ordered the 1/48 conversion set, I asked Floyd if he had any plans to upscale the set to 1/32 – I was interested because I thought a racing 109 in this scale would look good parked next to my Fisher Models Sea Fury racers. Floyd said he wasn't planning one at that stage, but might get around to it one day…and now he has.
---
Werner's Wings 1/32 V-14 conversion
Designed for the Eduard 1/32 Bf 109E-1 or E-3 kits (which have the correctly shaped early-style canopy and lack the underwing cannon bulges), the set is beautifully cast in mid-grey resin. The improvement in quality between this set and the earlier 1/48 conversion is striking, with very little flash and only a few casting stubs to remove. Overall, I would say the quality of the casting compares with that of Alley Cat, and approaches that of Aires and Fisher Models.
Importantly, in this set the replacement upper cowling is hollow cast, which should limit the potential for shrinkage. While I haven't got an Eduard kit on which I can test fit the cowling (yet – it's currently in transit from Hannants), the dimensions look good. Finer details are also present, with the faired-over gun troughs and mesh cover inside the supercharger intake being particularly impressive.
This fine attention to detail is carried through on all parts in the set. The spinner is provided in two parts that fit together well, and modelers have a choice of two styles of spinner cap. The replacement undercarriage covers are lovely, although for some reason there had been a minor loss of detail on the outer surface of my examples. A spade-type control column – which was probably (but not definitely) fitted to the V-14 – is also provided, and is very finely cast.
The large decal sheet has been pre-cut into three pieces in order to fit into the conversion packaging, and the decals themselves look very good. They have been printed by Microscale and appear to accurately capture the fonts used on the original V-14. There weren't many stencils on this aircraft, but those that existed have been faithfully reproduced. I can't comment on the opacity or otherwise of the white decals until I apply them to a model, but if they are in any way translucent, the fact that the V-14 was a single colour will make this less apparent.
Instructions are in the form of two black and white A4 photocopied pages, and are reasonably comprehensive. They provide the modeler with a brief history of the V-13 and V-14, before plunging into the construction process. If you've ever built an Accurate Miniatures kit, you'll be in familiar territory here, with Floyd providing detailed written descriptions of the conversion process. If you follow the conversion instructions closely, in conjunction with the Eduard kit instructions, it's hard to see how you can go wrong. Floyd also makes a welcome point of highlighting what isn't known about the V-14 – for example, the exact fit-out of the cockpit, or the precise style of spinner cap used – leaving it up the modeler to use their initiative in these areas.
There are a couple of minor omissions from the instructions. First, they don't provide the modeler with a comprehensive tweak list of what is needed to convert the Eduard 109E into what is essentially a 109B (or D) airframe (for example, in relation to the location of fuel filler points etc). For this, go the Kiker and Chidley article and look at the excellent black and white three-view pictures, which detail most of not all of the required tweaks. Secondly, the decal placement guide is not up to the standard of the rest of the set – while a decently reproduced and sized port-side profile is provided, the starboard profile and upper view are much smaller, and quite poorly reproduced. No underside view is provided. Hopefully the reproduction problem is only an issue with the review sample. For my build, I'll be using the much clearer placement guide that came with the 1/48 conversion set.
This appears to be an excellent conversion set that, upon first examination, looks like it will deliver my long-awaited model of the V-14, and in a fairly straightforward manner; most of the resin items are direct replacements for kit parts. Werner's Wings should be congratulated for producing such a high-quality set, not least because of the problems Floyd encountered with his earlier 1/48 set on the same subject – his persistence with the subject matter has been well and truly rewarded. Readers should note that, in addition to the V-14 conversion, Floyd is offering the set with appropriate changes for both versions of the V-13 – Dubendorf and world air speed record.
Highly recommended.
Thanks to Floyd Werner for the information and images
---
Werner's Wings products are available from their website
---
Text and Images Copyright © 2011 by Brad Fallen
Page Created 26 July, 2011
Last updated 27 July, 2011
Back to HyperScale Main Page
Back to Reviews Page