Messerschmitt Bf 109 E
over the Balkan Peninsula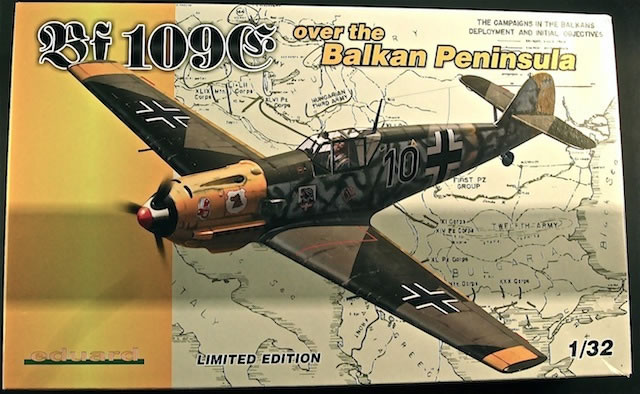 Eduard, 1/32 scale
S u m m a r y

Catalogue Numbe:r

Eduard kit no.1156 – Bf 109 E over the Balkan Peninsula Limited Edition

Contents and media:

143 olive coloured plastic parts; 9 clear plastic parts; 1 decal sheet containing markings for 5 aircraft; 1 decal sheet containing enough stencils for 1 aircraft; 1 set of pre-cut canopy masks; 2 frets of photo-etched detail parts (1 pre-painted); 1 set of Brassin Bf 109 E wheels

Scale:

1/32

Price:

USD$89.95 plus shipping available online from Eduard's website

Review Type:

First Look.

Advantages:

Good basic kit; high quality photo-etch and resin details; interesting and well-researched marking options

Disadvantages:

A little flash on some plastic parts; air bubbles in resin wheels; minor blemishes on decal sheet.

Recommendation:

A great overall package that with care will assemble into an excellent model, whichever marking option is selected

Reviewed by Brad Fallen


HyperScale is proudly supported by Squadron.com

The Balkans campaign of April-June 1941 was arguably the Bf 109 E's swansong as an air superiority fighter. The type was being replaced in service by the more powerful, aerodynamically refined 109F, which would be the Luftwaffe's main fighter by the time of Operation Barbarossa in late June. By the end of 1941 most surviving Emils had been withdrawn to pilot training duties in Germany, although some would soldier on as fighter-bombers into 1943. Over the Balkans, however, the Bf 109 E still dominated the mostly obsolescent aircraft – such as Battles, Blenheims, and PZL fighters – against which it fought. Only the RAF Hurricanes could hold their own against the Emil, and then only just. The campaign also briefly pitted 109 against 109, but the E-3s flown by the inexperienced pilots of the Royal Yugoslav Air Force were no match for the Luftwaffe veterans in their E-4s and E-7s.
Many of the Emil-equipped Luftwaffe units which fought in the Balkans – such as JG 27, JG 54 and JG 77 – had until recently been involved in operations against the RAF over England and along the Channel coast. It is not surprising, therefore, that the camouflage and markings of Balkan Emils are similar to those seen in the latter part of the Battle of Britain: RLM 04 yellow engine cowlings and rudders; RLM 02 grey/RLM 71 dark green splinter camouflage on the upper wing, fuselage and stabilizer surfaces; RLM 65 blue undersurfaces and fuselage sides, the latter toned down with various field-applied combinations of RLM 02, RLM 71 and RLM 70 black green; large black and white Balkenkreuz and Hakenkreuz; and a colourful variety of unit emblems. Further dash was added by a diversity of RLM 04 theatre recognition markings, mostly in the form of fuselage and wing bands and stripes. This combination of features makes Balkan Bf 109 Es attractive modeling subjects, and the unexpected but welcome subject of Eduard's latest release of its 1/32 Emil – a limited edition boxing entitled "Bf 109 E over the Balkan Peninsula".
Eduard's Emil series has already been well covered in a number of articles on Hyperscale:
The essence of these reviews is that the Eduard Bf 109 E is largely accurate kit that builds easily into an attractive replica. This latest, limited edition boxing repeats this winning formula, being literally stuffed full with the following items:
Six sprues of subtly detailed, mostly cleanly moulded plastic parts. I was surprised to see a little flash on some of the larger parts, such as the fuselage halves; however this can be easily sanded away and will not be a problem during construction. The plastic parts contain the improved, multi-part wheels which were first introduced in the E-3 boxing of the kit, although as we will see shortly, these won't be needed for this build.

One small tree of clear plastic parts for the head armour, gunsight, windshield and straight-edged E-4 canopy. It isworth noting that this is the later, more accurate version of the canopy introduced by Eduard following criticism that the top of the canopy in the initial E-4 boxing was too narrow.

Two photo-etched frets – one of them pre-painted – providing additional detail for the cockpit, radiators and oil cooler. In my experience, Eduard's photo-etch generally fits well, and while the colour of the pre-painted etch can sometimes be a bit off (the representation of RLM 02 on a 1/48 Emil set I used recently was awful, and had to be over-painted), here it seems pretty good.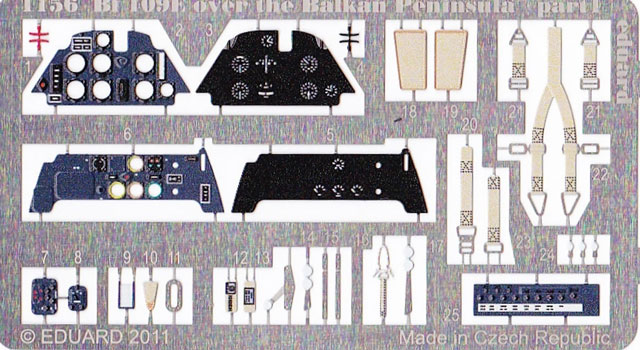 A pre-cut canopy mask. While pre-cut masks are a matter of personal choice, I love them because I think the crispness or otherwise of canopy masking makes or breaks a model, and Eduard's masks have always given me great results.

Eduard's in-house decals containing markings for five aircraft, and enough stencils for at least one, and possibly two, aircraft. The stencils look good, being clearly printed and legible (although I can't vouch for the accuracy of the German spelling!). The main decal sheet looks mostly good, too, with the unit markings in register and showing nice detail. The quality falls away slightly when it comes to the national, rank, and tactical identification markings, however, with the printing lacking a little crispness, and some minor blemishes on the surface of the markings.
A set of replacement resin wheels from Eduard's Brassin line. The detail on these wheels is far superior to the kit's plastic items, with the main tyre castings capturing not only some very subtle tread patterns, but also the manufacturer's name and the recommended air pressure! Unfortunately, also clearly visible on these castings are a number of air bubbles – which should be easy enough to fill, but which were nonetheless unexpected. The rest of the items in the set appear to be perfectly cast, and include touches such as offering the modeler a choice of built-in or separate spoke detail in the wheel hubs. I liked the inclusion of a full tail wheel well – usually a neglected subject on Emil kits, but big enough to be noticed in 1/32, so well done Eduard.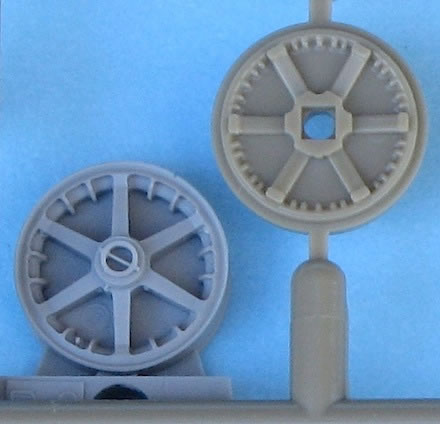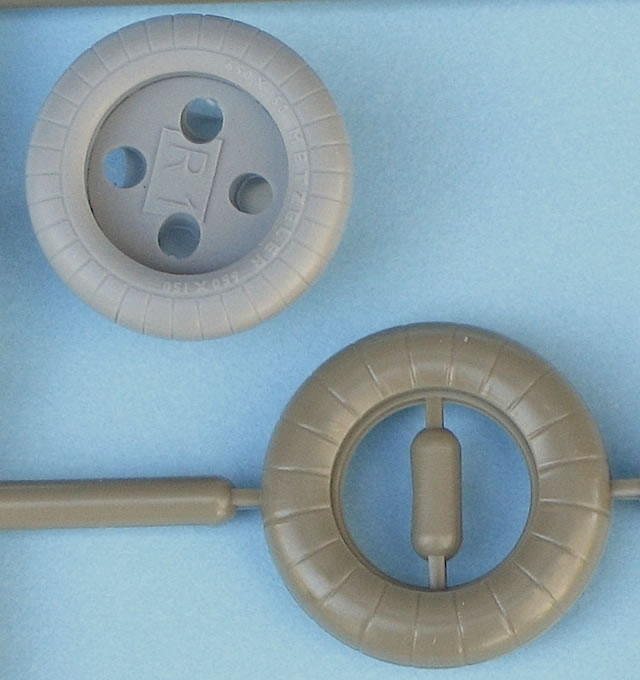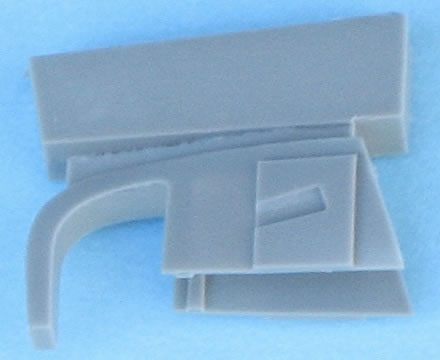 Eduard's usual high-quality instruction booklet, with a clear step-by-step construction guide and paint callouts in Gunze-Sangyo colours.
---
Marking Options
Eduard offers five marking options, all Bf 109 E-4s or E-7s painted in RLM 02 grey/RLM 71 dark green splinter camouflage on their upper surfaces and RLM 65 undersurfaces and fuselage sides, with varying degrees of darker fuselage mottling.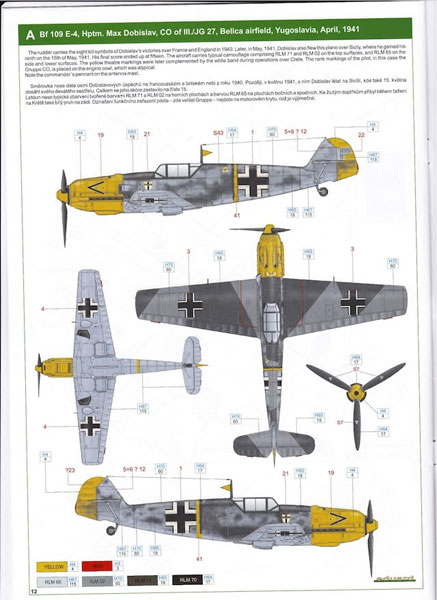 I have found period photographs of all of these aircraft, including some excellent colour shots, and can say that Eduard's colour and painting guides are very accurate – down to the exact pattern of fuselage mottles and theatre markings. The aircraft are:
Bf 109 E-4 flown by Hauptmann Max Dobislav of III./JG 27, based at Belica airfield in Yugoslavia, April 1941. This aircraft carried moderate to heavy fuselage mottling, and RLM 04 engine cowlings, spinner, rudder, and fuselage band. The latter was a narrow, non-standard affair located just forward of the Hakenkreuz, showing some signs of overpainting on the leading edge. As was common practice within Dobislav's unit, his command chevron was painted on both sides of the engine cowling, rather than the standard location aft of the cockpit.

Bf 109 E-7 "Black 10" of Oberleutnant Hubert Mutherich, 5./JG 54, based at Semlin airfield near Belgrade in Yugoslavia, May 1941. "Black 10" carried RLM 04 engine cowlings, rudder, and wing bands, a wide range of unit badges and personal markings, and a very complex mottle of RLM 70/71 on the fuselage sides.

Bf 109 E-4 "White 11" of III./JG 77, based in either Greece or Rumania in May 1941. This aircraft sported RLM 04 cowlings, rudder, and wingtips, along with 70/71 fuselage mottling even more complex than "Black 10".

Bf 109 E-4, W.Nr.4148, of Hauptmann Wolfgang Lippert, II./JG 27, based at Larissa airfield in Greece, April 1941. This aircraft was more subdued, distinguished only by an RLM 04 cowling and the excellent unit emblem of a battered English lion in the process of being shot in the backside.

Bf 109 E-4 or E-7 "Harry Seidel" of III./JG 77, based somewhere in the Balkans in April 1941. This aircraft – named in honour of a fallen comrade – looks like an Emil from early-mid 1940, with its high camouflage demarcation line, absence of fuselage mottling and limited application of theatre markings. It's an attractive subject that contrasts nicely with the other, more complicated schemes on offer.
Conclusion
This is another great release in Eduard's Bf 109 E series. In true Eduard style it combines a sound basic kit with what is effectively a suite of aftermarket products – Brassin wheels, colour photo-etch, canopy masking and a variety of interesting, well-researched marking choices. Highly recommended to anyone with a little modeling experience who wants to build a great looking 109 E while having a lot of fun in the process.
References
Lynn Ritger, The Messerschmitt Bf 109: A Comprehensive Guide for the Modeller, Part 1: Prototype to 'E' Variants (Sam Publications, 2005)

J.R. Beaman Jr and J.L. Campbell, Messerschmitt Bf 109 in Action, Part 1 (Squadron/Signal Publications, 1980)

A. Elbied and A. Jouineau, Messerschmitt Me 109 Volume 1: From 1936 to 1942 (Histoire and Collections, 2002)

R. Cross, G. Scarborough and H.J. Ebert, Messerschmitt Bf 109 Versions B-E: Classic Aircraft – Their History and How to Model Them (Patrick Stephens, 1972)
Thanks to Eduard for the sample.
---
Review Text and Images Copyright © 2011 by Brad Fallen
Page Created 5 September, 2011
Last updated 5 September, 2011
Back to HyperScale Main Page
Back to Reviews Page