Mig 15bis

Michel Poutnikov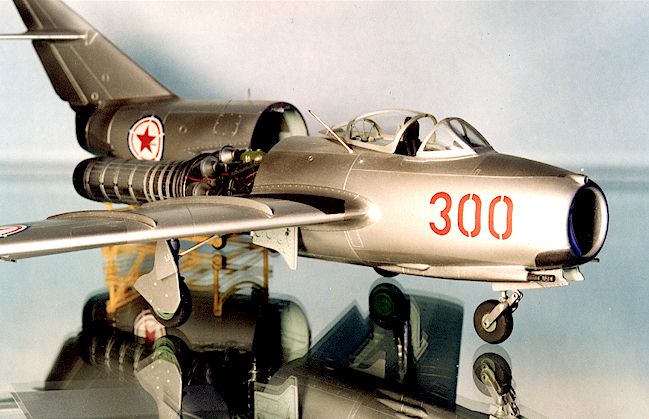 Mig 15bis
Capt. A.M. Karelin, 351 IAP, Feb 1953
HyperScale visitors may remember Michel Poutnikov's remarkable Fw 190D with engine detail a few months back. His super-detailed Mig-15bis should therefore come as no surprise. Assisting Michel's obvious modelling skills is the experience of his previous occupation working on full-sized Soviet warplanes!
Over the years the name "MiG" has become synonymous with Soviet fighter aircraft. The MiG-15 was the first jet fighter to be mass-produced by the MiG Design Bureau. American pilots were impressed by the MiG's firepower and maneuverability in the sky over Korea.
Even after the US revised its initial Korean War kill/loss lists to more believable proportions, there still remained large discrepancies between the figures presented by either side. Despite this, it is most likely that the highest-scoring aces of the war were the Russians - Yevgeni Pepelyaev with 23 kills and Nikolai Sutyagin with 21.
I don't want to discuss whether the Sabre or the MiG was the better fighter. I think that Chuck Yeager expressed it best when he said "It isn't the plane that is important in combat, it's the man sitting in it". I am pleased that the "Cold War" is over and that McConnell's Sabre and Karelin's MiG-15 both peacefully co-exist in my collection! These are two outstanding aircraft flown by two eminent pilots.
I highly recommend this great model kit for all Korean War fans.
Cockpit and Fuselage Assembly.
I found Tamiya's cockpit tub detail and ejection seat to be rather primitive and decided to use NEOMEGA's resin kit. Eduard makes a photo-etch sheet for detailing this kit including cockpit details and film negative backing for instrument dials. I replaced the throttle control lever, control stick, emergency leg extension rods, installed new gunsight (ASP-3) and added many small details.
I can't agree with interior color that was recommended by the model instruction. Before painting the model's cockpit I inspected about ten different MiG-15s. The interior of these aircraft had different shades of grey-blue paint applied during production and after repairs. The different shades depended on a particular aircraft-building or repair plant and machine manufacture blocks.
I came to the following conclusion: the paint colour applied to the interior surfaces, including cockpit, wheel wells and flaps insides was close to FS36473 (a medium blue-grey. Gunze H062 or Tamiya XF-66 are a fair match - Ed..).
Nose weight was added after installation of the resin cockpit. There was no free space for Tamiya's weight so I used flat metal plate to replace it.
Wing Assembly.
I cut off the top of the main gear wheel wells and replicated elements of internal construction with photo-etched details. The landing flaps were molded separately so there were some positioning possibilities. Unfortunately, the Fowler type flap mounts to the wing is quite not correct. I used flaps and mounts details from the EDUARD set.
Engine
I decided to build a model with the rear fuselage section removed. I have made taken some photos of the Rolls-Royce Nene engine in the Belgian Military History Museum and used the VK-1A engine technical manual. I rebuilt the engine frame and used some photoetched details, electrical wires, resin and scratchbuilt parts to improve Tamiya's details. After I had finished this model, AIRES issued an accurately detailed Nene Engine set (item #4037) with separated combustion chambers, photo-etched details etc... I agree with Frank C. Crenshaw that this situation is similar to Robert Frost poem "The Road Not Taken".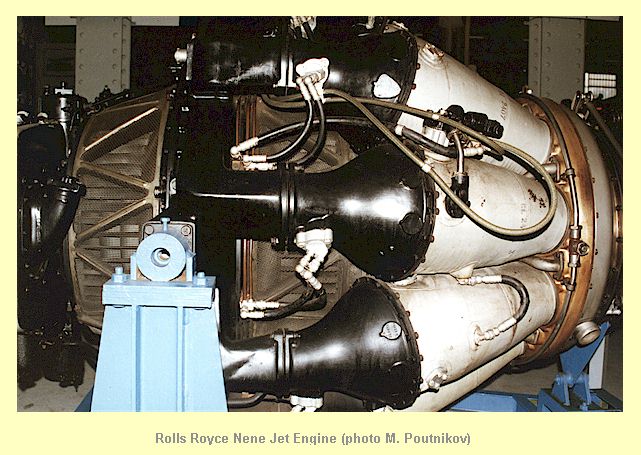 Thumbnail of Port side of engine. Click to enlarge.
Details
TAMIYA's MiG-15 model only has one real problem. The surface of the two piece sliding canopy part looks rough. I replaced these parts with a late style canopy (of a slightly different shape). I vac-formed transparent plastic sheet (0.6 mm) to represent the canopy and added the rear decking detail with internal structural elements.
Plastic cannon barrels, pitot tube and radio antennae were replaced with metal parts. The N-37 cannon barrel with rectangular openings was a great challenge for me. I used steel tubes and narrow Swiss files to replicate it. Nose gear detail was rebuilt and a new swinging fork and actuator was installed. The main gear leg hydraulic actuator was replaced and hydraulic lines were added.
P a i n t i n g a n d F i n i s h i n g
I used Tamiya's (AS-12) and Model Master Metalizers paints for this model. All paints were applied by airbrush with Tamiya tape masks. I have been using different mixes (black, grey and...) for coloring Tamiya's aluminum paint (about 10 shades) and used my own weathering technologies. One of them is applying transparent black paint (colored lacquer) for reproduce shades of the base color. Using different solvents I can make this paint gloss, semi-gloss or mat. This black paint isn't model product (like many other materials that I use) but I find this way for slightly coloring and replicate exhaust stains and fluid leaks.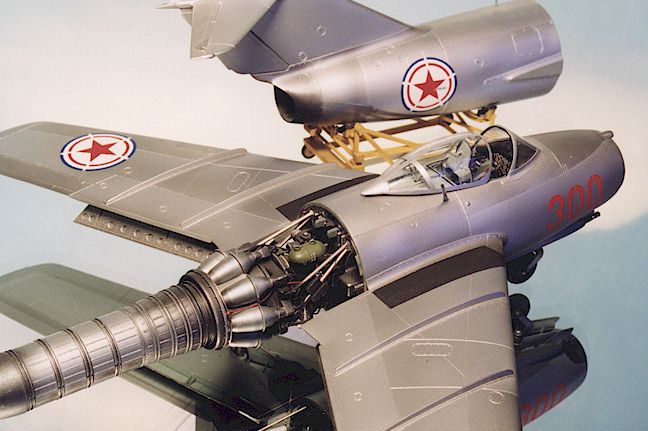 I used Aeromaster's decal sheet and chose aircraft #300 with four victory stars, which was flown by Capt. A.M. Karelin, 351 IAP, Feb 1953. Karelin's total score was 6 aircraft (five B-29s and one RB-50).
S u m m a r y o f P r o d u c t s U s e d
TAMIYA kit no.61043
EDUARD #48177 MiG-15 bis photo etched detail set
AMD #48-230 Korean War Aces Pt. II Aeromaster Decal Sheet
NEOMEGA MiG-15bis Resin kit set
EQUIPAGE wheels set for MiG-15/17
MiG-15 4+ publication
MiG-15 in action Squadron Signal Publications
«Modelist Konstruktor» modeling magazine
«Air Hobby» No.2 1994 Ukraine Plastic Modeling Magazine The MiG-15 combat
Fighter Combat over Korea Part 1-4 Wings of Fame journal
Korea 1950-53 by A.J Press by Cezary Piotrowski, Piotr Tarzs
«World of Aviation» No.1 1995 Night intercept. Less known facts of the Korean Air War 1950-53. By Igor Seidov.
---
Model, Text and Photographs Copyright © 1998 by Michel Poutnikov
Page Created 28 December, 1998
Last Updated 26 July, 2007
Back to HyperScale Main Page
Back to Features