'Jasta 40 Under Degelow'
Pheon Models, 1/48 and 1/72 scales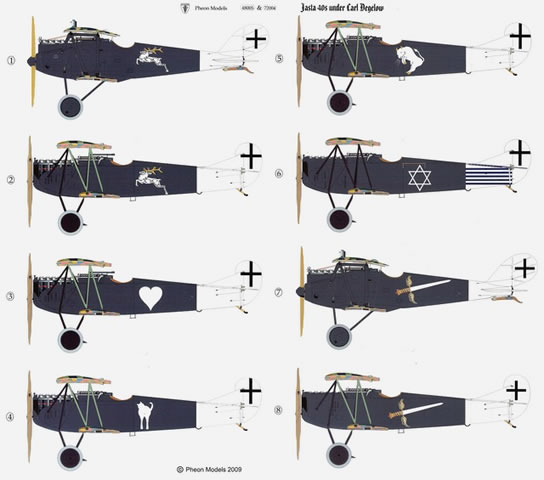 S u m m a r y

Catalogue Numbers:

48005 & 72004 'Jasta 40 under Degelow'

Scale:

1/48 and 1/72

Contents and Media:

Waterslide decals, colour profiles, instructions and notes

Price:

48005 GBP £17.45, 72004 GBP £15.70 available from pheon.models@hotmail.co.uk
Post & packing: £1.10 to the UK, £1.57 to European destinations and £2.09 to the rest of the world. Payment by Paypal, or for UK customers by cheque.

Review Type:

First Look

Advantages:

Comprehensive set. Jasta 40 markings are very striking with black and white fuselages and personal markings. Outstanding support material; sheet packed with markings.

Disadvantages:

Not inexpensive, but good supply of crosses makes most of the personal markings build-able thereby reducing the unit cost.

Conclusion:

The complete package of top quality decals, meticulous research, background notes, full colour placement guides on glossy card plus frame-able side view, provides excellent value for money.
Reviewed by James Fahey

HyperScale is proudly sponsored by Squadron.com

Pheon specialise in decals for the WWI modeller and their catalogue has grown rapidly since the business launched in late February this year.
Jasta 40 became operational in August 1917 but had a rather mediocre start with only five victories by the end of that year. The Jasta's effectiveness lifted under Degelow's leadership and by the end of the war Jasta 40 achieved a modest total of 56 victories (25 of which had been contributed by Degelow himself).
Carl Degelow was the last German pilot of the war to be receive the Orden Pour le Mérite (Blue Max), awarded on 9th November 1918, two days before the Armistice.
Pheon particularly recommend Peter Kilduff's latest book titled "Black Fokker Leader. Carl Degelow – the First World War's Last Airfighter Knight" as one of the best biographies of a German pilot. New photographs from this book have enabled Pheon to make the most accurate and complete reference yet produced for Jasta 40.
Pheon provide markings for thirteen aircraft covering two Pfalz DIIIa, ten Fokker DVII (Albatros and OAW variants) and one Albatros DVa:
Pfalz DIIIa Ltn Carl Degelow 'white stag'
Fokker DVII Ltn Carl Degelow 'white stag'
Fokker DVII Ltn Willy Rosenstein 'white heart'
Fokker DVII Ltn Anton Raub 'cat's rear end'
Fokker DVII Ltn Hans Jeschonnek 'rampant bull'
Fokker DVII Ltn Adolph Auer 'Star of David'
Pfalz DIIIa Uffz Werner Hertel 'winged dagger'
Fokker DVII Uffz Werner Hertel 'winged dagger'
Fokker DVII Ltn Frodien 'white eagle'
Fokker DVII Ltn Hermann Gilly 'white swastika'
Fokker DVII pilot unknown 'white banner & eagle'
Fokker DVII Vzfw Paul Groll 'red/white cheque'
Albatros D.Va Ltn Helmuth Dilthey

Note that Dilthey's decals consist of crosses only. Dilthey carried no other personal markings except for green and white bands on the fuselage - a curious addition but provided as a 'bonus' given there was room on the sheet. Dilthey was Degelow's immediate predecessor as Jasta leader, killed in July 1918 as a result of friendly fire and a faulty parachute.
Notes on each pilot are provided in the instruction booklet.
For the DVIIs there are two types of tail cross for Albatros and OAW-built versions. The Pfalz aircraft had their bar crosses applied over the top of the painted-out iron crosses. Pheon have provided an easy way for modellers to represent this by including white iron cross decals to be used as a pattern for over-painting in the desired shade, with the full-chord bar cross decals going over the top. This way Pheon don't presume a particular colour (the shade used for painting out the original markings is not known for certain) and the white background will provide a solid base onto which the chosen colour can be lightly airbrushed.
There are sufficient national insignia for four DVIIs, one Pfalz and the single Albatros in 48th scale sheet and for the 72nd seven DVIIs, two Pfalz and one Albatros respectively. Having so many crosses extends the utility of the set considerably.
Observant readers will notice that the white personal markings are repeated on the decal sheet. Pheon have included additional markings because, although they have been delighted with the colour density of Fantasy Printshop's decals, the white emblems are central to the set's success and applying them over a black background is the ultimate test. So, to do the right thing by the modeller, most of the white emblems are printed twice so that if there are any concerns, a second one can be applied (after the first one has dried).
Degelow's leaping stag is printed twice (white and silver grey) as the colour of the stag on his Fokker DVII may have been in white as opposed to silver as on the Pfalz DIIIa.
The decals feature minimal carrier film and excellent registration.
As with earlier releases Pheon provide full colour A4 sheets of side and plan views printed on glossy card - four sheets in this set, plus a nice extra: a single frameable 1/32 scale profile chosen randomly. These cards are really very good, top-end quality.
Jasta 40 may not have been one of the Luftstreitkräfte's premier units but the markings look really striking – so many interesting personal markings to choose from. It will be tough deciding which ones to build; my personal favourite is Hertel's winged dagger which is really beautifully represented. Plus there's enough crosses to build a good proportion of the options on the sheet.
Pheon have stated the set (or certainly most of it) will be redesigned for production in 1/32nd scale once the Wingnut Wings kits are available and their decal options are known.
Thanks to Pheon Models for the review sample.
---
Next Release Preview
Macchi M.5 seaplanes in 1/48 & 1/72
These are the most colourful decals yet from Pheon and their first Italian decals - markings for twelve Macchi M.5 Flying boat fighters of 260th, 261st (Miraglia, Venice) and the American crewed 263rd (Porto Corsini) Squadriglia. This is what after market decals are all about! Check out the profiles – beautiful plane, great markings and even some interesting history (Ensign Charles Hammann won the first Medal of Honor awarded to a United States naval aviator in an M.5). A very attractive set!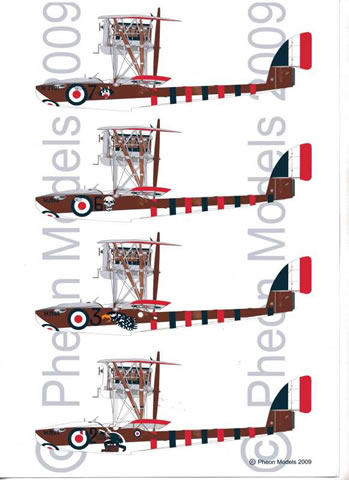 Available kits: in 1/48 there is the Lone Star kit (currently out of stock but may be reissued) and the 1/48th Fly kit (which needs considerable re-working to correct the front fuselage for the decals to fit). Freightdog are reported to be working on a Blue Max Macchi M5 kit at present. In 1/72 there is the Pegasus short run injection moulded kit (out of production) and the Choroszy resin kit.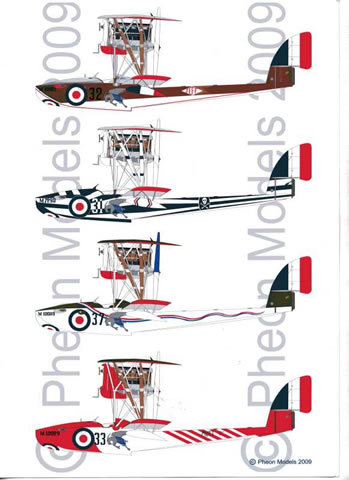 Prices reflect the large number of colours and low production runs (particularly limited in the case of the 1/72nd scale set): £17.50 for both scales. Pheon are currently taking pre-orders for these sets (78007 and 48010).
Here are links to reviews of Pheon's earlier decal sets here at Hyperscale:
Sopwith Pups in 1/72 and 1/48 scales: http://www.hyperscale.com/2009/reviews/decals/pheon48001reviewjf_1.htm
Lafayette Spad VII decals in 1/48 and 1/32: http://www.hyperscale.com/2009/reviews/decals/pheon48002reviewjf_1.htm
Fokker Dr.1 decals in 1/72, 1/48 and 1/32 for Jagdgeschwader II:
http://www.hyperscale.com/2009/reviews/decals/pheon48003reviewjf_1.htm
1/32 SE5a Aces in France and Home Defense
http://www.hyperscale.com/2009/reviews/decals/pheon32003reviewjf_1.htm
1/32 Bristol F.2B Aces in France
http://www.hyperscale.com/2009/reviews/decals/pheon32005reviewjf_1.htm
Until Pheon's website is finished, you can check out their products here:
http://www.britmodeller.com/forums/index.php?showforum=227
and the email address is mailto:pheon.models@hotmail.co.uk.
---
available from pheon.models@hotmail.co.uk
---
Text and Images Copyright © 2009 by James Fahey
Page Created 27 October, 2009
Last updated 27 October, 2009
Back to HyperScale Main Page